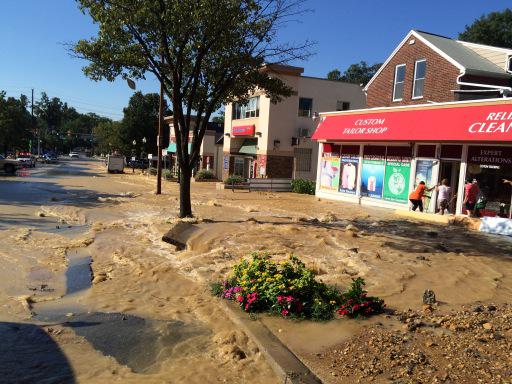 Water Main Break Closes Businesses In Long Branch (VIDEO)
A water main break shut down several businesses in Silver Spring's Long Branch neighborhood on Wednesday morning.
Washington Suburban Sanitary Commission (WSSC) crews were called to the scene of a 12-inch water main break in the 8700 block of Flower Avenue. WSSC crews shut off the water so repairs could begin on the 90-year-old main. A WSSC official said the water was turned back on and service was restored to 37 customers around 3 p.m. today.
Small businesses owners described the water main break as "scary," and now these retailers are working on assessing their losses. Helen Kim, the owner of Reliable Cleaners, said she saw water flowing inside her dry cleaning business. She said she was so nervous that she could barely dial 911.
"It's a big problem. I called the insurance, and they are coming today," Kim said.
The broken pipe caused water damage to at least two businesses along Flower Avenue when it burst.
Kim said she had to close the store and estimates her losses at $1,000.
Another business impacted by the water main break was Adarash Market. Ali Faris, the market's owner, said he may have lost $30,000 in inventory.
Another business affected today is Rainbow Laundromat. Machines not working and loss of almost $800. #WaterMainBreak pic.twitter.com/ZeeUCUxGSN

— Aline Barros (@AlineBarros2) August 12, 2015
WSSC officials said their crews excavated the 12-inch split pipe and cut out the damaged section.
"What we have here is a classic example of aging infrastructure," said Luis Maya, WSSC senior public affairs spokesperson.
Water Main Break – Piney Branch Rd near Flower Av – Piney Branch Rd CLOSED pic.twitter.com/WgWTr8NmNL

— Pete Piringer (@mcfrsPIO) August 12, 2015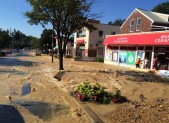 A water main break shut down several businesses in Silver Spring's Long Branch neighborhood on Wednesday morning. Washington Suburban Sanitary Commission (WSSC) crews were called to the scene of a 12-inch water main break in the 8700 block of Flower Avenue. WSSC crews shut off the water so repairs could begin on the 90-year-old main. A […]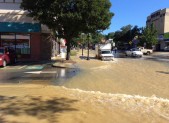 Washington Suburban Sanitary Commission (WSSC) crews are on the scene of a 12-inch water main break in the 8700 block of Flower Avenue in Silver Spring. WSSC crews have shut off the water so repairs can begin on the 90-year-old main. Local businesses are reporting losses from having to close their shops because of the […]