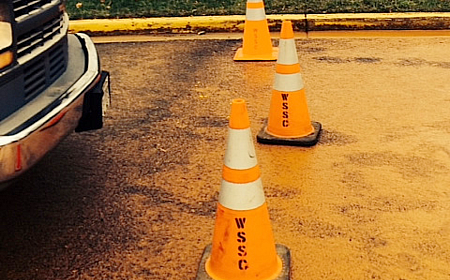 Water Main Break Closes Portion of Wisconsin Avenue
This just in from the Montgomery County Police Department: a water main break has closed all southbound lanes of Wisconsin Avenue between Woodmont Avenue and Battery Lane.
Southbound traffic is being diverted onto Woodmont Avenue and can rejoin Route 355 at Battery Lane Road. Police said the closure is expected to continue through the evening rush hour.
Jerry Irvine, spokesperson for Washington Suburban Sanitary Commission (WSSC), said the break involves an 8-inch water main that is 89-years-old.
Irvine is on his way to the scene where repairs are currently underway and said he would provide more details when they become available.
WSSC is reporting on its Twitter account that the Potomac River has hit a new low for the season: 33.1 degrees Fahrenheit. The cold weather is believed to be responsible for a spike in water main breaks locally today.
Broken 8-inch water main on Wisconsin Ave near Battery Lane. One of 69 #WSSC breaks needing repair today.

— WSSC Water News (@WSSCWaterNews) January 28, 2014
Potomac River temp hits a new low for the season – 33.1 degrees F #WSSC seeing a spike in water main breaks

Broken 8-inch water main on Wisconsin Ave near Battery Lane. One of 69 #WSSC breaks needing repair today.

— WSSC Water News (@WSSCWaterNews) January 28, 2014


— WSSC Water News (@WSSCWaterNews) January 28, 2014
(2/2) SB traffic is diverted onto Woodmont Ave. and can rejoin Rt. 355 at Battery Ln. Road closure expected through evening rush hour.

— Montgomery Co Police (@mcpnews) January 28, 2014
All of SB Wisconsin Ave (Rt.355) is shut down between Woodmont Ave and Battery Ln for a water main break. Avoid the area.

— Montgomery Co Police (@mcpnews) January 28, 2014