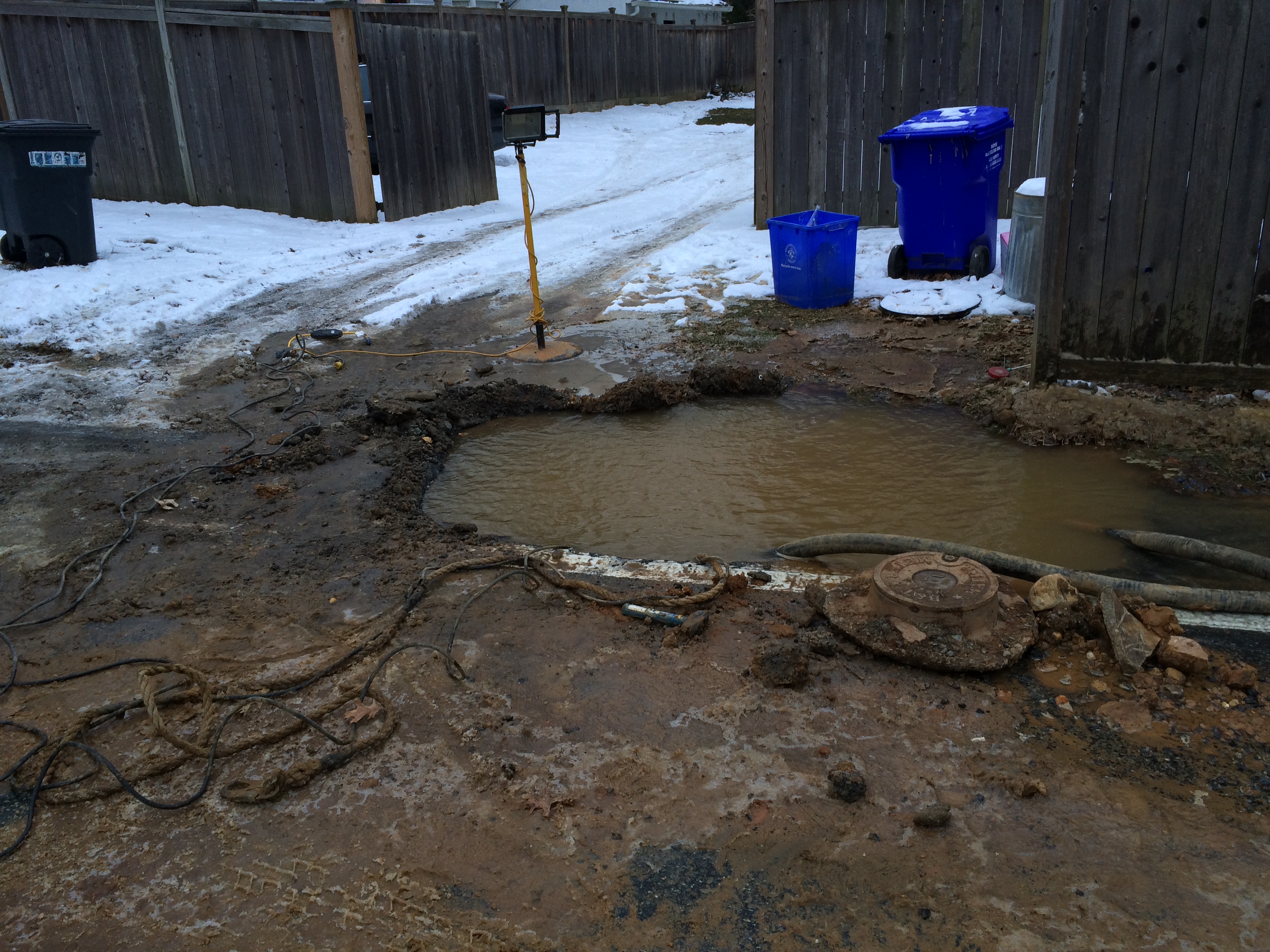 Water Main Break in Bethesda (PHOTOS)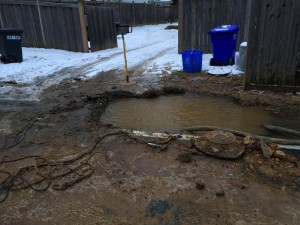 UPDATED Washington Suburban Sanitary Commission (WSSC) crews remain on the scene of a water main break in Bethesda at River Road and Wilson Lane.
According to WSSC officials, the broken water main line is 62-years-old and repairs are expected to be complete later this evening.
Earlier this morning, there were road closures in the area because of icy and slick conditions.
Repairs were slow going because of the extremely cold conditions and the age of the pipe, officials said.
There are 91 customers impacted by the break, according to WSSC. The water should be back on tonight.
#WSSC work continues on Wilson Lane. Water expected back on late evening and road to open late tonight. Thx for patience. Will update.

— WSSC Water News (@WSSCWaterNews) January 9, 2015
All #WSSC valves closed but h2o still rolling from Wilson Lane break. Aging infrastructure can pose these challenges. pic.twitter.com/6lbsBMIrB4

— WSSC Water News (@WSSCWaterNews) January 9, 2015
Progress on Wilson Lane at River Rd #WSSC water main break. Found 2 of 3 snow & ice covered valves. pic.twitter.com/i51BGtjufZ

— WSSC Water News (@WSSCWaterNews) January 9, 2015
Third #WSSC valve at River Rd closed! Repairs beginning on Wilson Lane water main break. pic.twitter.com/x6B6kME63R

— WSSC Water News (@WSSCWaterNews) January 9, 2015
Slushy mess on outbound River Rd at Wilson Lane. Please take it easy. #WSSC working quick as possible to get h2o off. pic.twitter.com/WlKUR0RqIU

— WSSC Water News (@WSSCWaterNews) January 9, 2015
Metal detector hard at work locating buried #WSSC valve on Wilson Lane. pic.twitter.com/16VoSldmki — WSSC Water News (@WSSCWaterNews) January 9, 2015
#WSSC working to locate snow and ice covered valves on Wilson Lane at River Rd to fix broken water main. pic.twitter.com/Ar0UUrxfmz

— WSSC Water News (@WSSCWaterNews) January 9, 2015
Snow and ice slowing #WSSC crew locating valves to shut down broken water main on Wilson Lane at River and make repairs. — WSSC Water News (@WSSCWaterNews) January 9, 2015
#WSSC crews have located the break on Wilson Lane near River Rd but still need to find valves to shut off water before digging can start.

— WSSC Water News (@WSSCWaterNews) January 9, 2015
#WSSC been working all night… Still trying to pinpoint break 6700 blk Wilson Lane. No one out of water right now. — WSSC Water News (@WSSCWaterNews) January 9, 2015
Water Main Break – vicinity River Rd & Wilson La, Bethesda

— Pete Piringer (@mcfrsPIO) January 9, 2015
Traffic Advisory – some lanes CLOSED Bradley Blvd between Wisconsin Av & Arlington Rd, Bethesda – icy conditions due to Water Main Break — Pete Piringer (@mcfrsPIO) January 9, 2015