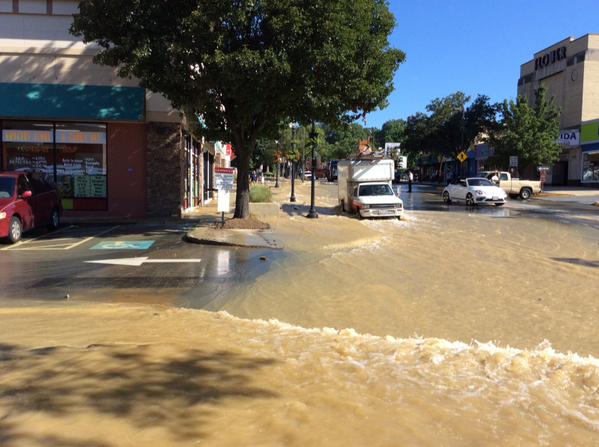 Water Main Break in Silver Spring (PHOTOS)
Washington Suburban Sanitary Commission (WSSC) crews are on the scene of a 12-inch water main break in the 8700 block of Flower Avenue in Silver Spring.
WSSC crews have shut off the water so repairs can begin on the 90-year-old main.
Local businesses are reporting losses from having to close their shops because of the water main break.
Follow @MyMCMedia on Twitter for updates from the scene.
WSSC officials said Flower Avenue water main is 90 years old. #WaterMainBreak pic.twitter.com/KJx6AUb65j

— Aline Barros (@AlineBarros2) August 12, 2015
Kim said she might lose close to $1,000 due to her business being close for the day. #WaterMainBreak pic.twitter.com/NJ6MBJfRnB — Aline Barros (@AlineBarros2) August 12, 2015
Helen Kim, owner of Reliable Cleaners, shared this photo with me. She said lots of water got inside the store. pic.twitter.com/D4z8Dxk75Y

— Aline Barros (@AlineBarros2) August 12, 2015
WSSC crews on location after a water main break on Piney Branch Road near Flower Avenue in #SilverSpring. pic.twitter.com/Q72RVCKCqs — Aline Barros (@AlineBarros2) August 12, 2015
Water has been shut off 8700 blk Flower Ave in Silver Spring. Broken 12-inch water main. #WSSC crew is on scene.

— WSSC Water News (@WSSCWaterNews) August 12, 2015
Water Main Break closes Flower Avenue between Piney Branch Road and Arliss St. #silverspring pic.twitter.com/aj7ZeAU5xd — Montgomery Co Police (@mcpnews) August 12, 2015
Water Main Break – Piney Branch Rd near Flower Av – Piney Branch Rd CLOSED pic.twitter.com/WgWTr8NmNL

— Pete Piringer (@mcfrsPIO) August 12, 2015
Update – 8700blk Piney Branch Rd, FFs on scene checking buildings for flooding conditions & other hazards pic.twitter.com/ueu9RrdHpG

— Pete Piringer (@mcfrsPIO) August 12, 2015