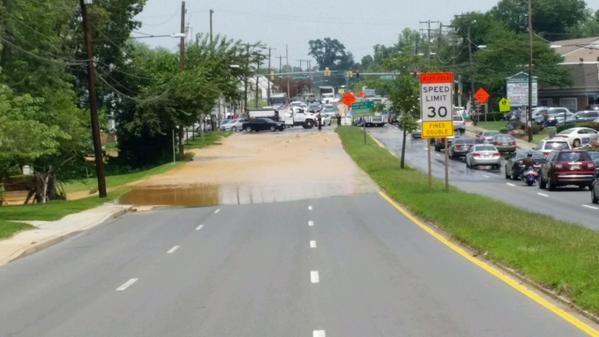 UPDATED: Water Main Break in Wheaton (PHOTOS)
UPDATED, July 1, 7:30 p.m. – Washington Suburban Sanitary Commission says 2.5 million gallons of water gushed out of a ruptured 16-inch water main Wednesday afternoon in Wheaton.
The break along Georgia Avenue was reported about 1:30 p.m. and water flowed out of it and onto the road and nearby properties for about two hours, according to WSSC. The pipe is 68 years old.
Photos courtesy Montgomery County Police Department
ORIGINAL – 
A major water main break on southbound Georgia Avenue has closed the road there near Shorefield Drive.
Montgomery County Fire and Rescue Spokesperson Peter Piringer said several homes and businesses may be impacted by the water line break including one home where a family of three adults and three children have been displaced.
Washington Suburban Sanitary Commission Spokesman Jerry Irvine said the break occurred about 1:30 p.m. on a 16-inch pipe. Irvine said the pipe is from 1947 so age might be a factor in the break. Water has not yet been shut down and he said thousands of gallons have gushed out of the pipe.
More….Water Main Break in Glenmont/Wheaton near Georgia Av & Shorefield Dr, some homes & businesses may be impacted pic.twitter.com/I6uRuVahPB

— Pete Piringer (@mcfrsPIO) July 1, 2015
Surf's Up! On SB Georgia Av near Shorefield Dr, ALL SB lanes CLOSED pic.twitter.com/ueuGq2cjOw — Pete Piringer (@mcfrsPIO) July 1, 2015
Update: More photos: area of SB Georgia Ave. at Shorefield Rd. pic.twitter.com/HMH4fthuYR

— Montgomery Co Police (@mcpnews) July 1, 2015
Update: Coordinating with @mcfrs in evacuating some houses in area of Weismann Road due to flooding into houses. pic.twitter.com/F7dR9n4RZ4

— Montgomery Co Police (@mcpnews) July 1, 2015
Update: S/B Georgia Ave. now closed at Randolph Rd. for emergency @WSSCWaterNews work. pic.twitter.com/UXsh2H2nef — Montgomery Co Police (@mcpnews) July 1, 2015

Related: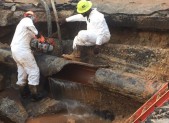 UPDATED: All lanes of Georgia are open according to WSSC. 10 PM Update: SB GA Ave at Shorefield Rd in Wheaton is open. What a difference a day makes. Thx 2 pipe & paving crews pic.twitter.com/F9UPIcLkQo — WSSC Water News (@WSSCWaterNews) July 3, 2015 The southbound lanes of Georgia Avenue are still closed this afternoon […]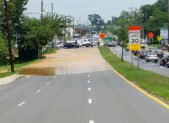 UPDATED, July 1, 7:30 p.m. – Washington Suburban Sanitary Commission says 2.5 million gallons of water gushed out of a ruptured 16-inch water main Wednesday afternoon in Wheaton. The break along Georgia Avenue was reported about 1:30 p.m. and water flowed out of it and onto the road and nearby properties for about two hours, […]