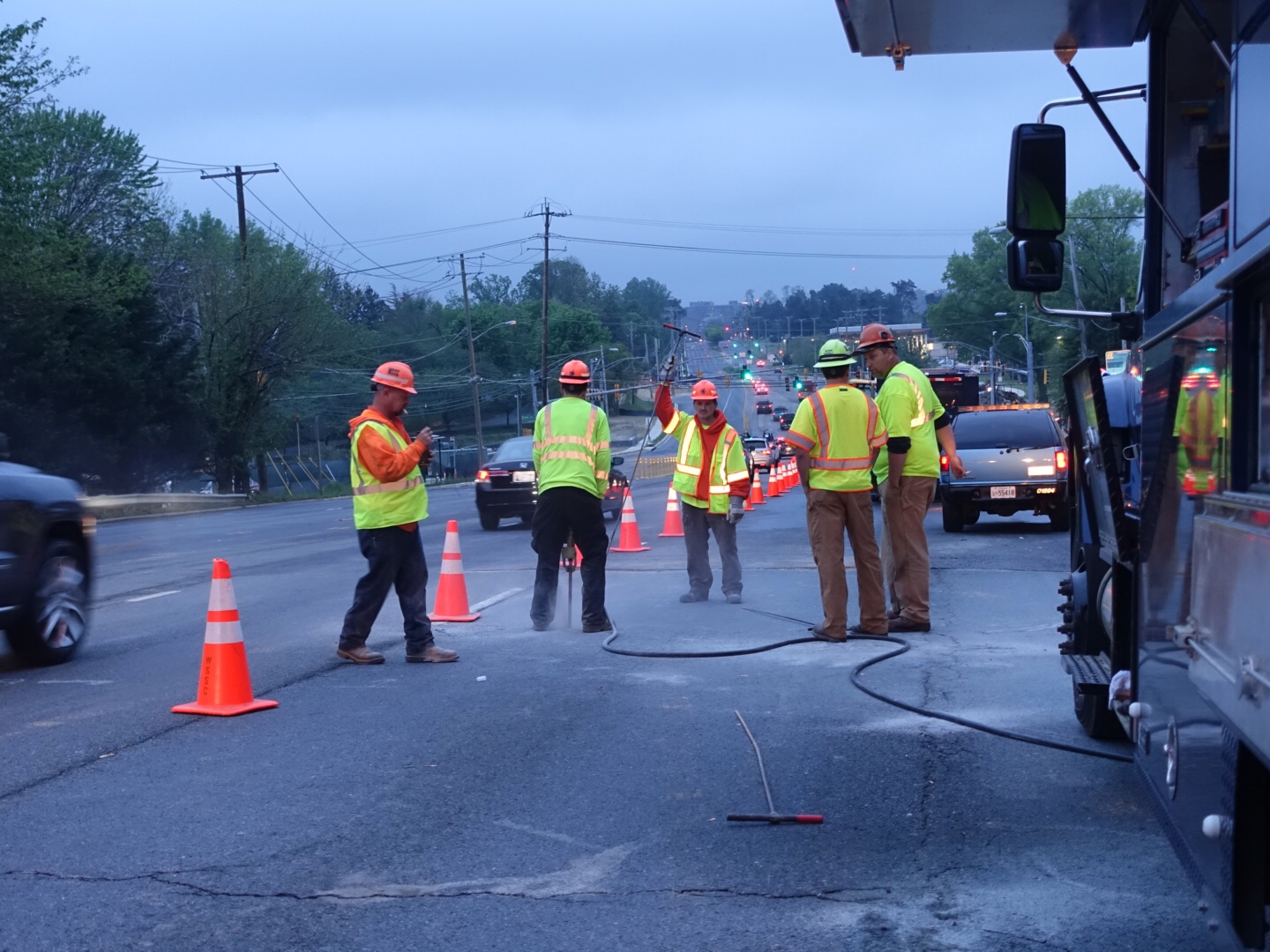 UPDATED: WSSC Repairs Water Main Break on Rockville Pike in Bethesda (PHOTOS)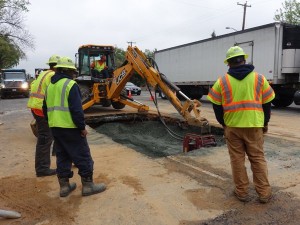 UPDATED WSSC crews have completed repairs on the 16-inch water main that broke overnight on Rockville Pike near Cedar Lane.
According to WSSC, service has been restored to 116 customers who were impacted by the break.
All lanes on Rockville Pike at Cedar Lane are now open.
WSSC confirmed the broken water main shortly before 1 a.m. on Wednesday. Water was shut off by 3:30 a.m., according to a WSSC news release.
This is the second time in approximately six months that the 75-year-old stretch of pipe has broken. There was also break in the area on October 13, 2015.
UPDATE: All lanes are now open on south bound Rockville Pike (MD-355) between Locust Hill Rd & Cedar Ln from earlier utility work #MdTraffic

— MC Emergency Mgt (@ReadyMontgomery) April 28, 2016
New section of pipe going in the ground on #WSSC Rockville Pike 16″ water main. pic.twitter.com/xgl9s4ieHg

— WSSC Water News (@WSSCWaterNews) April 27, 2016
ORIGINAL POST Washington Suburban Sanitary Commission (WSSC) crews are working to repair a 16-inch water main break in the 9100 block of Rockville Pike in Bethesda.
The emergency utility work has closed the two right lanes of southbound Rockville Pike between Locust Hill Road and Cedar Lane.
According to WSSC, over 100 customers are without water because of the break.
10′ split along section of 16″ #WSSC water main Rockville Pike. Will take several hours to get new pipe in ground pic.twitter.com/EPGevlWMjr

— WSSC Water News (@WSSCWaterNews) April 27, 2016
Emerg. utility work closes 2 rt lanes SB Rockville Pike (MD-355) bet. Locust Hill Rd & Cedar Ln in Bethesda. Expect delays. Seek alt route.

— Montgomery County MD (@MontgomeryCoMD) April 27, 2016
Emergency utility work closes 2 right lanes of South Bound Rockville Pike (MD-355) between Locust Hill Rd & Cedar Ln in Bethesda #MdTraffic

— MC Emergency Mgt (@ReadyMontgomery) April 27, 2016
Pinpointing exact location broken #WSSC 16″ main Rockville Pike & Cedar Lane. 1 SB lane gets by 116 customers no H2o pic.twitter.com/P1GPfyJmqs

— WSSC Water News (@WSSCWaterNews) April 27, 2016
Traffic update: 1 SB lane open on Rockville Pike and all NB open – slow down thru the work zone PLEASE!

— WSSC Water News (@WSSCWaterNews) April 27, 2016
Swift water shutdown on #WSSC 16″ broken main Rockville Pike & Cedar Lane. Traffic updates to come. pic.twitter.com/P5yNd8FwSe

— WSSC Water News (@WSSCWaterNews) April 27, 2016
Listening to hear the water ensures digging in just the right spot to fix broken 16″ #WSSC water main Rockville Pike pic.twitter.com/TDizfHPGcp

— WSSC Water News (@WSSCWaterNews) April 27, 2016
Series of small holes drilled in the road, rods go in to hit the main, ensures digging in right spot to fix pipe. pic.twitter.com/PXEvMqN9aZ

— WSSC Water News (@WSSCWaterNews) April 27, 2016
#WSSC mobilizing to repair 16″ water main break 9100 Rockville Pike. 118 customers affected. 4 SB & 1 NB lanes closed.

— WSSC Water News (@WSSCWaterNews) April 27, 2016