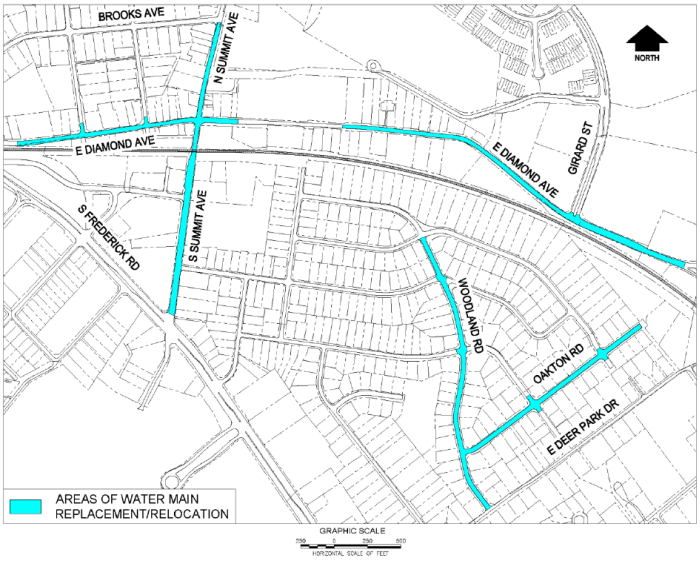 Water Main Replacement Work to be Conducted on Summit Avenue
A&M Concrete, in conjunction with the Washington Suburban Sanitary Commission, will replace and relocate the water main along Summit Avenue in Olde Towne Gaithersburg. Work will take place between 9 p.m. and 5 a.m., Sunday evenings through Friday mornings, from June 24 to Aug. 25, weather permitting.
Traffic could be delayed because of flagging operations or construction traffic. Expect noise. Some on-street parking could be blocked. Streets and sidewalks, however, will be open, and businesses will be accessible.
This is part of the replacement of about 11,260 feet of water main in the commercial and residential areas of Olde Towne Gaithersburg that started in November 2017 and is expected to conclude by December.
The effect on water service is expected to be minimal, but some disruption could occur. WSSC will provide 48-hour notice before any planned water service interruptions. In the event of a water or sewer emergency, call the WSSC 24-hour Emergency Call Center at 301-206-4002.
A map of the affected areas is on the City of Gaithersburg project page at www.gaithersburgmd.gov.
For information, call WSSC On-site Inspector W. Jack Hollman at 410-733-2001, or write William.hollman@wsscwater.com. Or call WSSC Technical Contract Supervisor Gary McHugh, 301-206-7363, prompt #2, or write gary.mchugh@wsscwater.com.