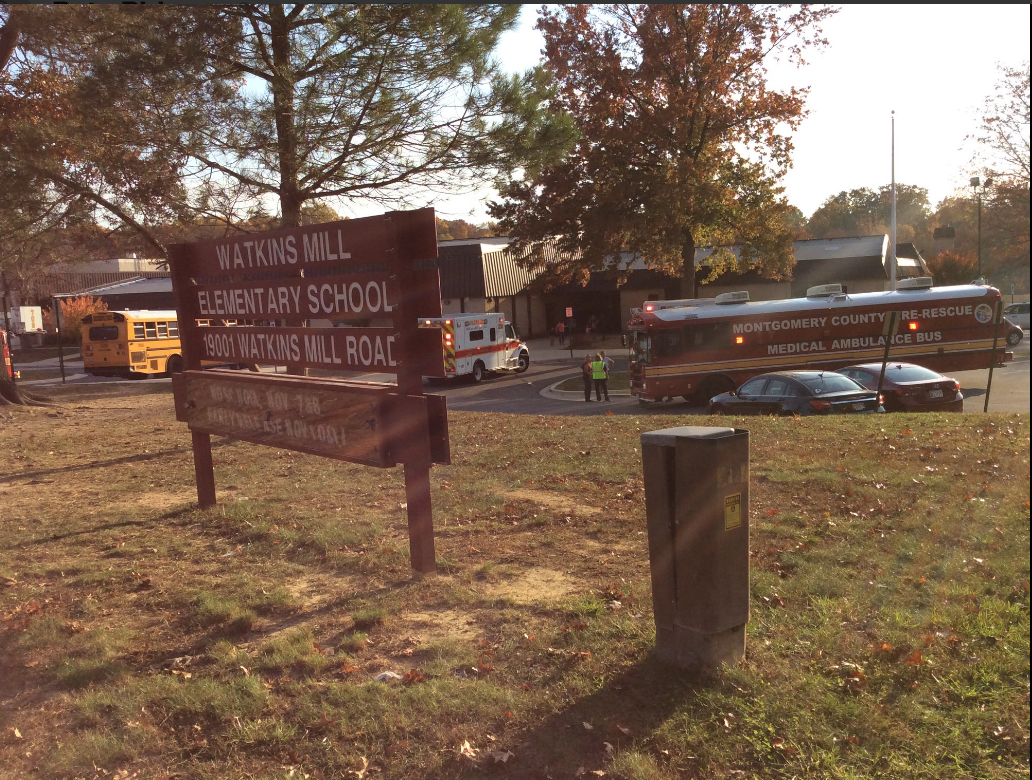 UPDATED: Watkins Mill Elementary School Students Sent to Hospital After Pepper Spray Incident on Bus (VIDEO & PHOTOS)
UPDATED Montgomery County Fire and Rescue officials are reporting that 14 Watkins Mill Elementary school students have been transported to a local hospital after a pepper spray incident that happened on a school bus Wednesday afternoon.
According to Fire and Rescue Spokesperson Pete Piringer, at a approximately 4 p.m. EMS personnel were dispatched for a inhalation emergency on a school bus at Watkins Mill Elementary School. EMS personnel evaluated a total of 56 students for possible exposure to pepper spray, Piringer said.
Piringer said none of the symptoms were serious or life-threatening. The 14 students transported to the hospital were taken for precautionary measures.
A hazmat unit and two ambulances were sent to the school to assist in treating and evaluating the students.
According to Montgomery County Police Spokesperson Rick Goodale, an 11-year-old girl deployed the pepper spray on the bus. Officers are still determining the reason for the student using the pepper spray and said the investigation is on-going.
Watkins Mill Elementary School Principal Rock Palmisano sent the following message to parents and guardians about the incident, according to MCPS Spokesperson Gboyinde Onijala.
"Dear Parents and Guardians:
"I am writing to inform you about a serious incident that has occurred at our school today.  At approximately  3:45 p.m. it was reported that a student sprayed a chemical irritant on school Bus Route 4307. Emergency medical services were called immediately. The bus had not left the school and approximately 45 students were returned to the building to be assessed by staff and, out of an abundance of caution, 14 and were transported to the hospital.
"A replacement bus has been called for students on the bus not affected by the spray.  We will provide additional information as it becomes available."
(4p) Watkins Mill ES, 56 students evaluated, EMS transported 14 (out of 56), all precautionary NLT, >35 MCFCRS FFs and/or Medics OS pic.twitter.com/tMv4ifvwCT

— Pete Piringer (@mcfrsPIO) November 2, 2016
Update – Watkins Mill ES, students on bus may have been exposed to pepper spray or some other substance, all 56 evaluated, <30 transported pic.twitter.com/Q9nAV4zHbo

— Pete Piringer (@mcfrsPIO) November 2, 2016
Update – Watkins Mill Rd, after EMS evaluation 30 (out of 56) students to be transported, precautionary, all NLT, 2 MABs & HazMat assisting

— Pete Piringer (@mcfrsPIO) November 2, 2016
Update – Watkins Mill ES, EMS evaluating 56 students, all NLT exposed to pepper spray on bus, both (2) Medical Ambulance buses assisting

— Pete Piringer (@mcfrsPIO) November 2, 2016
19000blk Watkins Mill Rd, Watkins Mill ES parking lot, EMS investigating inhalation emergency (pepper spray) on bus, EMS evaluating all NLT

— Pete Piringer (@mcfrsPIO) November 2, 2016