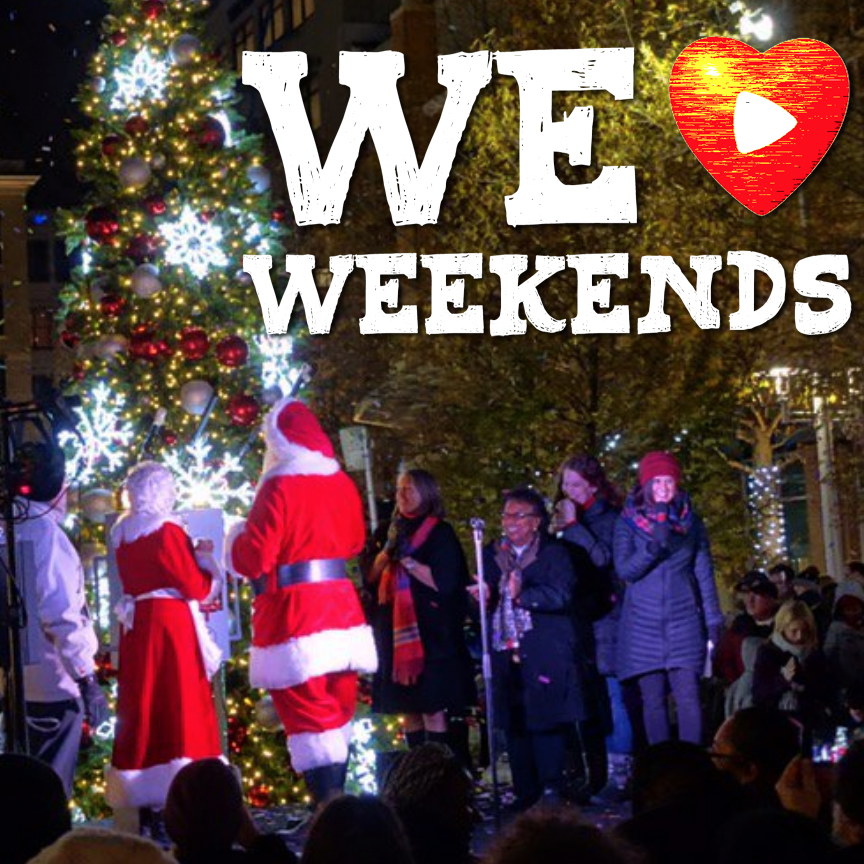 We Love Weekends: Montgomery County Planner for Dec. 21-Dec. 23
With Christmas just days away, this is the weekend for entertainment.
Friday, Dec. 21
Macy Gray performs at the Bethesda Blues and Jazz Club, 7719 Wisconsin Ave. 8 p.m. Doors open at 6 p.m. $67 – $87. 240-330-4500. For more information, click here.
Christmas by Candlelight The Washington Chorus performs at the Music Center at Strathmore, in a concert that features brass, organ and sing-alongs. Expect audience favorites including "The Dream Isaiah Saw" and the "Hallelujah Chorus." $29-$79. For more information, click here.
Elf the Musical The Olney Theatre Center performs the musical, based on the hit Will Ferrell movie. The warm-hearted family musical tells the story of Buddy, a human accidentally transported to the North Pole as a baby who grows up believing himself to be an elf. Buddy journeys to New York to find his father and help the jaded city folk rediscover the wonder of the Christmas season. $74-$99. On the Main Stage. For more information, click here.
A Christmas Carol: A Ghost Story of Christmas  Paul Morella returns to bring his unique and memorable adaptation of A Christmas Carol to life. Experience the characters and vivid imagery as Charles Dickens originally intended  – in his own words – and rediscover this timeless classic presented in a masterful solo performance.  Adapted from Dickens' original novella and reading tour, Morella's solo version will transport you back to Victorian England and into the heart of this classic morality tale. Through Dec. 30 at various times.  Mulitz-Gudelsky Theatre Lab at Olney Theatre Center, 2001 Olney-Sandy Spring Road. olneytheatre.org.  $40-$50. Click here for more information.
Christmas Caroling The students at the Brookewood School will sing Christmas songs from 6:30 p.m. to 7:30 p.m. in front of the Armory Avenue shops, behind Safeway. 10400 Armory Ave, Kensington. Click here for more information.
Striking 12   Presented by Free Range Humans and inspired, in part, by Hans Christian Andersen's "The Little Match Girl," Striking 12 toggles between an urban fairy tale and the classic. The story follows a grumpy, overworked New Yorker who resolves to spend New Year's Eve alone when an unexpected visitor brings cheer. The musical score is an eclectic combination of pop, rock, jazz, and showtunes.Six performances through Dec. 22 at various times.  BlackRock Center for the Arts, at 12901 Town Commons Drive, Germantown.  blackrockcenter.org. $25-$45.
Local Comic Talib Babb is a rising comedian and writer who hails from Prince George's County. He's appeared on the Late Show with Stephen Colbert, SiriusXM's Raw Dog Comedy channel and other platforms. He currently stars in his YouTube series "You Good? with Talib Babb." He pokes fun at race relations, pop culture, everyday life and whatever else might temporarily offend you, but eventually makes you laugh. He'll be performing with Keith Correy of Washington. Correy has traveled the country with his weird imaginative sense of humor. From 8 p.m. to 10 p.m. $18-$20. Click here for more information.
Saturday, Dec. 22
Christmas Gospel Kirk Whalum presents his 7th annual Gospel According to Jazz Christmas Concert featuring dynamic percussionist Sheila E., his brother singer Kevin Whalum, and special guest singers John Stoddart and Lynn Mabry. The show starts at 3 p.m. at the Bethesda Jazz and Blues Club, 7719 Wisconsin Ave. $59.50-$69.50. Click here for more information.
Maggie Rose It's Holiday Season at Bethesda Blues & Jazz, as we link with Potomac-born Rose and Toys for Tots. Doors open 6 p.m. 8 p.m. $35. Click here for more information.
Handeling the Holidays The National Philharmonic Orchestra and Chorale performs Handel's Messiah, including "And the Glory of the Lord" and the "Hallelujah Chorus." At Music Center at Strathmore. 8 p.m. For more information, click here. Kids free, students $10, adults $84.
Blackrock Blues Dave Keller has been nominated for a Blues Music Award for Best Soul/Blues Album, won the International Blues Challenge Best Self-Released CD Award, and been chosen for Downbeat's Best Recordings of the Year. 8 p.m. at BlackRock Center for the Arts. $25-$45. For more information, click here.
Farmers Markets Kensington's farmers market runs from 9 a.m. to 1 p.m. at the Kensington Train Station, 3701 Howard Ave. Click here for more information. Gaithersburg's Main Street Farmers and Artists Market takes place from 9 a.m. to 2 p.m. at the Main Street Park and Pavilion, 301 Main St. Click here for more information.
Sunday, Dec. 23
Mmm Mmm Good Sur la Table hosts a Winter Ravioli Workshop: Fresh pasta dough, acorn squash ravioli with sage brown butter sauce, herbed ricotta ravioli with tomato-pancetta sauce, arugula and endive salad with pears, gorgonzola and pine nuts. Participants will learn how to make fresh pasta dough and then share easy fillings and sauces. 1 p.m. $51. Sur la Table is at 11874 Grand Park Ave., North Bethesda.
Cinderella Imagination Stage puts on a wacky retelling of Cinderella, complete with a wisecracking rat, evil stepsisters and a smitten prince. Various show times. Best for ages 4+. Imagination Stage is at 4908 Auburn Ave., Bethesda.