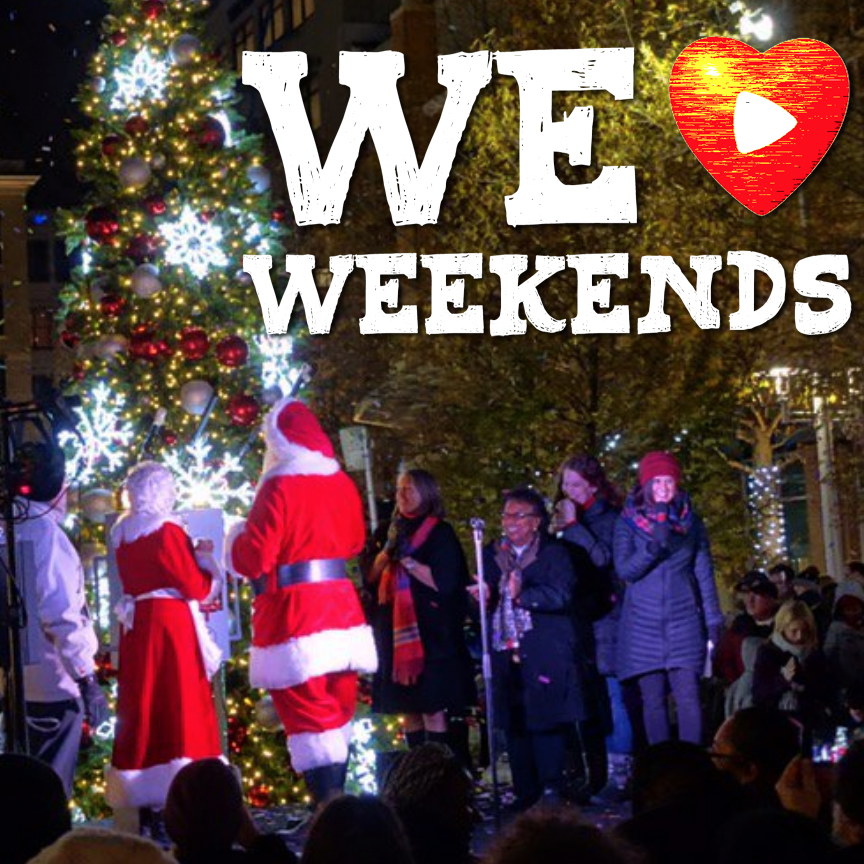 We Love Weekends: Montgomery County Planner for Dec. 7 – Dec. 9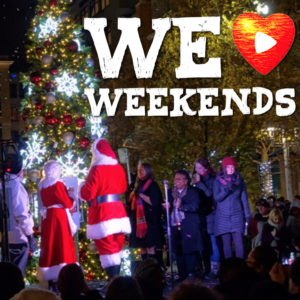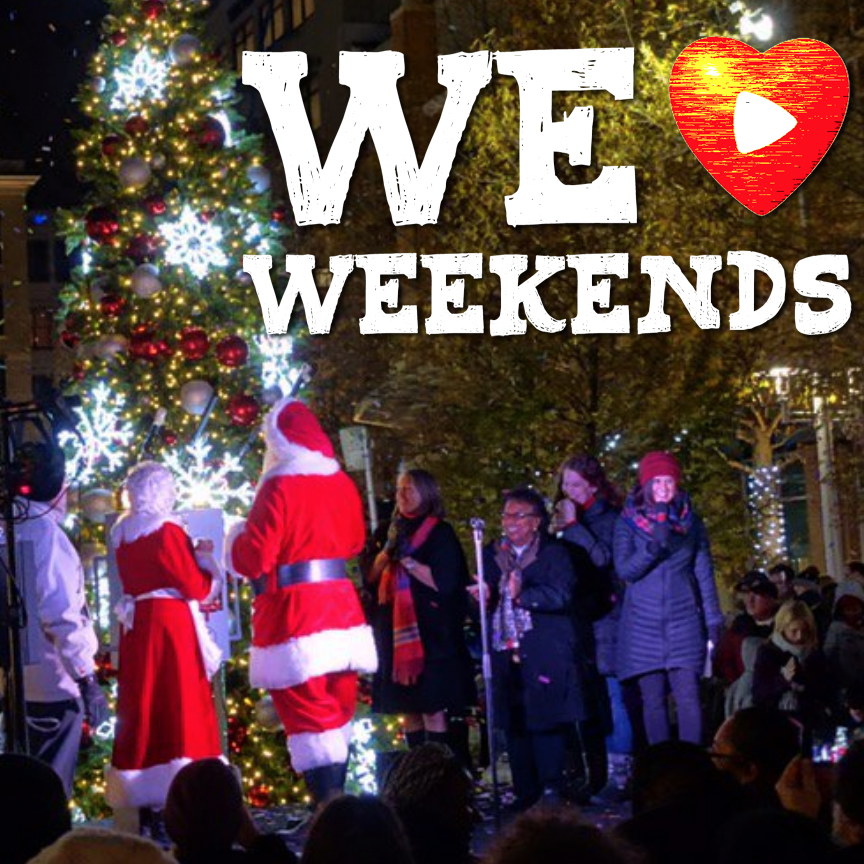 Looking for unique, hand-made holiday gifts? We've found two seasonal arts and crafts shows, but guess there are more in the county. First, the Sandy Spring Museum's Holiday Show includes works by their 11 artist residents and many local community artists. The show is open daily, find the details, here. A second option is the Countryside Artisans' Holiday Gallery & Studio Tour which takes place Dec. 7-9.
Lift your spirit with song this weekend by joining the Gaithersburg Chorus in a holiday sing-along through the streets of Kentlands & Lakelands.
Montgomery Parks first annual Woodlawn Manor Yuletide Celebration takes place Saturday, Dec. 8 from 5 to 7 p.m. Tour the historic home and enjoy traditional music and dance from the 1800s. Registration is required to attend this event.
Friday, Dec. 7
A Christmas Story  In partnership with Rockville Little Theatre, Arts on the Green presents A Christmas Story, adapted by Philip Grecian. A Christmas story is based on the holiday classic film which is written by Jean Shepherd, Leigh Brown & Bob Clark. This play is recommended for ages seven & up.
A Christmas Story continues through Dec. 9 at various times. Arts Barn, located at 311 Kent Square Road, Gaithersburg. gaithersburmd.gov. $20.
The Nutcracker Metropolitan Ballet Theatre presents the full-length traditional staging of The Nutcracker which features both student and professional dancers.
Performances continue through Dec. 9 on various dates and time, therefore check the schedule. Robert E. Parilla Performing Arts Center of Montgomery College, located at 51 Manakee Street, Rockville. mbtdance.org Tickets start at $19.
Caroling in Kentlands & Lakelands  The Gaithersburg Chorus invite carolers of all ages to participate in a holiday sing-along through the neighborhoods of Kentlands & Lakelands. Carolers will meet at the Lakelands Clubhouse, 960 Main Street, and serenade along Main Street, through the Kentlands & Lakelands neighborhoods. Caroling will end at the Arts Barn, where the public is invited to warm up with complimentary sweet treats.
Dec. 7 from 6 to 7:30 p.m.  Carolers should meet at Lakelands Clubhouse, located at 960 Main Street.  gaithersburg.gov.  Free.
Social Dance  Contra dance is a type of folk dance for all ages and a social dance.  You do not need to bring a partner. There is a beginner's lesson from 7:30 pm – 8:15 pm which is included in the price of admission. If Glen Echo Park closes due to inclement weather the dance will be canceled.
Dec. 7 from 7:30-11:30 p.m. in the Spanish Ballroom at Glen Echo Park, located at 7300 MacArthur Boulevard. glenechopark.org $11. (Contra dance flyer)
National Philharmonic: Holiday Pops  Experience the joy and magic of the holidays as award winning soprano sings favorite holiday solos. Sing along to seasonal classics including White Christmas with your family and friends at Strathmore. Come early to this special concert, supporting military families of the USO-Metro, to view the Polar Express Train, decorate an ornament and hear young carolers. A portion of every ticket purchase supports USO-Metro families.
Dec. 7 at 7:30 p.m.  The Music Center at Strathmore, located at 5301 Tuckerman Lane, North Bethesda.  strathmore.org. Tickets from $18.
Shakura S'Aida   Brooklyn-born Shakura S'Aida brings her uncanny ability to deliver powerful original songs and perform favorite Blues songs. S'Aida brings emotion to original songs and classic standards.
Dec. 7 at 8 p.m.  BlackRock Center for the Arts, located at 12901 Town Commons Drive, Germantown.  blackrockcenter.org. $25-$45.
Saturday, Dec. 8
Rufus Wainwright All These Poses Anniversary Tour 2018  Rufus Wainwright has established himself as one of the great male vocalists and songwriters of his generation. The Grammy-winning singer, songwriter, and composer commemorates the 20th anniversary of his debut by performing material from Rufus Wainwright and Poses, the breakthrough albums that first burst him onto the music scene.
Dec. 8 at 8 p.m.  The Music Center at Strathmore, located at 5301 Tuckerman Lane, North Bethesda.  strathmore.org. $39-$89.
The Nutcracker   The Rockville Civic Ballet's production of The Nutcracker has become a Rockville tradition.
Through Dec. 9 at various times.  F. Scott Fitzgerald Theatre, 603 Edmonston Drive, Rockville. fscottfitzgerald.com. $25.
A Christmas Carol: A Ghost Story of Christmas  Paul Morella returns to bring his unique and memorable adaptation of A Christmas Carol to life.  Experience the characters and vivid imagery as Charles Dickens originally intended  – in his own words – and rediscover this timeless classic presented in a masterful solo performance.  Adapted from Dickens' original novella and reading tour, Morella's solo version will transport you back to Victorian England and into the heart of this classic morality tale.
Through Dec. 30 at various times.  Mulitz-Gudelsky Theatre Lab at Olney Theatre Center, 2001 Olney-Sandy Spring Road. olneytheatre.org.  $40-$50.
Gem of the Ocean   Playwright August Wilson's first installment in his series of plays set in Pittsburgh's Hill District following the Civil War. This play examines the uneasy calm holding the African-American community together.
Through December 23 at various times. Round House Theatre, 4545 East-West Highway Bethesda.  roundhousetheatre.org  Tickets start at $51.
Sunday, Dec. 9
Elf The Musical   Based on the Will Ferrell movie, Elf has become a holiday classic. This warm-hearted family musical tells the story of Buddy, a human accidentally transported to the North Pole as a baby who grows up believing himself to be an elf, despite his large size and sub-par toy-making.
Through Jan. 6, 2019 at various times.  Mainstage at Olney Theatre Center, 2001 Olney-Sandy Spring Road. olneytheatre.org. Starts at $59.
Strathmore Children's Chorus: Our Voice, Her Song  More than 200 voices join together to perform the music of female composers. Strathmore's Children's Chorus (SCC) presents an eclectic program including a chant by German Benedictine writer Hildegard von Bingen, a Romantic-era piece by acclaimed pianist Clara Schumann, and contemporary works by American composers Victoria Ebel-Sabo, Emma Lou Diemer, Nancy Hill Cobb, and Andrea Ramsey.
Dec. 9 at 4 p.m. at The Music Center at Strathmore, 5301 Tuckerman Lane, North Bethesda.  strathmore.org. $15-$25.
Radio Theater – It's a Wonderful Life  It's Christmas Eve, 1945. Four WVL Radio actors have braved the blizzard to perform that evening's broadcast of It's a Wonderful Life and keep their station afloat. A heartwarming, uplifting gift for audiences – this clever stage adaptation breathes new life into the poignant story of George Bailey and Bedford Falls.
Dec. 9 at 6 p.m.  BlackRock Center for the Arts, 12901 Town Commons Drive, Germantown.  blackrockcenter.org. $25-$45.
Watch the latest Culture Spot MC video, below, for more events happening this month: