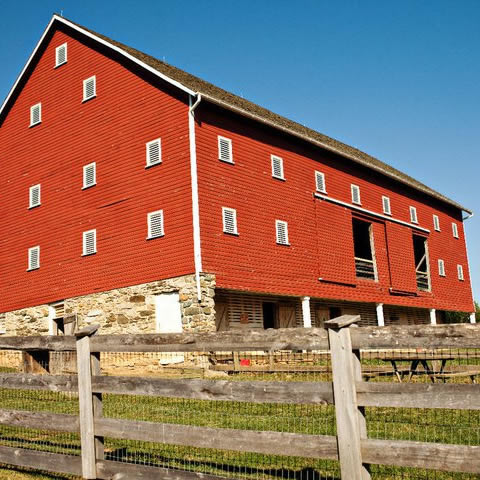 We Love Weekends: Montgomery County Planner for Oct. 5 – Oct. 7
Glenstone Museum reopened Thursday, Oct. 4 following renovations to expand their exhibition space by 50,000 square feet. The museum is open Thursday through Sunday from 10 a.m. to 5 p.m. Admission is free, but tickets are required. Reservations to visit the museum are booked through December of this year. Check back on Nov. 1 when tickets are made available for January of 2019. MyMCMedia's Mitti Hicks and Nic Rhule attended the museum's media day recently and share some of the sights in this short video.
The popular food and music festival, Taste of Bethesda returns Sunday to Woodmont Triangle. Visitors may expect more than 60 restaurants and five stages of entertainment this year. The kid's corner includes face painting and arts and crafts.
Below are some other ideas for fun this weekend in Montgomery County:
Friday, Oct. 5
Colin Mochrie and Brad Sherwood  The comedy improv stars from Whose Line is it Anyway? take their show on the road to North Bethesda. The duo make up original scenes and songs based on audience suggestions.  Oct. 5 at 8 p.m. at The Music Center at Strathmore, 5301 Tuckerman Lane, North Bethesda.  strathmore.org. $34-$64.
The Songs of Burt Bacharach & Hal David D.C.'s Julia Nixon perform Bacharach & David's finest works. Oct. 5 at 8 p.m. at AMP by Strathmore, 11810 Grand Park Avenue, North Bethesda. ampbystrathmore.com. $35-$40.
South Pacific  Directed by Alan Muraoka, choreography by Darren Lee and music direction by Kristen Lee Rosenfeld. South Pacific is one of the most beloved of American musicals. Set on a remote Pacific island during World War II, South Pacific tells the love story between nurse Nellie Forbush and French expatriate Emile de Becque, a love threatened by war. Through Oct. 7 at Olney Theatre Center, 2001 Olney-Sandy Spring Road, Olney.  olneytheatre.org. $42-$84.
Streisand Songbook  Shayna Blass and Awa Sal Secka recreate their sold-out Signature Theater Cabaret celebration of the best-selling female artist of all time, Barbara Streisand. The performance salutes the original Funny Girl's six-decade-long career from Brooklyn chanteuse to living stage-film-recording legend. Hear her famous songs including "People," "Don't Rain on My Parade," "You Don't Bring Me Flowers" and "Evergreen" as rendered by these dynamic original artists. Oct. 5 at 8 p.m. BlackRock Center for the Arts, 12901 Town Commons Drive, Germantown.  blackrockcenter.org. $35-$45.
Contra Dance Contra dance is a type of folk dance for all ages and a social dance.  You do not need to bring a partner. There is a beginner's lesson from 7:30 pm – 8:15 pm which is included in the price of admission. If Glen Echo Park closes due to inclement weather the dance will be canceled. Sept. 21 from 7:30-11:30 p.m. in the Spanish Ballroom at Glen Echo Park. 7300 MacArthur Boulevard. glenechopark.org $10. (Contra dance flyer)
Saturday, Oct. 6
Rocktobierfest  Rockville Town Center hosts the annual Octoberfest celebration with two stages of entertainment, German food, artisans, and kids activities. Local breweries will have beer for sale. Free parking is available throughout town center. Locations include the Council Office Building on Fleet Street, and the City Hall lot. Oct. 6 from 11 a.m. to 5 p.m. at Rockville Town Center, 111 Maryland Ave.  rockvillemd.gov. Free.
Taste of Bethesda  Bethesda's famous food and music festival brings 60 restaurants and five stages of entertainment to Bethesda's Woodmont Triangle. Each year, more than 40,000 attendees sample the delicious restaurants, enjoy the live entertainment and visit the kid's corner for face painting and arts & crafts. Held rain or shine. Oct. 6 from 11 a.m. – 4 p.m. Located along Norfolk St. Elmo, Cordell, Del Ray and Auburn Avenues in Woodmont Triangle area of Bethesda. bethesda.org. Festival admission is free, taste tickets are sold in bundles of four tickets for $5, sales end at 3:30 p.m.
Harvest Festival  Visit the Agriculatural History Farm Park to learn the history of Montgomery County's farms during World war I. Interact with living historians in historic costumes; participate in hands-on farm skills activities such as tin-smithing, making apple butter; paint pumpkins and build scarecrows; enjoy traditional music and dancing; experience farm equipment exhibitions and demonstrations; meet heritage farm animals; and partake of food, crafters, hayrides, and tours of the historic Magruder-Bussard Farmstead. Oct. 6 from 11 a.m. to 4 p.m. at the Agricultural History Farm Park, 18400 Muncaster Rd, Derwood. montgomeryparks.org.  $15 per car, additional fees for some activities. Cash only.
Artist Reception  Meet and visit with the artists of Countryside Artisans and friends for hors d'oeuvres and drinks at the opening reception for the Home Before Susnset exhibit. This kicks off the nearly two month long exhibit and precedes the Countryside Artisan Tour the following weekend. Oct. 6 from 2 to 4 p.m. at Sandy Spring Museum, 17901 Bentley Road, Sandy Spring. sandyspringmuseum.org Free.
De Colores Mexican Folk Dance Group  Celebrate Hispanic Heritage Month with De Colores Mexican Folk Dance Group. Join us for an afternoon of authentic Mexican dance, music and colorful costumes. Sponsored by Friends of the Library, Rockville Memorial Chapter. Oct. 5 at 2 p.m. at Rockville Memorial Library, 21 Maryland Ave. mcpl.org. Free.
Labour of Love  Directed by Leora Morris this comedy by James Graham is set in a member of Parliament's district office and tells the story of the ups and downs of left-wing British politics over the past twenty-five years. Unfolding over decades, the play reflects a shifting political landscape in the heartland that echoes similar developments in America as progressives seek the road back to power. Through Oct. 28 at Olney Theatre Center, 2001 Olney-Sandy Spring Road, Olney.  olneytheatre.org. $54-$74.
Sunday, Oct. 7
Takoma Park Street Festival  The 37th Annual Takoma Park Street Festival will once again host a mix of local artists offering paintings, photographs, pottery, silk-screening, bath and body care, stained glass, jewelry, woodworking, textiles, ceramics, kids' items and much more. Non-profits, local companies and a variety of food vendors will also participate. Takoma's businesses will be open and welcoming visitors. Kids love the festival with crafts, face painting, and inflatables.  Oct. 7 from 10 a.m. to 5 p.m. in Takoma Park on Carroll Avenue to Carroll Street. mainstreettakoma.org.
The Diary of Anne Frank Rockville Little Theatre presents a new adaptation  by Wendy Kessleman of the story of Anne Frank, a 13-year-old Jewish girl who evaded Nazi deportation in German-occupied Amsterdam, Holland during World War II for two years. Oct. 7 at 2 p.m. at F.Scott Fitzgerald Theatre. Rockville Civic Center Park, 603 Edmonston Drive, Rockville. rockvillemd.gov. $20-$22.
Watch the latest CultureSpot MC video, below, for more events happening this month: