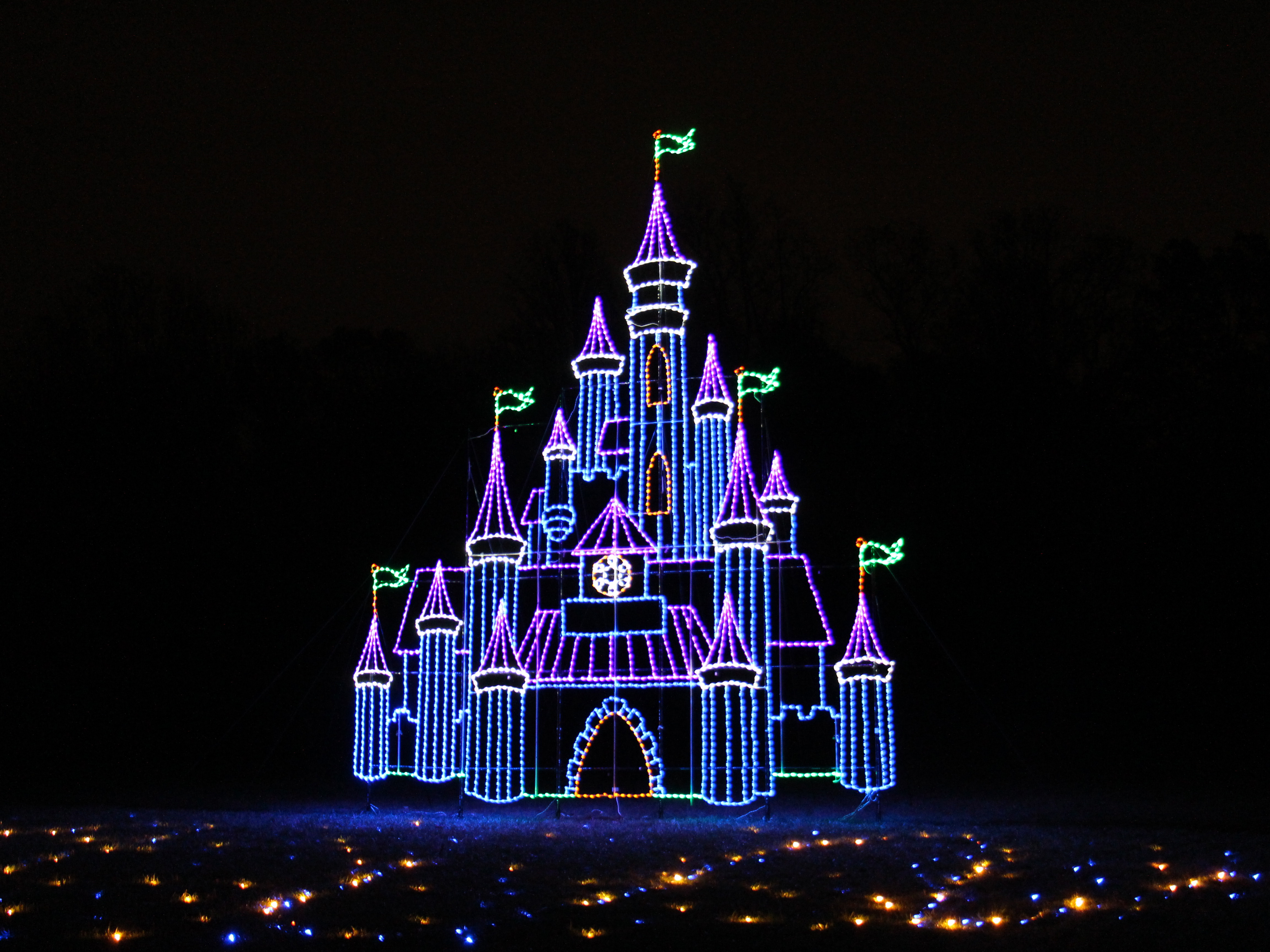 Weekend Planner, December 1-3
We are fortunate to have three holiday light displays in our community. Take a look at one in the video to the right.
Brookside Gardens in Wheaton is a walk-through holiday light display featuring more than one million dazzling colorful lights shaped into hand-crafted, original art forms of flowers, animals and other natural elements.
The Festival of Lights in Kensington includes a walking display of more than 650,000 lights, nightly musical performances in the indoor theater, indoor decorated Christmas trees, exhibit of crèches from around the world, and a life-sized outdoor nativity.
Winter Lights Festival in Gaithersburg is a 3.5 mile drive past more than 380 illuminated displays and 65 animated vignettes.
Here are some of our picks for arts and entertainment around the county this weekend.
Friday, Dec. 1
Love's Labour's Lost and Much Ado About Nothing  Written by William Shakespeare, presented by Lumina Studio Theatre. Directed by David Minton with contributions by John O'Connor. Through Dec. 10 at the Silver Spring Black Box Theatre, 8641 Colesville Road, Silver Spring. silverspringblackbox.com $10-$15.
Annie Based on the book by Thomas Meehan. Directed by Jason King Jones, this is the classic tale of Annie, an orphan during the Great Depression in New York City. When billionaire-celebrity Oliver Warbucks requires the presence of an orphan to soften his image, Annie unexpectedly finds a way into his heart. Along the way, Warbucks attempts to help Annie find her lost parents. Recommended for ages 5+. Through Dec. 31 at Olney Theatre Center, 2001 Olney Sandy Srping Road, Olney. olneytheatre.org. $47 and up.
A Christmas Carol: A Ghost Story of Christmas  Paul Morella brings his unique version of this Christmas classic.  Adapted from Dickens' original novella and reading tour, Morella's solo version transports you back to Victorian England and into the heart of this classic morality tale. Recommended for ages 10 and up. Through Dec. 31 at Olney Theatre Center, 2001 Olney Sandy Spring Road, Olney. olneytheatre.org. $40.
A Christmas Carol  In partnership with Kensington Arts Theatre, Arts on the Green presents this Christmas classic. Scrooge is a prosperous curmudgeon who believes that personal wealth is far more valuable than the happiness and comfort of others. But he's forced to face his selfish ways. Through Dec. 10 Gaithersburg Arts Barn, 311 Kent Square Road, Gaithersburg. gaithersburgmd.gov. Tickets $12-$20.
The Chuck Brown Band  The band that toured the world with the Godfather of Go-Go carries the torch and keeps the beat alive. Dec. 1, 8 p.m. at the Bethesda Blues & Jazz Club, 7719 Wisconsin Avenue, Bethesda. bbjlive.com. Tickets $25.
Saturday, Dec. 2
Countryside Artisans Holiday Gallery and Studio Tour  Countryside Artisans are a group of craftspeople and artisans working from their cottage studios located in the agricultural reserve. Meet and talk with the artisans at their studios. Find prints, paintings, hand blown glass, pottery, hand spun yarns, knitted and woven apparel, wine, woodenware, jewelry, wrought ironware, home and garden furniture for sale as you travel from studio to studio.  countrysideartisans.com  Free.
Bethesda's Winter Wonderland  Celebrate the holiday season in downtown Bethesda with a live ice sculpting demonstration, a visit from Santa Claus, treats from downtown Bethesda restaurants, and live music from elementary, middle and high school singers. Dec. 2 from 1 to 4 p.m. at Veterans Park, Corner of Woodmont and Norfolk Avenues, Bethesda. bethesda.org. Free.
Over, Under, Through  This art exhibit features sculptures and site-specific installations by three contemporary sculptors whose work focuses on the manipulation of common materials to create new three-dimensional forms. On display Nov. 11 – Dec. 16 with Artist Talk and Tour Dec. 2 at 2 p.m. at BlackRock Center for the Arts, 12901 Town Commons Drive, Germantown. blackrockcenter.org.
Cedric Williams: Dereliction  Creating environments to support photographic images of sites found in a state of dereliction, Cedric Williams observes the ways in which buildings, surfaces and structures change upon abandonment in this art exhibit. On display Nov. 11 – Dec. 16 with Artist Talk and Tour Dec. 2 at 2 p.m. at BlackRock Center for the Arts, 12901 Town Commons Drive, Germantown. blackrockcenter.org.
Meditation class:   A class for beginners who want an introduction to meditation. 11 a.m.-noon. Meditation Museum, 9525 Georgia Ave., Silver Spring. eventbrite.com. Free.
The Nutcracker  Since 1974, the Rockville Civic Ballet company has annually performed this holiday classic. Six performances through Dec. 10 at Fitzgerald Theatre, 603 Edmonston Drive, Rockville. rockvillemd.gov.  $12.50-$17.
"Mosaics: One Piece at a Time"  This exhibition highlights the breadth of current work from a select group of mosaic artists from across the region.  Featured artists include Bonnie Fitzgerald, Yulia Hanansen, Ali Mirsky, Jane Pettit, Carol Talkov, Meghan Walsh and Roslyn Zinner. On display Oct. 28 – Dec. 9 with Artists' Reception Nov. 18 6-8 p.m. at Park View Gallery, Glen Echo Park, 7300 MacArthur Blvd. Glen Echo. glenechopark.org. Free.
15th Anniversary Celebration Launch with the Hot Sardines BlackRock launches a year-long celebration of their 15th Anniversary with an evening of hors d'oeuvres and a featured performance of the Hot Sardines. This band is on a mission to make old sounds new again and prove that joyful music can bring people together in a disconnected world. Dec. 2 at 7 p.m. at BlackRock Center for the Arts, 12901 Town Commons Drive, Germantown. blackrockcenter.org. $60-80.
Sunday, Dec. 3
Glenview Mansion Holiday Open House  Rockville Art League's juried members' exhibit opens today and is on display through Dec. 29. Meet six local artists at the exhibit opening reception. The mansion is decorated for the holidays and has a holiday gift shop. Live music by the Rockville Singers, Victorian Lyric Opera Company, and the Capital Accord Chorus. Dec. 3 from 1 to 4 p.m. at Glenview Mansion, 603 Edmonston Drive, Rockville. rockvillemd.gov.  Free.
Stephen Wade: The Sky's The Limit  In this final appearance of his popular fall series at AMP, Stephen Wade explores American story and song from the old frontier to the present day. Wade's performances merge scholarship with virtuosity. For this concert, multi-instrumentalist Zan McLeod joins Wade in a special new show that speaks with humor and poignancy to our nation's character. Dec. 3 at 8 p.m. at AMP by Strathmore, 11810 Grand Park Avenue, Suite 400, North Bethesda. ampbystrathmore.com $25-$35.
AFI Holiday Classics Film Series  Opening the series: 1949 romantic comedy HOLIDAY AFFAIR, starring Janet Leigh and Robert Mitchum, and Vincente Minnelli's heartwarming musical MEET ME IN ST. LOUIS, starring Judy Garland. Various show times. Film series through Dec. 24 at AFI Silver Theatre, 8633 Colesville Road, Silver Spring.  www.afi.com.
Watch the latest CultureSpot MC video, below, for more events happening this month: