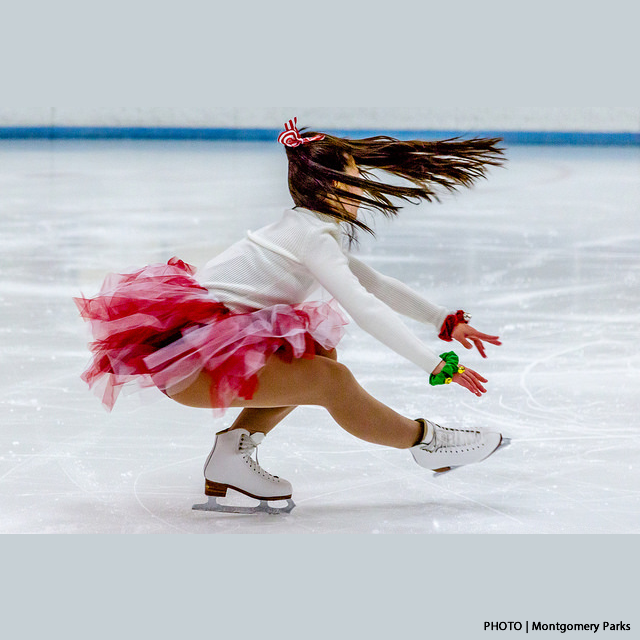 Weekend Planner for Jan. 5-7: Guide to Arts and Entertainment Around Montgomery County
Here are some of our picks for arts and entertainment around the county this weekend.
Friday, Jan. 5 
The Reluctant Dragon Montgomery Playhouse, in partnership with Arts on the Green present the Reluctant Dragon. This play, based on the book by Kenneth Grahame, adapted by Ed Monk, and directed by Loretto McNally, is about the village of Veesaldorf, a young girl named Charity and her dreams of adventure. Recommended for ages 7 and up. Runs Jan. 5 through Jan. 21 at Gaithersburg Arts Barn, 311 Kent Square Road, Gaithersburg. gaithersburgmd.org. $15 / $12 for ages 14 and under.
Annual Winter Ice Show: County skaters perform in this annual exhibition. Skaters of all ages entertain with group and solo performances. Jan. 5 6:30 to 8 p.m. at Wheaton Ice Arena, 11717 Orebaugh Avenue, Wheaton. facebookevents. Free.
Looking for a free family weekend activity? Join us at Wheaton Ice Arena's Winter Ice Show Friday at 6:30 pm: https://t.co/dSjySOpfLM. pic.twitter.com/um3c0MxSOT

— Montgomery Parks (@MontgomeryParks) January 3, 2018
A Salute to Holiday & Sinatra: Grammy Award-winning vocalist Catherine Russell teams up with jazz guitarist, vocalist, and bandleader John Pizzarelli in this tribute to Billie Holiday and Frank Sinatra. Jan. 5 at 8 p.m. at the Music Center at Strathmore, 5301 Tuckerman Lane, North Bethesda.  strathmore.org. $40 – $95.
Mary Ann Redmond: Mary Ann Redmond, winner of 24 Washington Area Music Awards, teams up with upright bassist, Paul Langosch who played with Tony Bennett for 20 years and  arranger and pianist, Jay Cooley, as well as drummer,  Dave Mattacks, who has played with Paul McCartney, Richard Thompson, Mary Chapin Carpenter, Joan Armatrading, Jethro Tull, Fairport Convention and more. This show is a fundraiser for Cancer Can Rock. Jan. 7 at 8 p.m at Bethesda Blues & Jazz Supper Club, 7719 Wisconsin Avenue, Bethesda. instantseats.com. $20.
Saturday, Jan. 6
Frosty the Snow Man Directed by Jason Schlafstein, this is the classic tale of a snow man, Frosty, who comes to life one day for one day of adventures before he melts away. Recommended for all ages. Extended one week through Jan. 7 at Glen Echo Park, 7300 MacArthur Boulevard, Glen Echo.  adventuretheatre-mtc.org. $19.50.
Charlotte's Web Based on the book by E. B. White, adapted by Joseph Robinette and directed by Kathryn Chase Bryer. The beloved classic about Fern, a farm girl and the bond she forms with Wilbur, a pig. At the Zuckerman Farm, Wilbur meets a silly goose, a moody sheep, a selfish rat, and Charlotte, a clever spider. In an effort to save her friend, Charlotte weaves flattering messages about him into her web that cause a sensation in the small town. Recommended for ages 5 and up. Through Jan. 7 at Imagination Stage, 4908 Augurn Avenue, Bethesda. imaginationstage.org.
Princess Bride Film Screening: Come dressed as your favorite character and shout out the lines in this audience participation event in the third floor meeting rooms. Jan. 6 at 3 p.m. at Silver Spring Library, 900 Wayne Ave, Silver Spring. montgomerycountymd.gov. Free.
Baltimore Symphony Orchestra: Mozart's Jupiter Led by conductor Bernard Labadie, Mozart's "Jupiter" Symphony spans the breadth of human emotion, showcasing compositional skill that remains unrivaled. Mozart's only score for harp, his Double Concerto, performed by BSO Principal Flute Emily Skala and Acting Principal Harp Sarah Fuller, is divine and melodic. Jan. 6 at 8 p.m. at the Music Center at Strathmore, 5301 Tuckerman Lane, North Bethesda.  strathmore.org. $35 and up.
Mozart // Eine kleine Nachtmusik 

Mozart // Concerto for Flute and Harp 

Mozart // Symphony No. 41 in C Major, "Jupiter" 
Sunday, Jan. 7
Annie Based on the book by Thomas Meehan. Directed by Jason King Jones, this is the classic tale of Annie, an orphan during the Great Depression in New York City. When billionaire-celebrity Oliver Warbucks requires the presence of an orphan to soften his image, Annie unexpectedly finds a way into his heart. Along the way, Warbucks attempts to help Annie find her lost parents. Recommended for ages 5 and up. Extended through Jan. 7 at Olney Theatre Center, 2001 Olney Sandy Spring Road, Olney. olneytheatre.org. $47 and up.
Art Exhibit Opening Reception: The Art Gallery at Glenview Mansion will host an eclectic display featuring large abstract paintings by Gloria Miotto, traditional brush painting and watercolor by Hope Chinese School, and photography by Meryl Silver. Music in the Conservatory by The Beau Soir Ensemble on harp, viola and flute. Jan. 7 from 1:30 to 3:30 p.m. at Glenview Mansion, 603 Edmonston Drive, Rockville. rockvillemd.gov. Free.
Tribute to David Bowie: Bethesda Blues & Jazz Supper Club celebrates the music of David Bowie. Jan. 7 at 8 p.m at Bethesda Blues & Jazz Supper Club, 7719 Wisconsin Avenue, Bethesda. instantseats.com. $20.
Watch the latest CultureSpot MC video, below, for more events happening this month: