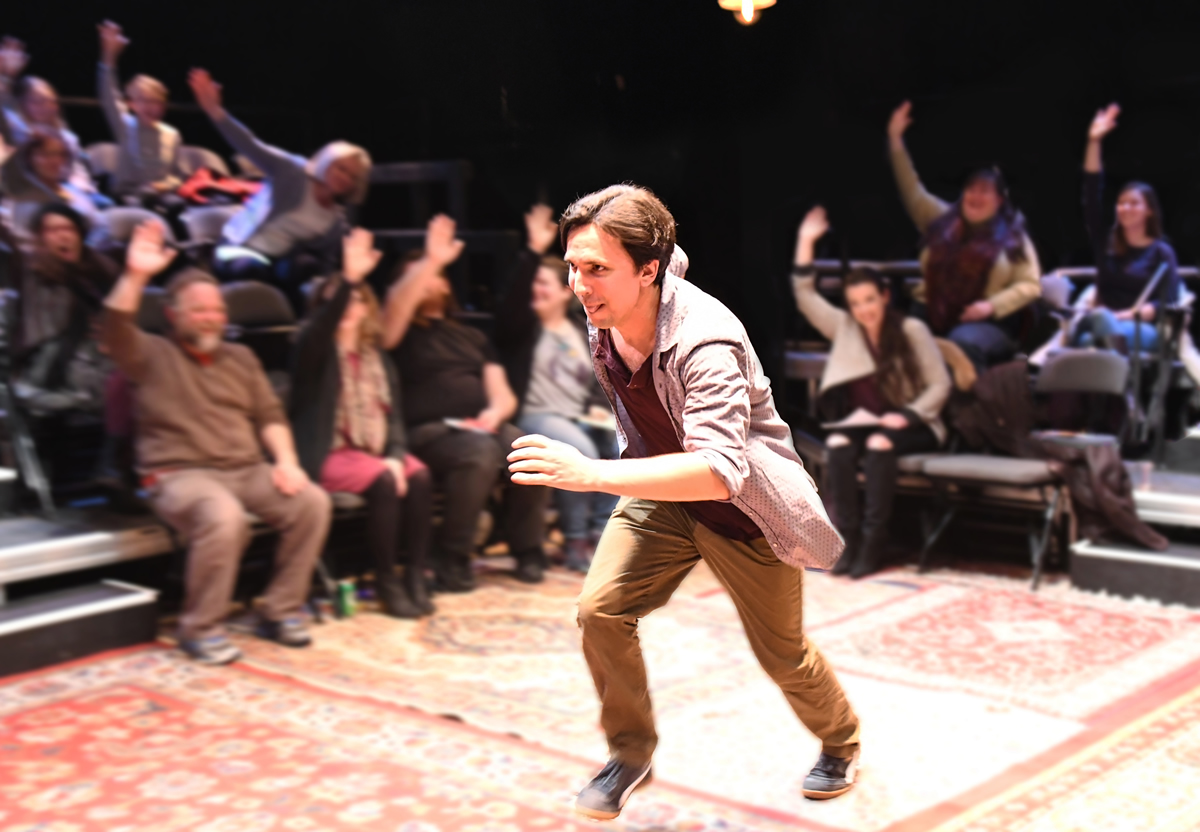 Weekend Planner for March 9-11: Guide to Arts and Entertainment in Montgomery County
Don't forget to turn your clocks ahead an hour as Daylight Saving Time begins Sunday, March 11 at 2 a.m. It is also a good time to check your smoke alarms.
The 18th Annual St. Patrick's Day Parade takes place Saturday, March 10 at 10 a.m. at Rio in Gaithersburg. Free family activities and live music by Lloyd Dobler Effect begin at 11 a.m. following the parade.
Here's our guide to arts and entertainment in Montgomery County, March 9-11.
Friday, March 9 
VisArts Art Exhibits  Artist Hsin-Hsi Chen's 'Liminal' exhibit is on display in the Kaplan Gallery through April 1. Mary Anne Arntzen's 'Solitary Bees' exhibit is on display in the Gibbs Street Gallery through March 18. Sobia Ahmad's 'Small Identities' exhibit is on display through March 18.  VisArts, 155 Gibbs Street, Rockville. visartscenter.org. Free.
Off the Grid Art Exhibit  This art exhibit features contemporary fiber and textile-based artwork by Montgomery County artists Judy Kirpich, Hillary Steel, Floris Flam, Elizabeth Packard, and Karen Schulz. On display now through April 6 in the Betty Mae Kramer Gallery and Music Room, Silver Spring Civic Center, 1 Veterans Place, Silver Spring.  culturespotmc.com. Free.
Building Community Through Art Exhibit  This series of exhibits features artwork created by students from area schools. On display March 1 – 24 in the Terrace Gallery, Black Rock Center for the Arts, 12901 Town Commons Drive, Germantown. blackrockcenter.org. Free.
Pretty in Pink Mom Prom  This is the ultimate girls night out.  Proceeds will benefit the programs of the YMCA Youth and Family Services for at-risk and underserved children and families in the Silver Spring area. March 9 at 8 p.m. at the Silver Spring Civic Center, 8525 Fenton Street, Silver Spring. MomPromDC.com $50.
Chopteeth Concert  Washington based 12-piece Afrofunk orchestra performs big-band funk. March 9 at 8 p.m.  AMP by Strathmore, 11810 Grand Park Avenue, North Bethesda. ampbystrathmore.com. $20-$27.
Jason Marsalis & the 21st Century Trad Band Concert  Award-winning musician Jason Marsalis, of the Marsalis jazz family, and his 21st Century Trad Band perform contemporary jazz as part of BlackRock's new B Concert Series. March 9 at 8 p.m.  Black Rock Center for the Arts, 12901 Town Commons Drive, Germantown. blackrockcenter.org. $25-$45.
Saturday, March 10
The Princess & The Pauper-A Bollywood Tale  Set in long ago India, this Bollywood-inspired adaptation of the classic Mark Twain novel shows how the common people work long hours to support the luxurious lifestyle of those in the palace. Best for ages 5 and up. Through March 18 at Imagination Stage, 4908 Auburn Avenue, Bethesda. imaginationstage.org. $12-$30.
Saturday Family Jazz Session: Jump, Jive & Boogie-Woogie with Daryl Davis  Children ages 3-8 spend Saturday mornings singing, playing, and preparing for a lifetime of music appreciation. This  kid-friendly series features renowned jazz singer Rochelle Rice and multi-instrumentalist Seth Kibel.  March 10 at 11 a.m. AMP by Strathmore,  11810 Grand Park Avenue, 4th Floor, North Bethesda.  ampbystrathymore.com. $12.
Peter Pan Junior  Arts on the Green in partnership with Kensington Arts Theatre-Second Stage present this adaptation of Peter Pan. Recommended for ages 7 and up. Ten performances through March 18 at Gaithersburg Arts Barn, 311 Kent Square Road. gaithersburgmd.gov $12 | $15
Making Our Mark Art Exhibit Reception  This exhibit features the work of seven printmakers who present a variety of prints along with drawings, paintings, assemblages, and small sculptures. The group includes award-winning artists Jenny Freestone, Pauline Jakobsberg, Lee Newman, Margaret Adams Parker, Terry Svat, Ellen Verdon Winkler, and Max-Karl Winkler. On display March 3 – April 7; Meet the Artists Reception March 10 from 2-4 p.m.   Kay Gallery, Black Rock Center for the Arts, 12901 Town Commons Drive, Germantown. blackrockcenter.org. Free.
Sunday, March 11
Every Brilliant Thing  Directed by Jason Loewith, this one man play with actor Alexander Strain explores the task of naming a hundred things that bring happiness.   Through April 1 at Olney Theatre Center, 2001 Olney-Sandy Spring Road, Olney.  olneytheatre.org. $59 and up.
Rockville Brass Band Concert  Directed by Nigel Horne, the Rockville Brass Band presents Brass Facts and Fanfare concert. March 11 at 8 p.m. at Forcey Bible Church, 2130 East Randolph Road, Silver Spring. Free.
Hobson's Choice  Directed by David Dubov with assistance from Washington Stage Guild director/actor Laura Giannarelli. Set in turn-of-the-century Lancashire, this comedy tells the story of cobbler Henry Hobson who struggles with keeping his three daughters unmarried and working in his shop or letting them wed their sweethearts and leaving him all alone. Through March 11 at Quotidian Theatre at The Writer's Center, 4508 Walsh Street, Bethesda. quotidiantheatre.org  Start at $15.
Watch the latest CultureSpot MC video, below, for more events happening this month: