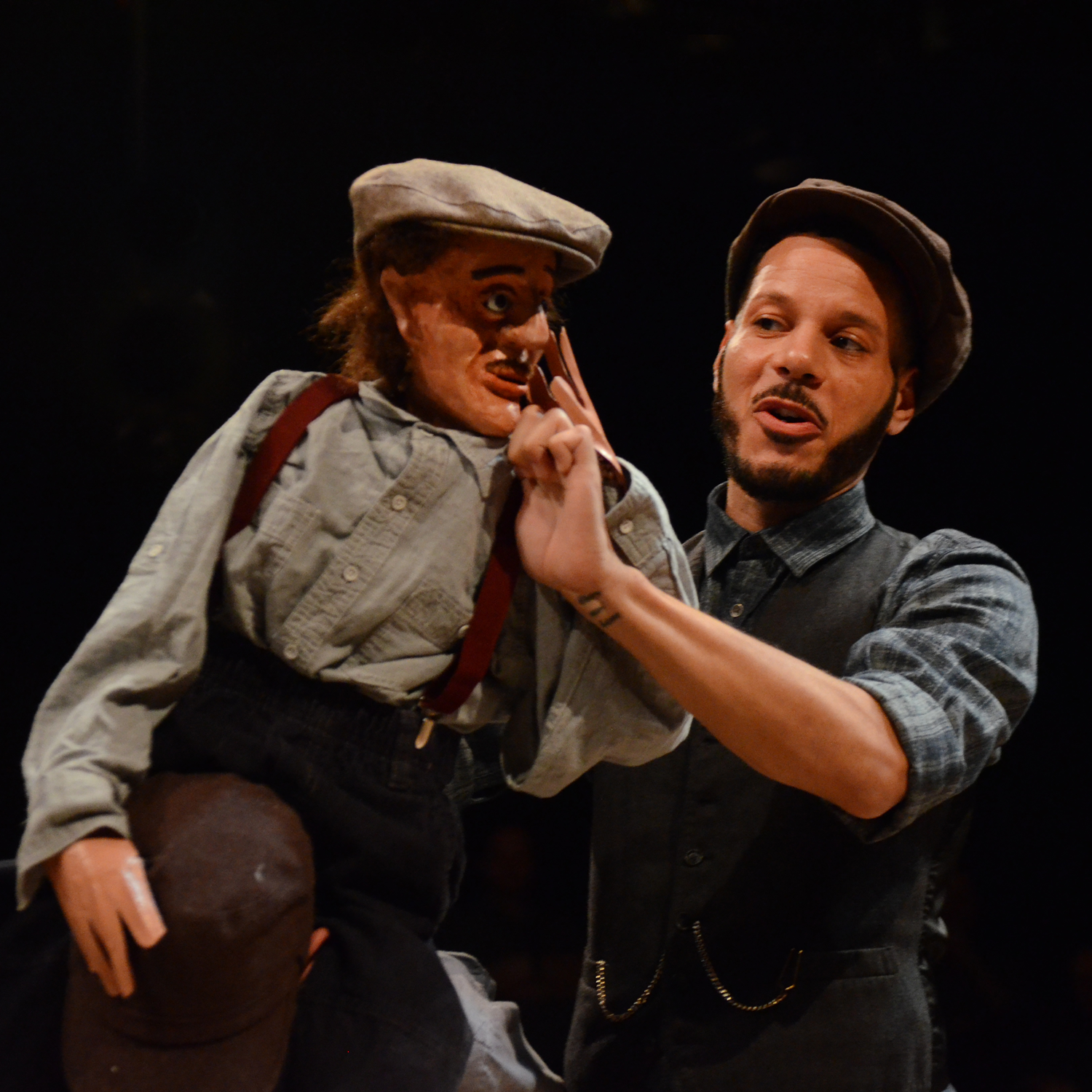 Weekend Planner, October 27-29
If your plans this weekend include a Halloween celebration with liquid spirits, remember the Washington Regional Alcohol Program's SoberRide provides free or discounted rides home on Saturday night. Check out the post Halloween Happenings Around Town for a list of events in Montgomery County.
Friday
"Sent & Received" Artwork by service members, veterans and military caregivers that explore the tradition of care packages. Exhibit includes "combat paper," works on paper made from military uniforms. Presented by Bethesda Urban Partnership, the Bethesda Arts & Entertainment District, USO of Metropolitan Washington-Baltimore and Community Building Art Works. Exhibit runs through Nov. 4. Gallery B, 7700 Wisconsin Ave., Suite E, Bethesda. ­bethesda.org. Free.
Into the Woods, Junior Based on Stephen Sondheim and James Lapine's fairytale, Into the Woods, Kensington Art Theatre 2nd Stage brings the fairytale to life in this musical. Friday at 7:30 p.m.; Saturday & Sunday at 11 a.m. & 2 p.m. Through Oct. 29 at Gaithersburg Arts Barn, 311 Kent Square Road, Gaithersburg. gaithersburgmd.gov $12-$15.
Murder at the Mansion Dessert Theater – Murder by the Book  Written by Dean Fiala, Murder by the Book is set in Mickey's bookstore which is on the brink of collapse. Mickey hopes a book signing by the author of "Roses are Dead and so are You" will bring customers in and save the bookstore. The author, Edgar, causes trouble. Enjoy this outing with blues and a buffet of sweet treats.  Oct. 27 & 28, at 8 p.m., and Oct. 29, at 2 p.m. at Kentlands Mansion, 320 Kent Square Road, Gaithersburg. gaithersburgmd.org $35 per person or $60 per couple.
White Christmas Rockville Musical Theatre presents Irving Berlin's musical based on the book written by David Ives and Paul Blake. The production is directed and choreographed by Duane Monahan with musical direction by Marci Shegogue. Oct. 27-Nov. 12 at F. Scott Fitzgerald Theatre, Rockville Civic Center Park, 603 Edmonston Drive, Rockville.  fscottfitzgerals.showare.com. Tickets $20-$22.
Fool in Love: The Frankie Lymon Story Written and directed by Thomas W. Jones II, presented by Live Garra Theatre with music directed by William Knowles. Before there was Michael Jackson, there was Frankie Lymon, a teenage musical comet. "Fool in Love" chronicles the life of Lymon and includes hits Why Do Fools Fall in Love, Goody Goody, and Little Bitty Pretty One. "Fool in Love" is the musical soundtrack of Frankie Lymon's life. Through Nov. 19 at the Silver Spring Black Box Theatre, 8641 Colesville Road, Silver Spring. silverspringblackbox.com $30-$40.
Our Town This American classic gets a new look from director and adapter Aaron Posner. In this new production seven actors portray the key characters in the story set in the American hamlet of Grover's Corners, New Hampshire. The actors manipulate and animate Bunraku-style puppets to represent the rest of the townspeople. Olney Theatre Center Artistic Associate Jon Hudson Odom plays the Stage Manager. Through Nov. 12 at Olney Theatre Center, 2001 Olney Sandy Srping Road, Olney. olneytheatre.org. $45-$80.
Omnium Gatherum Believing that lively, contentious debate is the heart and soul of a dinner party, a domestic artist and perfect hostess invite an assortment of opinionated personalities to share a meal. The guests confront the global implications of September 11 and beyond in an urgent, impassioned, and hilarious work. Written by Alexandra Gersten-Vassilaros and Theresa Rebeck. Oct. 27-Nov. 18 at the Silver Spring Stage, 10145 Colesville Road, Silver Spring. ssstage.org. $22-$25.
Halloween on Screen   This year's offering of fun and frightening Halloween-time films includes the annual screening of the silent classic Nosferatu: A Symphony of Horror with live musical accompaniment by Andrew Simpson.  Oct. 27-Nov. 2. AFI Silver Theatre and Cultural Center, 8633 Colesville Road, Silver Spring. afi.com.
I'll Get You Back Again World premiere of playwright Sarah Gancher's story of the reunion of a '60s rock group and the troubled daughter of one of its members. Friday at 8 p.m.; Saturday & Sunday at 2 p.m. Through Oct. 29 at Round House Theatre, 4545 East-West Highway, Bethesda. roundhousetheatre.org $45-$65.
Saturday
Halloween Eye Spy Trains  The miniature trains running through Cabin John Regional Park and Wheaton Regional Park are replicas of the 1863 C.P. Huntington, a 4-2-4T steam locomotive purchased by the Southern Pacific Railroad. During October, the trains are decorated for Halloween. Saturdays & Sundays 10 a.m.-6 p.m. montgomeryparks.org. Tickets $6.
Meditation class  A class for beginners who want an introduction to meditation. 11 a.m.-noon. Meditation Museum, 9525 Georgia Ave., Silver Spring. eventbrite.com. Free.
How I Became a Pirate Jeremy Jacob is a young boy who meets a group of pirates while playing on the beach. Based on the book by Melinda Long and directed by Jenny Male. Through Oct. 29 at Adventure Theatre in Glen Echo Park, 7300 MacArthur Blvd. Glen Echo. adventuretheatre-mtc.org. Tickets $19.50.
"Growth in Glass" Resident Artist Paul Swartwood exhibits works in blown glass with artists Mark Hill, Allan Jaworski, Aimee Johns, Andrew Lang, Kevin Lurie, Connie McGuire, Bobby Pestronk, Bob Remes and Phil Valencia. On display Oct. 28 – Nov. 19 with Opening Reception Oct. 28 6-9 p.m. at Popcorn Gallery, Glen Echo Park, 7300 MacArthur Blvd., Glen Echo. glenechopark.org. Free.
"Objects and Images: Stone Sculptures and Oil Paintings" This exhibition features oil paintings by Sandra Fritter and stone sculptures by James Natali. On display Oct. 28 – Nov. 19 with Opening Reception Oct. 28 6-8 p.m. at Stone Tower Gallery, Glen Echo Park, 7300 MacArthur Blvd., Glen Echo. glenechopark.org. Free.
"Mosaics: One Piece at a Time" This exhibition highlights the breadth of current work from a select group of mosaic artists from across the region.  Featured artists include Bonnie Fitzgerald, Yulia Hanansen, Ali Mirsky, Jane Pettit, Carol Talkov, Meghan Walsh and Roslyn Zinner. On display Oct. 28 – Nov. 19 with Opening Reception Oct. 28 6-8 p.m. at Park View Gallery, Glen Echo Park, 7300 MacArthur Blvd., Glen Echo. glenechopark.org. Free.
Etienne Charles performs Creole Soul Etienne Charles is a multi-faceted jazz artist born in Trinidad, relocated to Florida and then New York, graduated from Florida State's and Juilliard's jazz programs who now teaches jazz trumpet at Michigan State University. After three albums, Charles has garnered a welcomed response to his Caribbean roots-informed jazz. Creole Soul, his most accomplished recording so far in his young career, holds great promise to a future of more ebullient and intimate artistry. 8 p.m. BlackRock Center for the Arts, 12901 Town Commons Drive, Germantown. blackrockcenter.org. $29-43.
Silver Spring Zombie Walk  Enjoy a great evening with people dressed up as zombies who parade from Denizens to AFI Silver Theatre in Downtown Silver Spring. AFI screens Night of the Living Dead. 6-11 p.m. Denizens Brewing Co., 1115 East-West Highway, Silver Spring. silverspringzombiewalk Facebook event.
Sunday
Remembering Oscar Brand The World Folk Music Association present this concert in memory of legendary singer-songwriter and long time radio host, Oscar Brand, who died September 30, 2016.  Performers include The Limeliters, Christine Lavin, Carolyn Hester, David Buskin, Josh White, Jr, Roy Zimmerman, Dave Rowe, Oscar's sidemen, The Accomplices (son Jordan Brand, Jon Pickow and John Foley), Jonathan Segal, Oscar's son James Brandon and more. 7- 11:30 p.m. at the F. Scott Fitzgerald Theatre, Rockville Civic Center Park, 603 Edmonston Drive, Rockville. fscottfitgerald.showare.com. Tickets $53-$84.
Mozart's Requiem in D Minor The New Washington Orchestra celebrates Dia de los Muertos, the Mexican Day of the Dead celebration, with Mozart's Requiem in D minor (mass for the dead), featuring the voices of National Cathedral's professional choir, Cathedra. 3 p.m. at Westmoreland UCC, 1 Westmoreland Circle NW, Bethesda. neworchestraofwashington.org. $15-$30.
Billy Gilman Country singer Billy Gilman shot to stardom at  age 11 with "One Voice" and  was runner up on Season 11 of NBC's The Voice in 2016 performs 7:30 p.m. at the Bethesda Blues & Jazz Club, 7719 Wisconsin Avenue, Bethesda. bbjlive.com. Tickets $45-$75.
Watch the latest CultureSpot MC video, below, for more events happening this month: