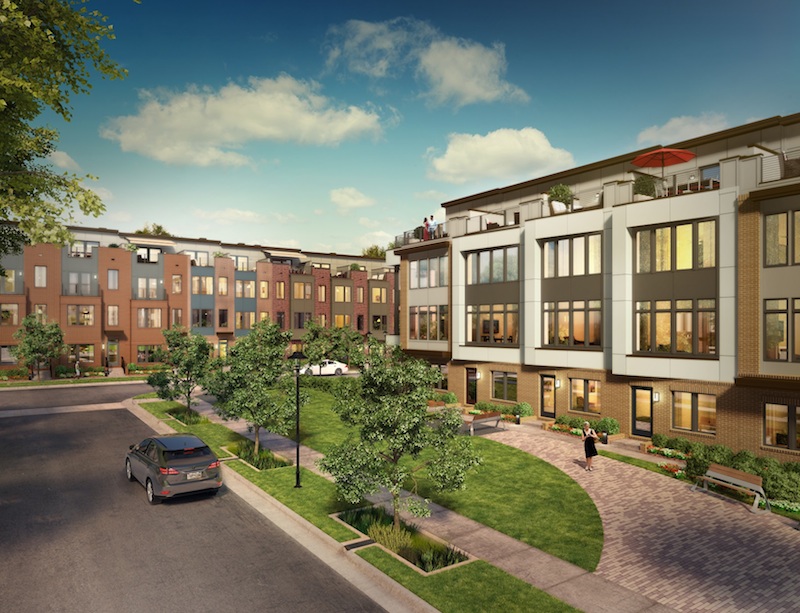 Westside at Shady Grove Metro Announces Workforce Housing Plans
Developers of the Westside at Shady Grove Metro community, EYA, announced today that workforce homes will soon be available for public sale.
This latest affordable housing effort is in conjunction with the Montgomery County Department of Housing and Community Affairs (DHCA).
It's the third time the County has done a workforce housing release.  A random selection drawing will be held among qualified applicants.
A total of 25 workforce homes will be sold at the Westside community. Westside homes were designed with the intention of introducing affordable housing in the moderate income range to buyers. This range is a little above the County's Moderately Priced Dwelling Unit program (MPDU) requirements, but lower than normal market-rate income ranges.
Four initial homes will be old at $411,482 for new construction. These homes are named "The Allen" and will have three bedrooms and two and one-half bathrooms. Amenities included garage parking, a rooftop terrace and all homes will be built to eco-friendly LEED Homes standards. Interested buyers will also have other options to choose from within the price range of $574,900 to $819,900.
Preston Innerst, vice president of sales and marketing for EYA, released the following statement about this new housing effort:
"We have completed numerous award-winning, mixed income neighborhoods in the Washington Metropolitan area in recent years and are excited to bring this opportunity to Montgomery County and Shady Grove," Preston said.
The 45-acre Westside at Shady Grove Metro will eventually house more than 1,200 residential townhomes and multi-family homes. The community will also include 40,000 square feet of new retail space located near the Shady Grove Metro Station.
The deadline to apply for the workforce home option is a little over a week away. Interested buyers must provide all requested documentation by Nov. 2nd to the Westside at Shady Grove sales center at 16658 Crabbs Branch Way in Rockville.
Workforce homes are expected to be ready for occupancy by the spring of 2016.