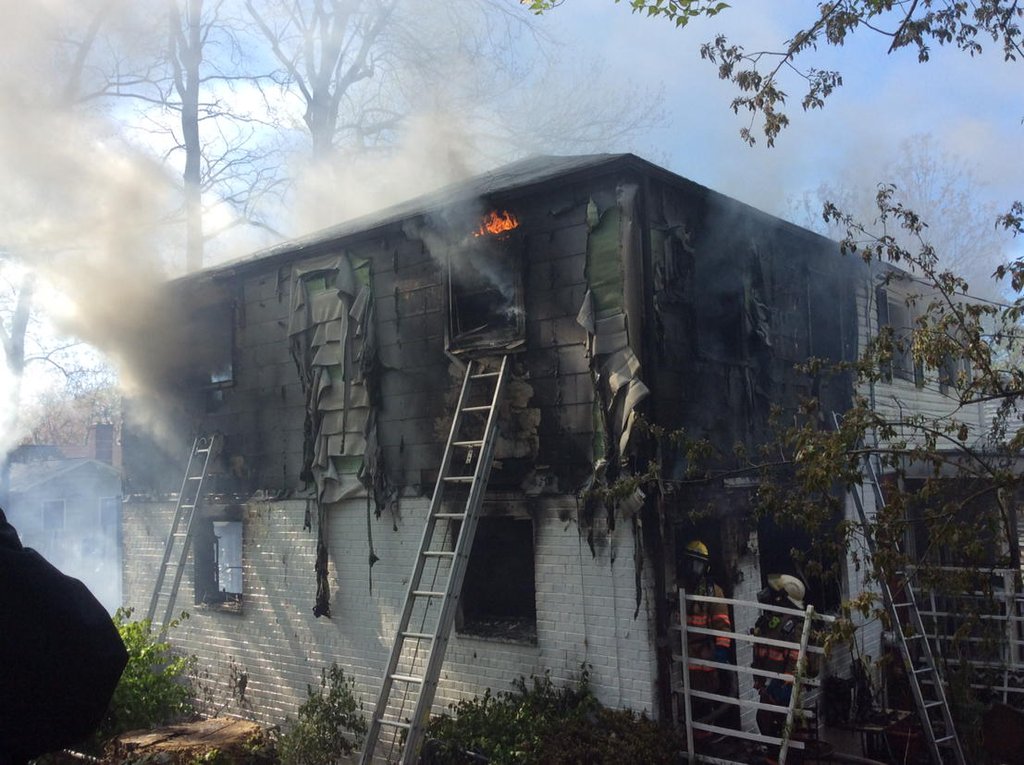 Wheaton Duplex Fire Displaces Several Residents, Damages Estimated at $500,000 (VIDEOS & PHOTOS)
It took nearly 100 firefighters to battle a two-alarm duplex fire in Wheaton on Wednesday that has displaced several residents.
It happened at the 12000 block on Berry Street around 4 p.m., according to Montgomery County Fire and Rescue officials.
Firefighters encountered heavy fire upon arrival and neighborhood streets had to be closed, Fire and Rescue Spokesperson Pete Piringer said. The fire started in the outside deck area, he said.
No one was home at the time of the fire and all residents were accounted for, Piringer said. No injuries were reported.
Officials report that a total of five residences, two sheds and fencing were damaged. Damages are estimated at half a million dollars, and the cause of the fire is still under investigation, Piringer said.
2Alarm- 12028/30 Berry St, Wheaton heavily damaged by fire, 2 other duplexes w/ collateral damage, no inj, >95 FF OS pic.twitter.com/BNthFRn4ax

— Pete Piringer (@mcfrsPIO) April 20, 2016
12000blk Berry St, Wheaton, transitional fire attack, bulk of fire knocked down, several homes damaged pic.twitter.com/jd5eDzRJ3k

— Pete Piringer (@mcfrsPIO) April 20, 2016
2Alarm Berry St, Wheaton, duplex, several homes damaged pic.twitter.com/s5LFkPDJ9v

— Pete Piringer (@mcfrsPIO) April 20, 2016
2 Alarm house fire in Wheaton, duplex, all residents accounted for, heavy fire upon arrival, no injuries reported pic.twitter.com/7GgZ5ZTSB3

— Pete Piringer (@mcfrsPIO) April 20, 2016
Update – Berry St, duplex house, heavy fire upon arrival, 2nd Alarm, >85 FFs on scene, bulk of fire knocked down pic.twitter.com/ypZiNER146

— Pete Piringer (@mcfrsPIO) April 20, 2016
2Alarm- 12028/30 Berry St, Wheaton heavily damaged by fire, 2 other duplexes w/ collateral damage, no inj, >95 FF OS pic.twitter.com/BNthFRn4ax

— Pete Piringer (@mcfrsPIO) April 20, 2016
Happening now MT @doyle0213: .@mcfrsPIO @mcfrs @billdelaney
2nd alarm fire in Glenmonthttps://t.co/FUzpi2q0MO

— MontgomeryCo(MD)Fire (@mcfrs) April 20, 2016