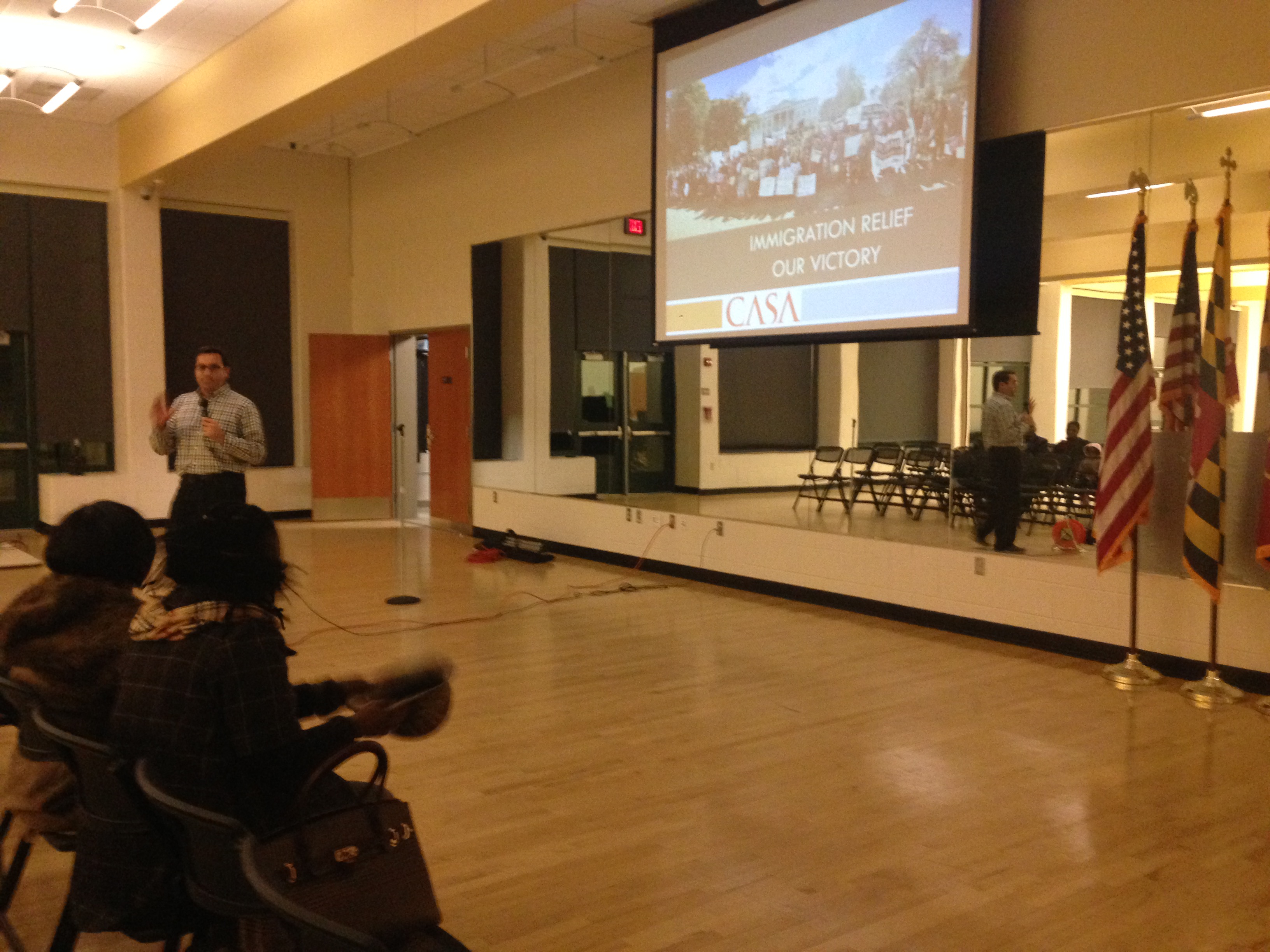 White Oak Community Meeting Raises Awareness About Immigration Relief (VIDEO)
Alexander Quispe, of Silver Spring, is about to graduate with an accounting major from the University of Maryland.
He wants to work, help his family, and give back to the community.
Quispe was at a community meeting on Feb. 5 in White Oak with his girlfriend, Vivian Urzua, to find out more about the Deferred Action for Parents of U.S. citizens Program (DAPA) and Deferred Action for Childhood Arrivals program (DACA).
"I was trying to look for information [because] right now I'm graduating from University of Maryland on an accounting degree and I'm in need of my social and work permit. That's why I came here but also for my parents. I have sisters who were born here, who are U.S. citizens," Quispe said.
According to the U.S. Citizenship and Immigration Services website:
DACA is an executive order signed by President Barack Obama in 2012 that allows eligible undocumented young people to have work permit and protects from deportation for two years. It does not give a path to citizenship.
DAPA is an executive order signed by President Obama in 2014 that allows eligible undocumented people who are a parent of a U.S. citizen or lawful permanent resident to have employment authorization if they have lived in the United States continuously since January 1, 2010; had a son or daughter who is a U.S. citizen, and is not an enforcement priority for removal from the U.S.
His girlfriend is a U.S. born citizen, but nonetheless, she wanted to be there to support Quispe.
"You need to be informed. You have to have information so you're not part of a fraudulent activity. So you have the correct dates and if you qualify or if you don't. … It's really important to get everything together," Urzua said.
The orientation session was hosted by the Montgomery County Office of Community Partnerships and took place at the White Oak Community Center in Silver Spring.
"There's a lot of misinformation out there and not only that but people just have questions," said Diane Vu, Asian liaison and language access coordinator for the Office of Community Partnerships.
Speakers from Casa De Maryland, a local Latino and immigrant advocacy organization, and Asian Pacific American Legal Resource Center participated during the orientation session and stayed after the meeting was over to answers more questions from the audience.
"I think it's a tremendous moment. But obviously it's going to be a little bit of a burden on a lot of folks to try to find all the documentation that is necessary. They do have to prove that they've been living in this country for at least five years. … On top of that you have all that noise coming up from Congress … So obviously people are going to be a little but fearful. But we want to make sure that as many people to qualify for DAPA to apply and take advantage of the moment," said George Escobar, director of Health and Human Services at Casa De Maryland.