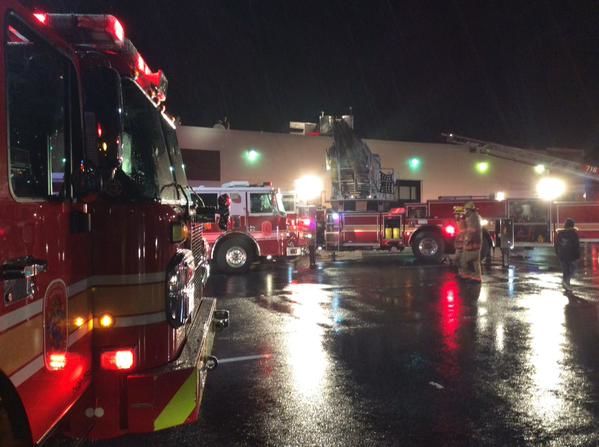 White Oak Laundromat Fire Causes $300,000 in Damage (PHOTOS)
A fire at the White Oak Laundromat on New Hampshire Avenue caused an estimated $300,000 in damage Friday evening, according to a Montgomery County fire official.
Fire and Rescue Services Spokesperson Pete Piringer said the fire was first reported by employees who smelled smoke and called 9-1-1.
When firefighters arrived on scene, heavy smoke was coming from the roof of the building.
At one point, Piringer said 75 firefighters were on the scene, nearby shops were evacuated and area streets and adjacent parking lots were closed for the fire department's response.
Fortunately, no injuries were reported.
Piringer said the cause of the fire was lint in the ducts that overheated and caught fire.
More…fire confined White Oak Laundry, employees smelled smoke, called 911/FD, FFs discovered fire in ceiling, ducts pic.twitter.com/bV7eFYO2lH

— Pete Piringer (@mcfrsPIO) January 24, 2015
U/D – White Oak Laundry; Cause, lint in ducts, overheated & caught fire & extended to combustibles; Damage, >$300K pic.twitter.com/QW7V9AOtfq

— Pete Piringer (@mcfrsPIO) January 24, 2015
White Oak Shopping Center, NH Av, fire out, no inj, significant damage, >75FFs were on scene, some stores evacuated pic.twitter.com/K6H2fGcvsD

— Pete Piringer (@mcfrsPIO) January 24, 2015
Traffic Advisory – Lockwood Dr remains CLOSED/BLOCKED between NH Av & Heather Hollow Cir, near White Oak Shopping Center, due FD activity

— Pete Piringer (@mcfrsPIO) January 24, 2015
>75FFs @mcfrs on scene White Oak SC, w/ fire in roof area of large commercial building (laundry mat), active firefight, checking extension

— Pete Piringer (@mcfrsPIO) January 23, 2015
U/D – White Oak Shopping Ctr, addl fire/rescue units assisting Task Force, several stores being evacuated, area streets parking lots CLOSED

— Pete Piringer (@mcfrsPIO) January 23, 2015
U/D – White Oak SC, Laundry mat, heavy smoke coming from roof 100×120′ large commercial bldg, fire in ceiling void areas, checking extension

— Pete Piringer (@mcfrsPIO) January 23, 2015