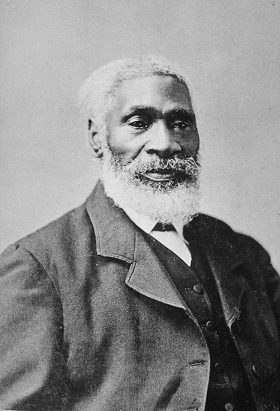 Will Josiah Henson Be Honored With New High School?
This story was updated at 12:36 p.m. Tuesday, July 24. See note below.
A request to Montgomery County Public Schools would name a new high school after the Rev. Josiah Henson, who was a slave in Montgomery County and who ultimately helped 118 slaves to freedom in Canada.
The request comes from Montgomery County Council President Hans Riemer and Catherine Leggett, first lady of Montgomery County, in a letter to the president and vice president of the Board of Education, Michael Durso and Shebra Evans.
The school is the old Woodward High School which now houses Tilden Middle School. The school sits on land near where Henson lived.
Henson's autobiography helped to end slavery. He is "one of Montgomery County's greatest unsung heroes," said both Riemer and Leggett. A 39-minute film about his life will be screened Aug. 10 at AFI Silver Theatre & Cultural Center in Silver Spring. The doors will open at 7 p.m. for a 7:30 p.m. screening.
Narrated by actor and activist Danny Glover, the film traces Henson's harrowing journey from slavery to freedom in Canada and his contributions to the historical forces that lead to the Civil War.
Woodward High was named for a former Montgomery County judge in 1966. The judge died in 1969.
MCPS plans to renovate and re-open a high school at the Woodward High location. In 2017, the school board received funding to plan for the school's reopening. The decision will be reviewed next year when the school board again reviews its capital budget.
After the reopening is scheduled, the board will select a principal, who will then convene a working group of families that will be attending the school. The group will suggest several options for a name for the school. The board will make the final decision, school system spokeswoman Gboyinde Onijala said.
"We are quite some ways from there," Onijala said.
Tickets to see the film are $5 and are available on the AFI Silver Theatre website and at the AFI box office.
For more information about the film visit josiahhenson.com
Here is the letter from Riemer and Leggett:
Dear Mr. Durso and Ms. Evans,

We are writing to share an unusual opportunity and request your consideration relating to the naming of a high school. We propose that a new high school should be named for Reverend Josiah Henson.

Old Georgetown Road runs the same route today that it ran 200 years ago, when Josiah Henson was enslaved on the Isaac Riley Plantation. The Riley Plantation or Farm was a large property where now you will find homes in the Luxmanor neighborhood and office buildings on Executive Boulevard. A small park with an old farm house stands on part of the plantation grounds and is now owned and operated by MNCPPC as Josiah Henson Special Park. It features the slave-owning family's house with attached log kitchen, and will soon feature a new visitor center and museum on Henson's life and slavery in Maryland.

Across Old Georgetown Road from the farm's boundary today sits Tilden Middle School, formerly Charles W. Woodward High School. Inside of the Farm's 1863 boundary sits the Tilden Center as well as Luxmanor Elementary School.

In 2022, the Tilden Middle building will reopen as Woodward High School. The middle school will move to the Tilden Center and open in 2019. The new high school is presumed to be named for Montgomery County Judge Charles W. Woodward, as it was previously.

The High School instead should be named for Josiah Henson, one of the most consequential figures to live in Montgomery County and a man who walked the very ground where these schools sit today.

A reverend, Josiah Henson escaped to freedom and wrote an autobiography in 1849 of his incredible accomplishments, The Life of Josiah Henson, Formerly a Slave, Now an Inhabitant of Canada, as Narrated by Himself. Josiah Henson inspired Harriet Beecher Stowe's 1852 book, Uncle Tom's Cabin. Her book, the top selling novel of that century, contributed significantly to mobilizing public opinion against slavery, leading President Lincoln to call her, "the little lady who started this big war."

Josiah Henson, by struggling for freedom and writing his story, which provided the inspiration for Stowe's novel, played a crucial and very specific role in the story of how our country finally ended slavery. Reverend Henson has never received the recognition that he deserves. He is one of Montgomery County's greatest unsung heroes.

Henson was also an educator. After escaping to freedom, he founded a trade school in Dawn, Canada — the first trade school in Canada, which helped his community of formerly enslaved people to thrive.

Josiah Henson's work managing the business of the Riley farm or plantation included taking goods to market in Georgetown on Old Georgetown Road. As a result, he walked the ground in this area for many years, where both school properties, as well as Luxmanor ES, sit today. In Henson's time, the farm was more than twice the size of what it was in 1863; the 1863 boundary, which we have in property records, is shown in the attached map.

Naming a high school in his honor would serve to pay tribute to his achievements, reminding our community of our unique history and the role of African American leaders in our County since its earliest days. It will give our residents and children some ownership of the fight for freedom that Josiah Henson embodies. It will help portray our County in its true light.

To raise awareness about the idea of naming the schools for Reverend Henson, we invite you to join us along with a number of community leaders to see a remarkable new film about his life, Josiah, at the AFI Silver, on August 10th, at 7pm. The films corresponds with a new biography about Henson's life by Jared Brock, called The Road to Dawn.

Thank you for your consideration!
The notice about the time was changed to reflect that the doors open at 7 and the film begins at 7:30. The story also removed a reference about how the proceeds from the ticket sales would be used.