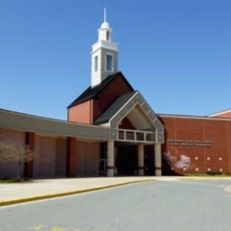 'Will Not Let Hate-Based Signs Divide Us,' MCPS Officials Say
As Montgomery Blair High School staff investigate the flyers found on 10 school doors stating "it's okay to be white," Montgomery County Public School officials said they will not allow the incident to divide the community.
Security footage shows a person in a white hoodie posting a flyer on the exterior of a school door.
The signs were first seen by school staff Wednesday morning and removed before students arrived.
According to MCPS spokesperson, Derek Turner, this is the first incident involving a flyer that has occurred in the school system.
"The flyer posting is probably hate motivated but we can't let this attempt to rile us up and divide us," he said. "We know the attempt of the organizers is to create tension in our diverse community and we're just not going to let it happen."
Police were notified of the incident but it isn't clear if they are working with the school's administration to investigate it has a hate crime.
According to Montgomery County Police Department's annual report on bias incidents, there were 21 hate-based incidents in 2016 involving a school.
Turner said the school system is not seeing the same volume of hate incidents like in previous years.
Signs Posted at Montgomery Blair Prompt Letter Home to Parents