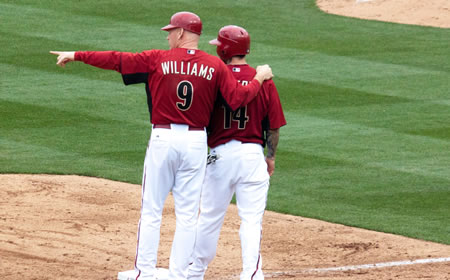 Will the "Big Marine" Be Running Basic Training for the Washington Nationals Next Spring?
"When he talks, people listen." Reggie Jackson said that about Sal Bando. Reggie attributed Bando with running a very tight clubhouse for the very contentious but always successful Oakland Athletics in the first half of the 1970's. Matt Williams–the newly minted manager of the Washington Nationals–has that same reputation. He was a championship caliber third baseman and his profile as a player was very much that of Bando's.
Bob Brenly was the manager of the Arizona Diamondbacks in 2001 who guided Matt Williams and his team mates to a World Championship. Brenley said of Williams' presence on that team, "when (he) speaks in the dugout or when (he) speaks on the team plane, the rest of the guys stop what they're doing and listen."
Matt Williams is an imposing man. Known as "the Big Marine" he stands 6′-2″ and weighs 205, but he seems larger. I shook his hand at home plate in 2012, standing next to Randy Knorr who will likely continue as the Nationals bench coach. Williams sensed that I was intimidated and drew me into a conversation about my seats at Nationals Park. While I enjoyed the personable side of Matt Williams, it was the commanding presence I walked away remembering.
Brenley first encountered Williams when the two played together for the San Francisco Giants. Brenley was at the end of his career and Williams was just starting. So it is impressive that he remembers the four-time Gold Glove third baseman much the way I do.
Matt Williams had a 17-year career as a ballplayer that ended in 2003 after six seasons with the Arizona Diamondbacks. Brenley was fired in 2004 and moved on to broadcasting, but Matt Williams has maintained a strong relationship with the Phoenix team. It is where he met Washington General Manager Mike Rizzo, who was scouting director during Matt's playing days. It is also where he met his current wife and where he acquired an ownership stake in the team. He first expressed an interest in managing to ownership several years ago and joined Arizona as a coach for the 2010 season. Since then he has been first and third base coach as well as an infield instructor.
Williams was an excellent all-around player who hit more than 30 home runs six times as well as playing a near flawless third base. He made the World Series three times, once with the San Francisco Giants, again with the Cleveland Indians and finally he won his ring with the Diamondbacks in 2001. It is that experience as a winner that is key. Jose Guillen was an intense presence in the clubhouse, but he had a negative impact on his team mates. Williams has a different approach. He knows how to command a winning team.
Another quote in the Washington Post article reveals much about Matt Williams potential as manager. It was by Davey Johnson who is much revered in the Washington area for managing the Washington Nationals to their first pennant of any kind as winners of the NL East in 2012. Davey noted Matt Williams "fierey" presence, and contrasted it to own persona that he acknowledged was more "laid-back."
Some fans and writers began to question Davey's approach last year when the Nationals began the 2013 season playing such sloppy baseball that they were literally throwing games away. Contrast that with Luis Gonzalez–former Matt Williams teammate–who said of Williams that his focus is on "fundamentally sound…hard-nosed" baseball. Mike Rizzo said of Williams, "if you screwed up, Matt Williams put you in a locker and that was the end of it." It is that brand of baseball, tough and direct, that was often absent from the Nationals early in the 2013 season. If Williams can put more fire in the Nationals and can coax sound basic essentials out of the young and talented Nationals team he inherits, then the rest of the National League had best be on their toes.
One of the players who was throwing the ball all over the diamond in April of last year was Ryan Zimmerman. Zimmerman committed four errors in the first two weeks of play and exceeded his season totals from 2012 with a career high 21 errors in 2013. The interaction between Matt Williams and Zimmerman may be the first tell as to what kind of chemistry will evolve between the new manager and his players.
Williams and Zimmerman are statistically quite similar as players. Early in his career when he was already slugging 30 home runs, Matt Williams made 19 errors at third base and followed that up with 23 two years later. Almost exactly the numbers that Zimmerman has put up in 2012-2013. So Matt Williams knows what it takes to turn the corner with the glove. He also knows what it takes to become a leader in the clubhouse, a mantle Zimmerman may yet acquire.
Currently, however, senior leadership comes from Jayson Werth for the Nationals. He will be another important figure for Williams to win over or, conversely, "put in a locker." And then there are the many young players like Ian Desmond, Wilson Ramos and Anthony Rendon who responded positively to Davey Johnson's patient, fatherly approach. They will be in for a change it seems. Spring Training in 2014 may seem more like six weeks at Paris Island than a resort vacation in Florida. And that is what one came to believe the Nationals had been doing in March of 2013: vacationing. They began the season last year looking at times more like the Potomac Nationals than the major league equivalent.
Former Potomac Nationals manager, Randy Knorr, can be an important help for Williams in forging a link to his new team. Knorr knows them well, having managed many of them in the minors. Knorr is also a consummate organization guy who has been with the franchise in numerous capacities since 2001. Knorr has been a capable presence in the dugout helping to call pitches and providing the Davey Johnson with a sounding board, one that speaks from experience.
It will be an exciting transition. Although some fans and players may be disappointed that Knorr did not get the nod from GM Mike Rizzo for the managerial position, there will be few who will second guess Matt Williams' selection. And if they do have reservations about their new manager, my guess is that they will keep those thoughts to themselves. 'Cause if not, Matt Williams is going to put you in a locker and be done with it.
So bring on the new season. It cannot get here soon enough. It is doubtful that there will be many changes as important as this one. Think about it. Think Fredi Gonzalez looking across the diamond when he considers throwing at Bryce Harper. There will be the Big Marine looking back at him. Fredi is just the right size. He would fit very nicely in a major league locker.