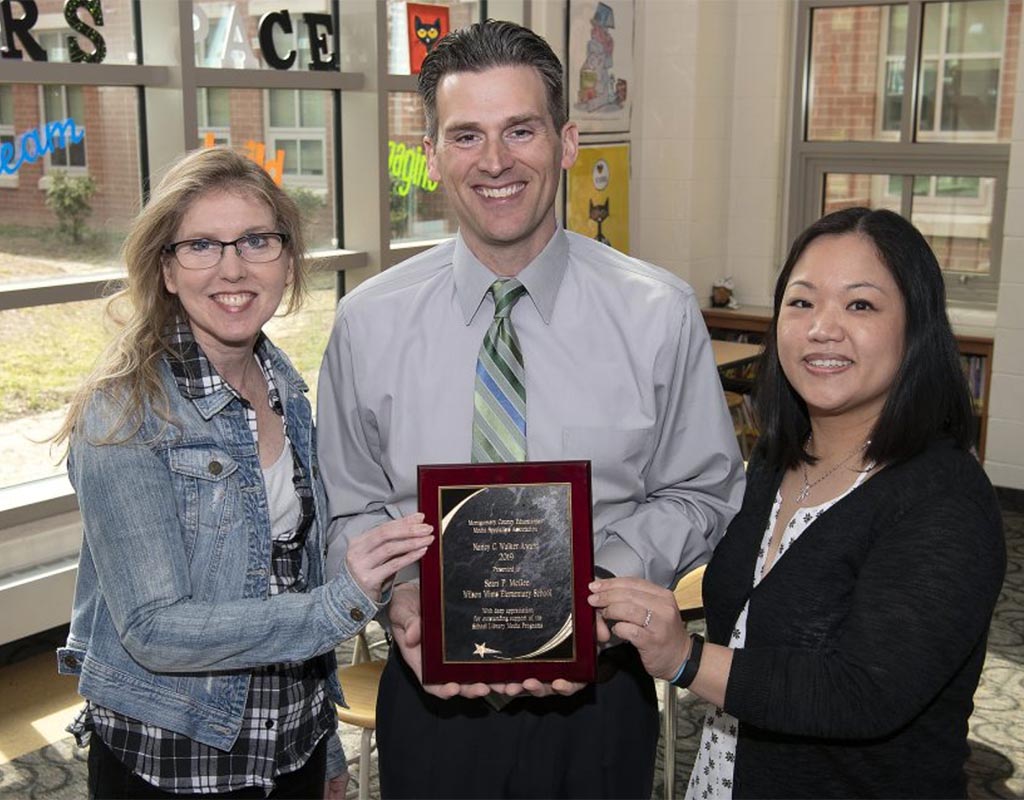 Wilson Wims Elementary Principal Awarded for Supporting Library Media Program
Montgomery County Public Schools has announced that Sean McGee, principal of Wilson Wims Elementary School in Clarksburg, won the Nancy C. Walker Award for Outstanding Support to a Library Media Program for the 2018-2019 school year.
Montgomery County Educational Media Specialists Association gives the award annually "to highlight the role of administrative leaders in supporting library media centers."
Read about how MCPS says McGee was selected for the award:
"Irene Allaire, the media specialist at Wims, nominated McGee because he believes the role of a media specialist is being a valuable resource. McGee has 'built that environment where I can go to teachers and teachers can come to me for anything!' In spite of the fact that Wims is the largest MCPS elementary school with 1,255 students from prekindergarten through 5th grade, McGee insists 'if the teachers want a lesson, then they should come see [Irene].' Because of his support, the library program … includes collaborative planning time, as well as technology or other lessons teachers would need. McGee uses every opportunity, such as team and staff meetings and online communication to remind his staff that Allaire is a pillar in the school. Thanks to his encouragement, the media program successfully hosts open book exchange and promotes reading through programs like World Read Aloud day, Read Across America day, Book Talk Tuesday on the announcements, Black Eyed Susan Program, Winter Break Bingo, author visits and Read-a-thon.
When she was first brought in to Wims, McGee asked Allaire what her ideal media program would look like. She told him what so many media specialists dream of, 'I wanted the media center to be the center, the heart of the school.' Today, she says, 'what we do in the media center is important and has been since we've opened five years ago. This is in huge part because [McGee] is so involved in helping students and staff find and explore their passion.'"