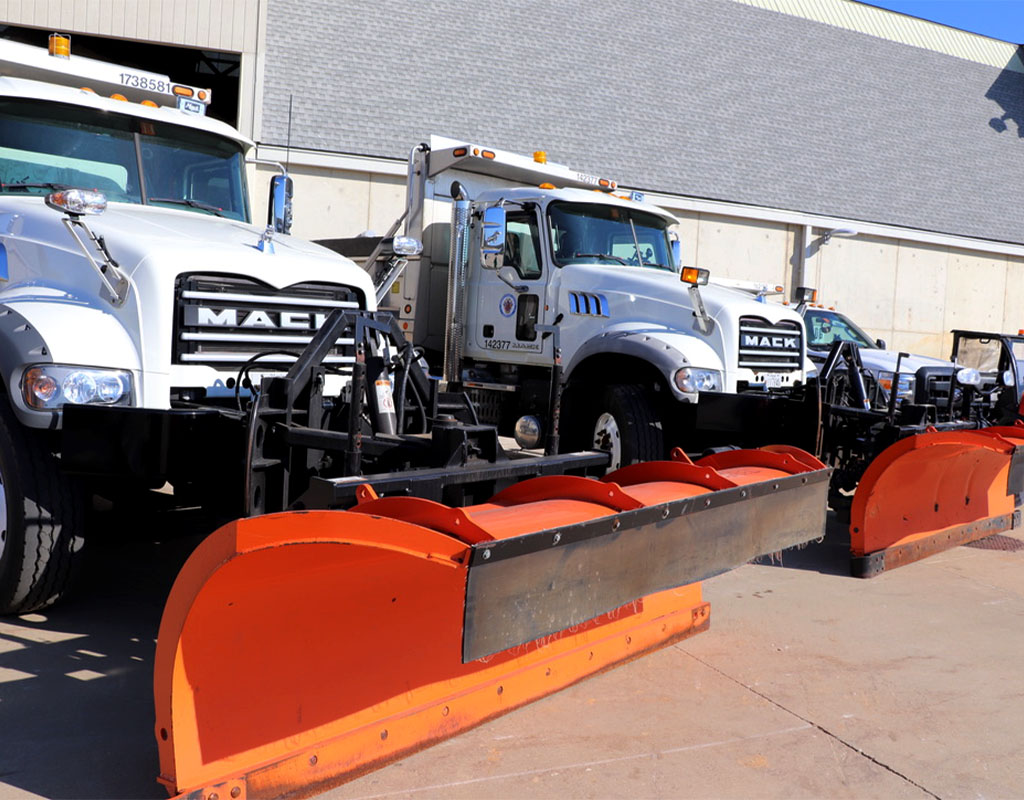 Winter is Coming: MCDOT Announces Sustainable Snow Removal Efforts
Snow removal is about to get more environmentally friendly in Montgomery County.
At Montgomery County's annual Snow Summit event on Wednesday, County Executive Marc Elrich and Montgomery County's Department of Transportation (MCDOT) officials announced environmental advances made for handling the snow for the winter 2019-2020 season.
Elrich announced that this snow season, MCDOT will experiment using rubber-tipped blades on snowplows since metal tip blades damage roads, especially when used before three inches of snowfall.
Also, the county has modified contracts with snow plowers so they are responsible for cleaning up salt and cognizant of not using too much salt. MCDOT will also inspect and calibrate all snow equipment to prevent salt overuse.
"I am confident that the improvements MCDOT is making this season to better manage salt application will reduce impacts on the environment," MCDOT Director Chris Conklin said.
MCDOT will also use more salt brine to remove snow and ice. Salt brine is better for the environment since it's composed of 20% salt and 20% water.
Each snow season, MCDOT's seven regional depots are tasked with clearing snow along 220 plow routes on more than 5,200 lane miles roads in the county. The depots have a total of 200 staff members responsible for snow removal using 175 pieces of equipment.
"Every year, MCDOT takes a hard look at its snow removal operations to find ways to make improvements – and this year is no exception. I appreciate the work of the department to incorporate new environmental controls—both before and after storms—to make our operations more environmentally sustainable," said Elrich.
Tweet Summary of Montgomery County Snow Summit
Here's a summary of Montgomery County's annual Snow Summit event, in tweet form.
MCDOT Director Chris Conklin says the county has been making environmental advances in handling snow. pic.twitter.com/lCoUP6Ilkt

— Deirdre Byrne (@DeirdreByrneMCM) November 6, 2019
.@Marc_Elrich thanks the crews that work to plow the snow.

"These guys work until the snow is down…it's long hours of hard work." pic.twitter.com/gTITiCC7oz

— Deirdre Byrne (@DeirdreByrneMCM) November 6, 2019
MCDOT Director Chris Conklin (@MCDOTNow) says the goal is to use as little as possible, but they need to use it to fight ice and snow. The salt is mixed with water and grind. pic.twitter.com/OCId29nRij

— Deirdre Byrne (@DeirdreByrneMCM) November 6, 2019
.@Marc_Elrich gets a look at @MCDOTNow's new rubber blade snow plows. pic.twitter.com/YpEQnuNz86

— Deirdre Byrne (@DeirdreByrneMCM) November 6, 2019
.@jawprod shooting even more salt🧂 . pic.twitter.com/53LqxcYOX9

— Deirdre Byrne (@DeirdreByrneMCM) November 6, 2019