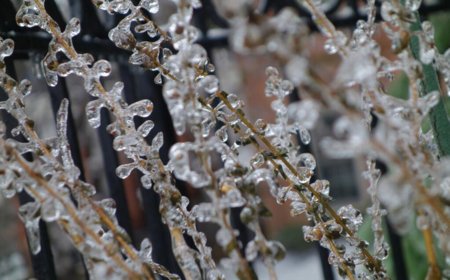 UPDATED: Wintry Mix Expected Saturday, MCPS Activities Resume After Noon
UPDATED 1.14.17 10 a.m. The city of Gaithersburg facilities are opening at noon.
Update 1/14: All City facilities will be opening at noon. Classes/programs/activities starting before noon at all sites are cancelled.

— City of Gaithersburg (@GburgMD) January 14, 2017
Pavement conditions are wet and, in some spots, slick. Drivers should use caution as conditions may quickly change.

— MC Highway Services (@MontCo_Highways) January 14, 2017
Winter Weather Advisories continue N & W of DC. Light icing possible across these areas. Elsewhere, mainly rain with some sleet mixing in. pic.twitter.com/vDHmOHidBQ

— NWS DC/Baltimore (@NWS_BaltWash) January 14, 2017
UPDATED 1.14.17 9:30 a.m. MCPS announces that all school-sponsored activities will resume after noon on Saturday.
Update: MCPS will open at 12 p.m. today (1/14/17) for all school-sponsored activities. More at https://t.co/3UJVLWkg2H

— MCPS (@MCPS) January 14, 2017
UPDATED 1.13.17 at 4:30 p.m. Montgomery County Public Schools announce all school-sponsored activities and athletic events are delayed until noon for Saturday due to potential inclement weather. Saturday school is not in session. They will make an announcement in the morning by 8 a.m. regrading afternoon activities.
MCPS is delaying all activities until 12pm for tomorrow (1/14/17) due to potential weather conditions. More at https://t.co/3UJVLWkg2H

— MCPS (@MCPS) January 13, 2017
UPDATED 1.13.17 at 2:40 p.m. The National Weather Service has issued a winter weather advisory from midnight through 6 p.m. Saturday for up to an inch of snow in Montgomery County. Snow, sleet and freezing rain may cause slippery roads and limited visibility, according to the advisory.
Advisories have been issued for late tonight through Saturday. Slippery travel conditions anticipated. #DCwx #MDwx #VAwx #WVwx pic.twitter.com/FfibJucMHq

— NWS DC/Baltimore (@NWS_BaltWash) January 13, 2017
UPDATED 1.13.17 The National Weather Service is advising residents to prepare for a wintry mix on Saturday.
According to a post on Twitter, the Montgomery County Storm Operations Center will be activating at 3 a.m. to monitor the incoming weather event.
State Highway Administration crews are pretreating roads and bridges in advance of any snow, sleet or freezing rain that may fall tomorrow.
"This weekend brings another winter storm to Maryland. This system will have a greater impact on the metro area beginning as snow, but transitioning to sleet and freezing rain during the afternoon – and that will make driving treacherous," said SHA Administrator Gregory Johnson. "We strongly encourage motorists to wait and check travel conditions after sunset Saturday and make smart travel decisions."
The Storm Operations Center will be activating at 3:00 tomorrow morning to monitor the incoming weather event. @MoCoCouncilMD @mymcmedia

— MC Highway Services (@MontCo_Highways) January 13, 2017
News release: Maryland State Highway Administration Prepares for an Icy Saturday https://t.co/NrDn2TJYle #mdotnews pic.twitter.com/bgH5YrxfiH

— MD State Highway Adm (@MDSHA) January 13, 2017
Snow/sleet/freezing rain event expected late tonight into Saturday. Stay updated with our forecast by visiting https://t.co/0xDd483Lhr pic.twitter.com/Zf4J0kTnF8

— NWS DC/Baltimore (@NWS_BaltWash) January 13, 2017
What is freezing rain? Find out more. https://t.co/2E4fUWxKrn pic.twitter.com/ZQMmjMx0D2

— NWS (@NWS) January 12, 2017
Freezing rain and wintry mix could make travel hazardous in D.C. region Saturdayhttps://t.co/WGWtuauv01

— Washington Post (@washingtonpost) January 13, 2017