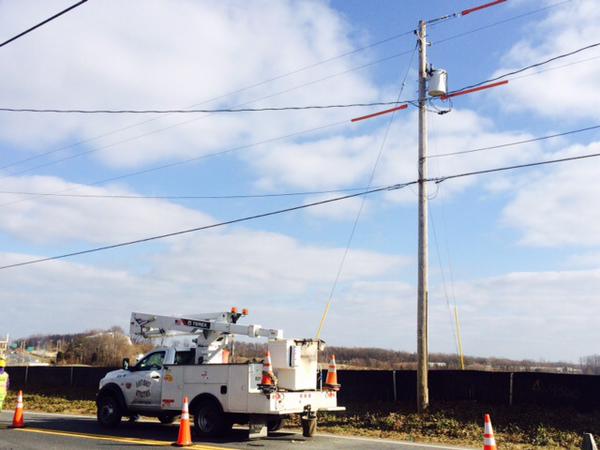 Worker Burned While Working on Power Line Project in Clarksburg
UPDATED: A utility worker was burned while working on power lines in Clarksburg Monday morning.
Montgomery County Fire and Rescue Spokesman Pete Piringer reported the accident at about 11 a.m. Monday.
Todd Meyers, Potomac Edison spokesman, told MyMCMedia that the man was a contracted lineman doing work for Potomac Edison in the area of Gateway Theater. Meyers said he was helping to convert overhead lines to underground lines to serve the new Cabin Branch development. The worker did not come into contact with the power lines, but instead was working with equipment that "caused a flash" and burned him.
He was taken to an area burn unit for treatment, but has non-life-threatening injuries.
"He was shocked but he was extremely lucky I would guess," Piringer said.
There is a report of a power outage in the area, according to Piringer.
No additional information was immediately available.
More…Clarksburg Rd, EMS transported 1 adult male, Pri3, NLT, eval thermal burns; a few homes in area lost power pic.twitter.com/5F08UD1wRZ

— Pete Piringer (@mcfrsPIO) December 15, 2014
(1105a) 22600blk Clarksburg Rd, utility worker shocked while working on power lines, #mcfrs EMS eval electrical burns, adult male Pri3 NLT

— Pete Piringer (@mcfrsPIO) December 15, 2014
Traffic advisory – 22600block Clarksburg Road (W of I270), Clarksburg POWER OUTAGE in the area, watch for direction on Clarksburg Rd

— Pete Piringer (@mcfrsPIO) December 15, 2014