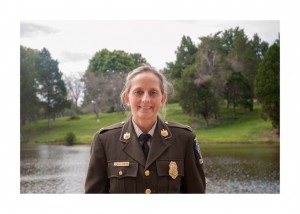 Woman In Blue: Breaking Barriers on Equal Pay Day
No one else in the family had been a police officer.
Montgomery County Captain Laura Lanham and Commander of the 4th District- Wheaton station- said her family was "in shock" when she decided to join the force.
"It was working hard every day and always doing my job that got me here," she said.
She studied at University of Maryland, and took courses that inspired her even more to become an officer. Lanham grew up in Prince George's County and after a friend told her about the Montgomery County Police Department she decided to apply.
She finally joined the force on March 4, 1991.
"In Montgomery County, I just kind of fell into it … I remember in the academy thinking 'I want to become a sergeant,'" Lanham said.
Lanham not only became a sergeant, but today she is the only female commander among all six police districts. She also happens to be, as of now, the only female captain in the police department.
"We've had a whole bunch of females captains … They all retired. … Now, I'm it," she said.
Lanham said she is fortunate to be part of an institution where there is a structure when it comes to equal pay. The Fourth District Commander makes the same annual salary as the other five male captains.
"Within the police department it's like the military … We are lucky that in law enforcement there is a structure. … [But] when you throw the uniform [on], we are all kind of one," she added.
On March 31, the Montgomery County Council joined in the movement to have employers provide equal pay for all by declaring April 14 "Equal Pay Day."
According to county officials, in Montgomery County over the past decade women have represented nearly half of the labor force.
Lanham is a 24-year veteran of the Montgomery County Police Department. She said it has "been too long, but it goes by quickly."
"Each time I would take on a promotional process … I would be closer to the next rank, and I would think 'You know I think I can do that,'" Lanham said.
Lanham is married to another police officer. She also has two stepsons- one who just became a patrol officer in Bethesda and another who happens to be a middle school teacher.
She is also the mother of two teen girls. When asked if there will be more police officers in the family, she said, "I think there's a strong possibility."
To young female officers, Lanham has one message:
"The big thing is work hard. … Working on being promoted in your career starts the day you hit the streets, she said.