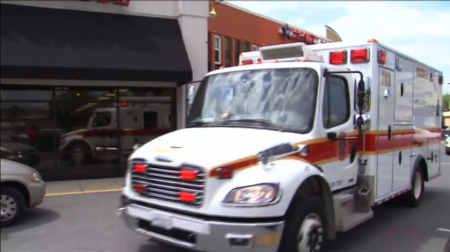 Woman Killed in Silver Spring Crash
UPDATED at 12:30 p.m., July 10:
A Silver Spring woman has died after being involved in a what police say was a hit-and-run accident at Route 29 and Fairland Road Wednesday (July 9) afternoon.
Marcelina Maria Cordoba,  22, of the 14100 block of Castle Boulevard in Silver Spring, was transported to an area hospital with life-threatening injuries and later died, police said in a release Thursday afternoon.
Police said a Jeep Commander driven by Phyllis Nicole Ford,  37, of the 4800 block of Reisterstown Road in Baltimore was traveling north on Columbia Pike and made a lane change.  During the lane change, the Jeep hit an Audi driven by Cordoba also traveling north on Columbia Pike.  The collision between the Jeep and the Audi caused the Audi to collide with a Lincoln Navigator driven by Joselyn Nicole Gamble,  29, of the 3100 block of Quartet Lane in Silver Spring also traveling on northbound Columbia Pike.  That's when the Audi overturned and struck a Saturn Scion driven by Rhonda Munir Eltobgi, 20, of the 2800 block of Mozart Drive in Silver Spring which stopped at the intersection on westbound Fairland Road at Columbia Pike.
Gamble was taken to the hospital with non-life-threatening injuries, according to a police report. The other drivers were not injured, police said.
The accident which happened about 1:19 p.m. shut down Route 29 northbound for hours while police investigated. Police said when they arrived, the Jeep was no longer at the scene and they put out a lookout for it. Ford, however, returned to the accident scene at about 3:24 p.m., police said in a release.The circumstances surrounding this collision remain under investigation.
No charges have yet been filed, according to police Thursday afternoon.
Anyone with information regarding this collision is asked to call the Collision Reconstruction Unit at 240.773.6620 or call the police non-emergency number at 301.279.8000.  Callers may remain anonymous.