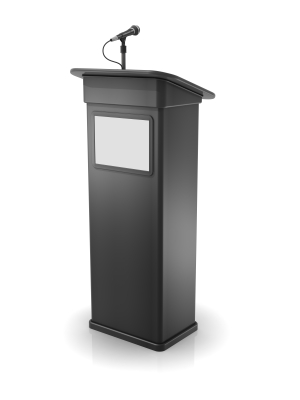 Women's Democratic Club Newsletter: Progressives, Aligned on Issues, Spar for Hearts and Minds
WDC Senate Debate
Donna Edwards versus Chris Van Hollen
976 words
April 11, 2016
SILVER SPRING – A packed house greeted the presumptive Democratic successors to Maryland's longtime Senator Barbara Mikulski. Representatives Donna Edwards and Chris Van Hollen each strove to make the case that they were the more effective progressive.
The candidates, both currently representing the Washington metropolitan area, struggled to differentiate themselves on the issues in the debate, which was co-hosted by the Women's Democratic Club, Progressive Neighbors, and the Leisure World Democratic Club. It quickly became apparent that it would be their stylistic approaches to governance and their personal and legislative experience that would most clearly distinguish the candidates for Democratic Primary voters in Maryland on April 26th. The Montgomery County audience was generally more receptive to Chris Van Hollen, offering frequent and robust applause to his analytical responses that focused on the specific nuances of legislation that he previously supported or introduced. Donna Edwards presented herself as a relatable "single mom" who "knows personally about struggling" to stay in the middle class and who has personally endured gender-based pay discrimination.
Both candidates presented themselves in their opening statements as fighters for every Marylander in every part of the state. Van Hollen opened by juxtaposing himself to the GOP Presidential Primary, stating "this is a crazy time in American politics [with] Trump trying to raise himself up by dividing us with his demagoguery." Indeed if Democratic voters are seeking a liberal champion to stand up against right-wing scare tactics then they cannot go wrong with either candidate.
Each candidate emphasized their support for the entire menu of progressive issues, from protecting the Medicare and Social Security entitlement programs to making climate change "the first order of business for the US Senate and the next President of the United States," according to Edwards, who continued, "world commitments will not be enough to stem the tide of the rising waters from the melting Antarctic ice shelf."
Van Hollen frequently sought to distance himself from Edwards by stating specific proposals that he had offered in the U.S. House of Representatives, referencing a carbon tax plan to offer homeowners an energy rebate that would go to over 70 percent of American families at the expense of big polluters. Througout the debate Van Hollen continued to hit Edwards on her alleged lack of specific legislative proposals, stating that "it's easy to identify [and support] issues, but it's another to put forth proposals on these issues." Van Hollen continued, "the world needs dreamers and the world needs doers, but most of all the world needs dreamers who do," for which the decidedly pro-Van Hollen crowd rewarded him with a long applause.
As Van Hollen elaborated upon the nuances of various bills he has supported to increase transparency in Panamanian tax havens, to expand health insurance coverage to the uninsured, to reduce college loan interest rates, and to close the carried interest tax loophole, Edwards sought to connect with the audience through their hearts more than their minds. In response to a question about how she would define 'progressive,' Edwards responded with an image of hungry children who could not thrive in the classroom, claiming that what is needed in the US Senate are advocates who "pay attention not at the 30,000 foot level, but at ground level where voters' lives are affected."
Edwards attempted to distinguish herself from Van Hollen on the issue of wealth inequality, drawing a correlation between his votes in favor of trade bills that she said traded away American jobs overseas. While he proposed a fee on all financial transactions to address a "growing income inequality is the gravest threat facing this country," continuing that our "crazy tax code is stacked in favor of people who make money off of money and against those who make money off of hard work," she spoke of the replacement of industrial jobs in Maryland with low wage service jobs, purportedly as a result of free trade agreements (which both candidates opposed), that disproportionately affect women. Edwards continued that between 25-40% of those decreased wages are frequently spent on child care. Though both candidates support the Child Care Tax Credit, each does so with a decidedly different presentation.
The candidates clashed in a similar manner to what has been seen in previous exchanges. Edwards attempted to use Van Hollen's support of a campaign finance disclosure bill as a means of portraying him as an opponent of firearm regulations due to the bill's exemption of membership-based organizations such as the National Rifle Association and the Sierra Club from inclusion in the regulation. On the defensive, Van Hollen responded to the accusation by explaining the rationale behind the exclusion and the unanimous support of the Democratic contingent of the Maryland delegation. He swung back at Edwards, citing her refusal to abstain from Super PAC contributions, and she in turn spoke of how proud she is to be receiving support from the Emily's List Super PAC. Van Hollen returned to his theme of emphasizing action over diction, citing his plan to require a license for the purchase of a gun, eliciting sustained applause, concluding that it's "one thing to say [you support firearm regulation and it's] another thing to fight for" a specific piece of legislation.
From criminal justice reform where Van Hollen advocated for a shift from treating substance abuse as a criminal matter to treating it as a healthcare matter, to Edwards speaking about coaching her 27 year old son on how to avoid becoming a victim of police brutality in case he is over pulled over by a policeman, the debate evolved as a battle of logos against pathos.
The inevitable clashes notwithstanding, Gordon Peterson, an anchor for WJLA and tonight's moderator summed up the civil exchange between the candidates as a "perfect example of a how a debate should be conducted" and that "we should send this debate [decorum] to the presidential campaign."
This was originally posted in Revealing Our Humanity.