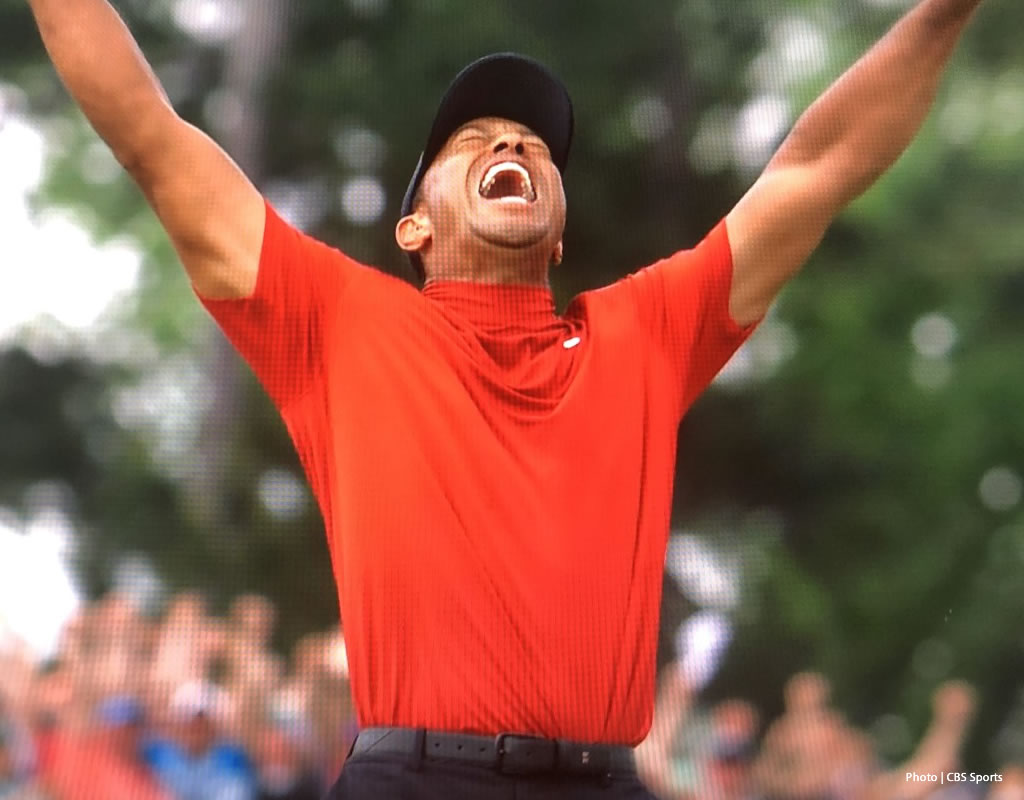 Woods' Masters Miracle Creates A Scene Like No Other
It's official: he's ba-a-a-ack. 43 year-old Tiger Woods did what many experts said he could not – win another major title. After four knee surgeries, four back surgeries, and many well-documented, off-the-course scandals, Woods was counted out by everybody – including Woods himself who wondered if he would ever play again, much less win a major.
Yesterday, Woods turned back the clock to win his fifth Masters title at a place, Augusta National Golf Club, where he dramatically announced himself to the world as a brash 21 year-old winning his first green jacket by a record 12 strokes in 1997.
Woods' fellow golfers, prominent athletes in other sports and presidents – current and former – took notice of the achievement, which some are calling the greatest comeback in sports history.
Never stop chasing your crazy dream. #justdoit @TigerWoods pic.twitter.com/q9OV6oGLDN

— Nike (@Nike) April 14, 2019
I am literally in tears watching @TigerWoods this is Greatness like no other. Knowing all you have been through physically to come back and do what you just did today? Wow Congrats a million times! I am so inspired thank you buddy.

— Serena Williams (@serenawilliams) April 14, 2019
What a great moment for the game of golf. I'm so impressed by @TigerWoods' incredible performance, and I'm so happy for him to capture another Green Jacket. Truly a special day that will go down in history. Congratulations, Tiger! #rematch 😎

— Phil Mickelson (@PhilMickelson) April 14, 2019
Congratulations to @TigerWoods., a truly Great Champion!

— Donald J. Trump (@realDonaldTrump) April 14, 2019
Love people who are great under pressure. What a fantastic life comeback for a really great guy! https://t.co/41MtJtYEjq

— Donald J. Trump (@realDonaldTrump) April 14, 2019
Congratulations, Tiger! To come back and win the Masters after all the highs and lows is a testament to excellence, grit, and determination.

— Barack Obama (@BarackObama) April 14, 2019
I can't thank my family, friends and fans enough for their support. Having my family by my side today is something I will never forget. To not only be able to play again, but to be able to win again, is something I will forever be grateful for. This jacket sure is comfortable. pic.twitter.com/LsOUX2dWH1

— Tiger Woods (@TigerWoods) April 14, 2019
Very few people really know what @TigerWoods has been thru to get back to this point. So cool seeing him with Tida, Sam, Charlie, Erica and the rest of the team behind 18 green. Couldn't be happier for him! What a great day for golf! #TheMasters

— Rory McIlroy (@McIlroyRory) April 14, 2019
Great playing TW. Congrats on your 5th green jacket @tigerwoods #TheMasters

— Dustin Johnson (@DJohnsonPGA) April 14, 2019
Whoa! Way to feel the flow, @TigerWoods! Huge congrats!
Love,
Happy Gilmore

— Adam Sandler (@AdamSandler) April 14, 2019