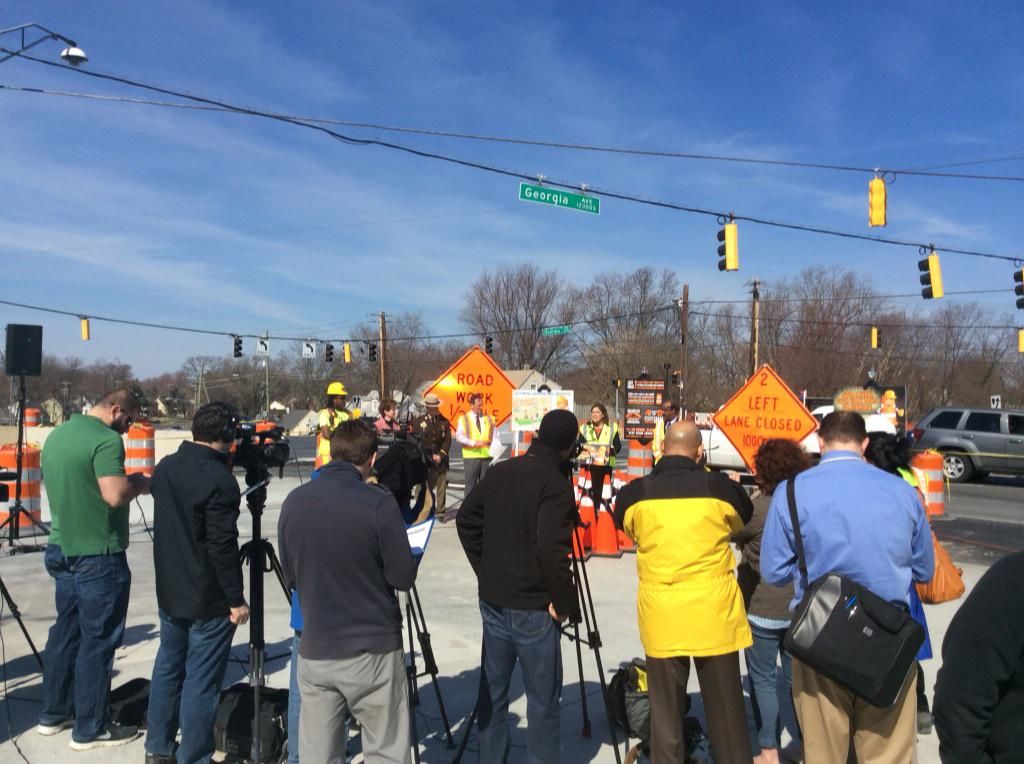 Work Zone Crashes on the Rise (PHOTO)
With hundreds of maintenance and construction projects already underway this spring, and work zone-related crashes on the rise, Maryland Governor Larry Hogan has declared April as Work Zone Safety Awareness Month.
Safety partners across the state are emphasizing that roadway work zone safety is everyone's business and reminding drivers to be aware when orange is there. More than the color of barrels and cones, orange represents protecting people: drivers, passengers and workers.
On April 2nd, Transportation Secretary Pete Rahn joined Montgomery County Executive Ike Leggett, State Highway Administrator Melinda Peters, Maryland State Police Lt. Michael Tagliaferri, work zone safety advocate Laurie Moser and Flagger Force employee Rhonda Outlaw at a $73.8 million project to construct a partial interchange at the Georgia Avenue/Randolph Road intersection. Together the officials issued a plea to all drivers: slow down and stay alert in work zones.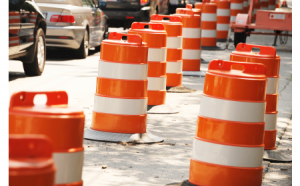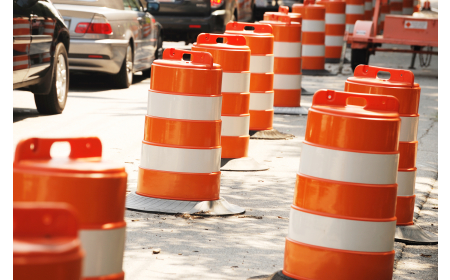 Moser knows all too well the dangers of work zones. In 2007, an errant driver struck and killed her husband, Rick Moser, a 21-year veteran of the Maryland State Highway Administration (SHA).
"While total fatalities are down in Maryland, the unacceptable fact is that fatalities in work zones have tripled in the last three years," said Transportation Secretary Rahn. "These are not just numbers; they are people. Drivers must slow down and be alert to make sure everyone gets home safely at the end of the day."
Last year, Maryland lost two highway workers in work zone-related crashes caused by errant drivers. Work zone crash fatalities have risen from three in 2011 and 2012 to nine in 2014. Over the last five years, there were more than 8,000 work zone-related crashes in Maryland, which resulted in more than 3,600 people being injured. On average, in four out of five work zone-related crashes, it is a driver or passenger who is injured or killed. Nationally, more than 700 people are killed each year in work zone crashes.
"At the start of road construction season, I am asking all of our Montgomery County motorists to slow down and to pay attention to construction zones," said Leggett. "Most of the people killed in car crashes around work zones are drivers and passengers. For your safety, and that of others, take extra care."
"At SHA, we take work zone safety very seriously, because the lives of our employees and those of our contractors are on the line every day," said Peters. "Reduce frustration by planning ahead and know before you go – our e-brochure Road Ready lists major construction around the State and 511 will alert you to the current road work lane closures."
Hundreds of state employees, contractors and sub-contractors will be in work zones delivering a wide range of projects, including: paving, mowing, bridge rehabilitation, interchange construction and roadway widening. While SHA and its transportation partners work hard to maintain safe traffic mobility in work zones, each driver needs to modify his or her driving to help prevent crashes.
Social media, web banners, radio public service announcements, an e-brochure "Road Ready" and other education efforts will remind Maryland motorists of the work zone safety message. Maryland drivers also can know before they go with 511. Call 511 or visit www.md511.org for live traffic updates, including roadway construction delays and lane closures.
For more information on Work Zone Safety Awareness, visit to SHA's website at www.roads.maryland.gov and click on the work zone safety banner.