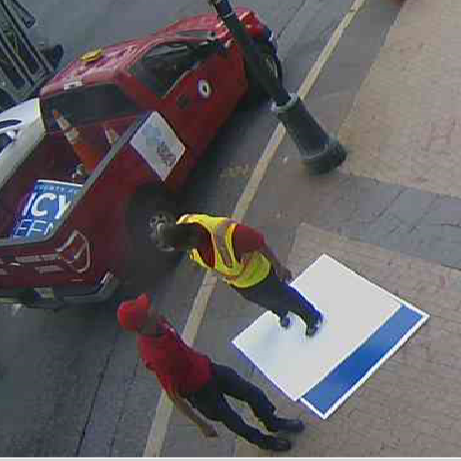 Workers Spotted Crushing Floreen Political Sign
Montgomery County employees destroyed two large political signs for county executive candidate Nancy Floreen on Thursday in Silver Spring, but as the sign came down red flags went up among Floreen supporters.
The sign was in a garden in front of Lee Plaza at Georgia Avenue and Colesville Road. Surveillance images show members of the Silver Spring Urban District, a county-funded agency, taking down the signs, folding them in half and placing them in the back of an urban district pickup.
County spokesman Patrick Lacefield said the sign was taken down in a regular sign sweep, a sweep that collected signs from other candidates.
"I'm not aware of them ever doing it," said Bruce Lee, president and CEO of the Lee Development Group, which owns Lee Plaza.
Lacefield said workers — or "red shirts," as the urban district calls them — have been told that signs in private property should be left alone.
"It was a mistake. We've instructed folks not to bother any signs on private property," Lacefield said.
Lee said that ever since the building opened in 1987, the corner has been popular with candidates. During the primary, the corner had a sign for Democratic county executive candidate Rose Krasnow. The sign made it through the June 26 primary untouched, Lee said.
"Why all of a sudden now? Why this year, why this moment? What suddenly changed?" Lee asked.
One of the red flags from supporters was that the urban district workers are likely members of MCGEO, the union that represents most county employees. Floreen's Democratic opponent, Councilmember Marc Elrich, has won support from a number of county unions.
Lacefield fended off any collusion between union membership and the signs.
"I don't have any information that tells me that the red shirts were members of any collective bargaining unit," he said.
Political signs in public rights of way raise the hackles of vocal county residents every election. The county, however, usually shows an unwillingness to enforce the law, Councilmember George Leventhal said.
"It's just not a high priority," he said. Part of the problem, he said, was that real estate people need to put up signs in rights of way to advertise weekend open houses. And there's no way for county regulations to distinguish between commercial and political signs, he said.
These images were captured from the surveillance video shot outside Lee Plaza. Click to enlarge.