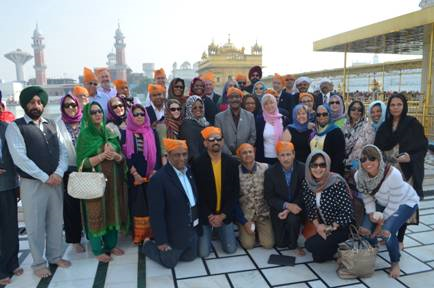 Workshop on Sikh Community in Rockville (VIDEO)
The Montgomery County Office of Community Partnerships hosted a cultural literacy workshop focused on the Montgomery County's Sikh Community on July 14 from noon to 1 p.m. at the Rockville Library.
https://youtu.be/QfTlKa3-kEY
The workshop was hosted by the Kaur Foundation- a nonprofit organization that helps communities through education- and was designed to increase awareness of Sikh American identity and heritage, and cultivate cultural sensitivity.
"Our goal is to bring about understanding in the community through education. … Through awareness we can create change," said Geetika Kaur, director of education and community engagement for the Kaur Foundation.
Montgomery County EEO Officer Angela Washington shared remarks on community diversity followed by an educational video and a short discussion.
"The culture diversity workshops are a really important piece of the office of community partnership. … It increases the sets of awareness the global community in Montgomery County and it really gives a platform for communities who traditionally don't have a voice," said Diane Vu, Asian liaison and language access coordinator for the Office of Community Partnerships.
County official: today's workshop is designed to increase awareness of Sikh-American identity, heritage, and cultivate cultural sensitivity.

— Aline Barros (@AlineBarros2) July 14, 2015
Geetika Kaur, from the Kaur foundation, talks #Sikhism by the numbers. pic.twitter.com/1szB5QqL0b

— Aline Barros (@AlineBarros2) July 14, 2015
"There's respect for all cultures … The focus is on equality," Kaur said. pic.twitter.com/itcdWRKY0I

— Aline Barros (@AlineBarros2) July 14, 2015