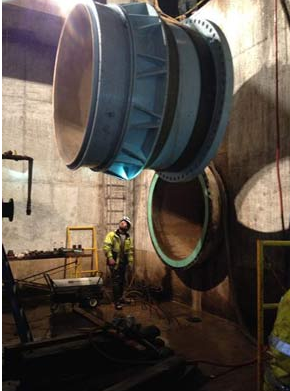 WSSC Completes Bi-County Water Tunnel Project
After a decade of planning, drilling and digging, the construction stage of Washington Suburban Sanitary Commission's Bi-County Tunnel is complete, touted as one of the biggest public utility projects in the Washington area, according to a WSSC press release.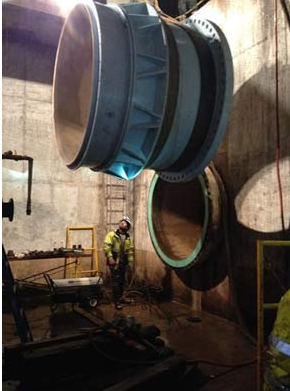 Two large valves have been opened and the brand new 84" in diameter water main pipeline is officially in service. The tunnel, which cost  $146 million, is the first tunnel built by WSSC in 35 years.
"This project is a tremendous accomplishment that provides an immediate and significant upgrade to our infrastructure" Jerry N. Johnson, GM/CEO for WSSC said in a press release. "I would like to commend everyone for the hard work and dedication devoted to this project. The impeccable coordinating efforts between both counties, members of the community and WSSC set the tone for the success of the project."
In addition to providing an increased supply of water throughout the service area, this new water main pipe line increases system redundancy and flexibility. This will allow WSSC to shut down other portions of the distribution system for major infrastructure projects, pipe inspections or during emergency situations like water main breaks and help minimize any disruptions to our customers, according to WSSC.
"After nearly 5 years in construction, the Commission has opened the tap on the Bi-County Tunnel" said John Mitchel, WSSC Project Manager in a press release. "This new 84" transmission main enhances the Commission's ability to reliably meet current and future water demands in Prince George's County while maintaining adequate pressures in portions of Montgomery County during extreme demand periods."
As economic development and population growth continue in Montgomery and Prince George's counties so does the demand for water. The 5.3 mile long water line has the capacity to carry 100 million gallons of water daily, greatly increasing water pressure and supply to both counties. The newly installed water main runs along the north side of the beltway connecting two existing water mains at I-270 and Tuckerman Lane to another in Rock Creek Park at Stoneybrook and Beach Drive.
WSSC broke ground on this project in 2009, initially focusing on building two shafts to provide access for the tunnel boring machine (TBM). The main access shaft at Connecticut Avenue was completed first in early 2010, followed by the Stoneybrook shaft and a third one at Tuckerman Lane. In July of 2010, the TBM, also known as "Miss Colleen" took center stage and began chewing through 4,000 feet of rock which would eventually create the tunnel for the 84" pipe.
The tunnel boring process was completed in two phases, digging a west and east tunnel. The much anticipated "hole through" of the second tunnel occurred the morning of April 26, 2013.
Additional information and a complete historical overview of the project is available by clicking on the Bi-County Tunnel Water Tunnel Updates page.