The Year in Transportation: New Lanes Proposed for I-270, Capital Beltway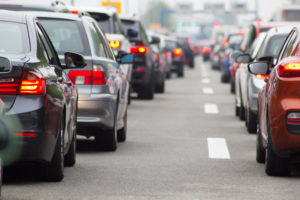 Gov. Larry Hogan dropped probably the most remarkable transportation news in September when he proposed that I-270 and the Capital Beltway get four new lanes. Private companies would design, build and maintain the lanes, which would then be able to charge tolls.
Some local leaders have been skeptical about the plans, preferring less-expensive reversible lanes on I-270. Some question how the Beltway can be widened in some stretches, particularly around Holy Cross Hospital, where homes, parks and the health center abut the highway.
Maryland Transportation Secretary Pete Rahn made a special visit to Rockville to answer questions from the Montgomery County Council.
Hogan Project Would Widen I-270, Beltway, Md. 295 and Add Tolls (VIDEO)
Purple Line Construction Gets Under Way
Another big transportation headline for the year was the start of construction in August of the long-awaited Purple Line, a 16-mile transit link between Bethesda and New Carrollton in Prince George's County. The light-rail line's most recent delays were in court.
Purple Line Construction Begins in Prince George's County (VIDEO)
Watkins Mill Interchange Construction Starts
Local officials were happy in July when crews began work on the Watkins Mill Interchange on I-270. The new connection will relieve traffic on Montgomery Village Avenue.
Officials Kick Off Watkins Mill Interchange Project on I-270 (VIDEO)
New Ride On Extra Buses
Md. 355 commuters got a new option in October, the Ride On extRa bus, which has fewer stops, more comfortable seats, wi-fi and USB ports.
UPDATE: Ride On's New ExtRa Service Will Provide an Express Bus Along Route 355 (VIDEO & PHOTOS)
Metro Completed SafeTrack
Good news for Metro riders when the year-long "SafeTrack" program ended in June. That hasn't meant, however, that track issues on the beleaguered subway were over. And officials in Maryland, D.C. and Virginia continued to debate how to pay for repairs over the long term.
Bus Rapid Transit Leaves the Station
The county started taking public testimony on bus rapid transit.
Second Crossing Proves To Be a Bridge Too Far
Council President Roger Berliner and other council members continued the fight against a new bridge over the Potomac River. Supporters say it will relieve congestion on the American Legion Bridge. Opponents object to a likely route that could cut through the Ag Reserve. The Transportation Planning Board, which looks at transportation issues regionally, considered a new bridge, but in November, the bridge wasn't seen as relieving traffic.
'Second Crossing' Diverts Attention from 'Real Solutions,' Berliner Says