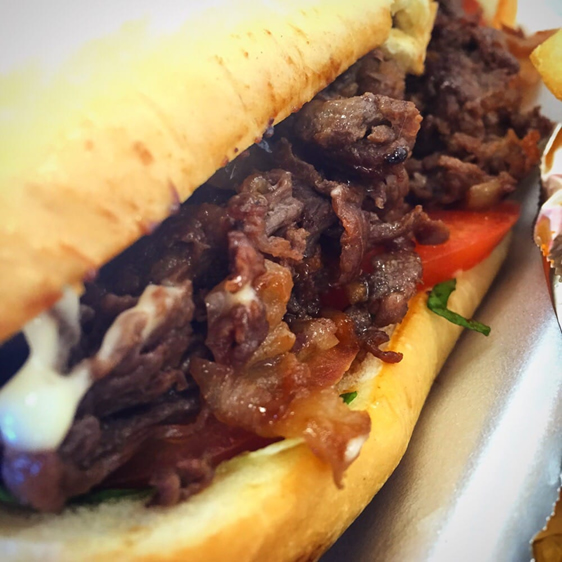 Yelp's Top Recommendations for Meating Friends and Family
The Sandwich: a perfect vehicle to get an otherwise egregious amount of meat and cheese in one's food bay during lunchtime. We consider a sandwich Yelp-worthy here in the MD Burbs if the combination of meat and cheese is greater than or equal to the thickness of the bread. Come on this whimsical deli meat loaded tour with us.
Twinbrook Deli
Nestled in the fairly massive, easy to pass, Twinbrook Shopping Center on Veirs Mill Rd; Twinbrook Deli (which could as easily be called Twinbrook Beer & Wine) has been serving up arm-thick grinders for years now!
Katie H claims, "Hands down top 3 best Italian cold cuts in MoCo."
Wow Deli
If you're focused on the fillings, these pita sandwiches are hands down your new bae.
I'm gonna let Min K. break it down for you: "their turkey avocado on pita bread, it comes with fresh sliced turkey breast, avocado, swiss cheese, lettuce, tomato, and alfalfa sprouts. And the pita is also pretty huge." Wow Deli is so hot right now, Wow Deli.
David's Café
"For an office building cafe, it's pretty awesome. Fresh relatively healthy choices, breakfast and dinner, lots of variety, and the chicken is freshly baked and sliced in front of you."
The variety isn't the only thing that has us impressed, how about the 1990's themed pricing model.
AKA Friscos
Stumbling distance from Flying Dog Brewery, AKA Friscos doesn't fit the strictest version of a Deli, but with menu headers like Giant Sandwiches that deliver on it's promise, we felt it appropriate for the short list.
Known for their "Exploded Potatoes" (Potato Salad), which Yelpers claim have a generous amount of bacon and scallion; it's definitely worth a visit if you're near or in Frederick.
Congressional Deli
Two simple mouthwatering words: Bulgogi Sub.
"Awesome place for a quick, no frills, filling meal. There's a variety of sandwiches to choose from and they also have different varieties of Asian rice bowls." boasts Christine L. Something for every fanciful foodie in the family.
Follow Mike Bishop's reviews at yelpmdburbs.yelp.com and all his Yelpy adventures in the Maryland Burbs on Instagram and Facebook @YelpMDBurbs