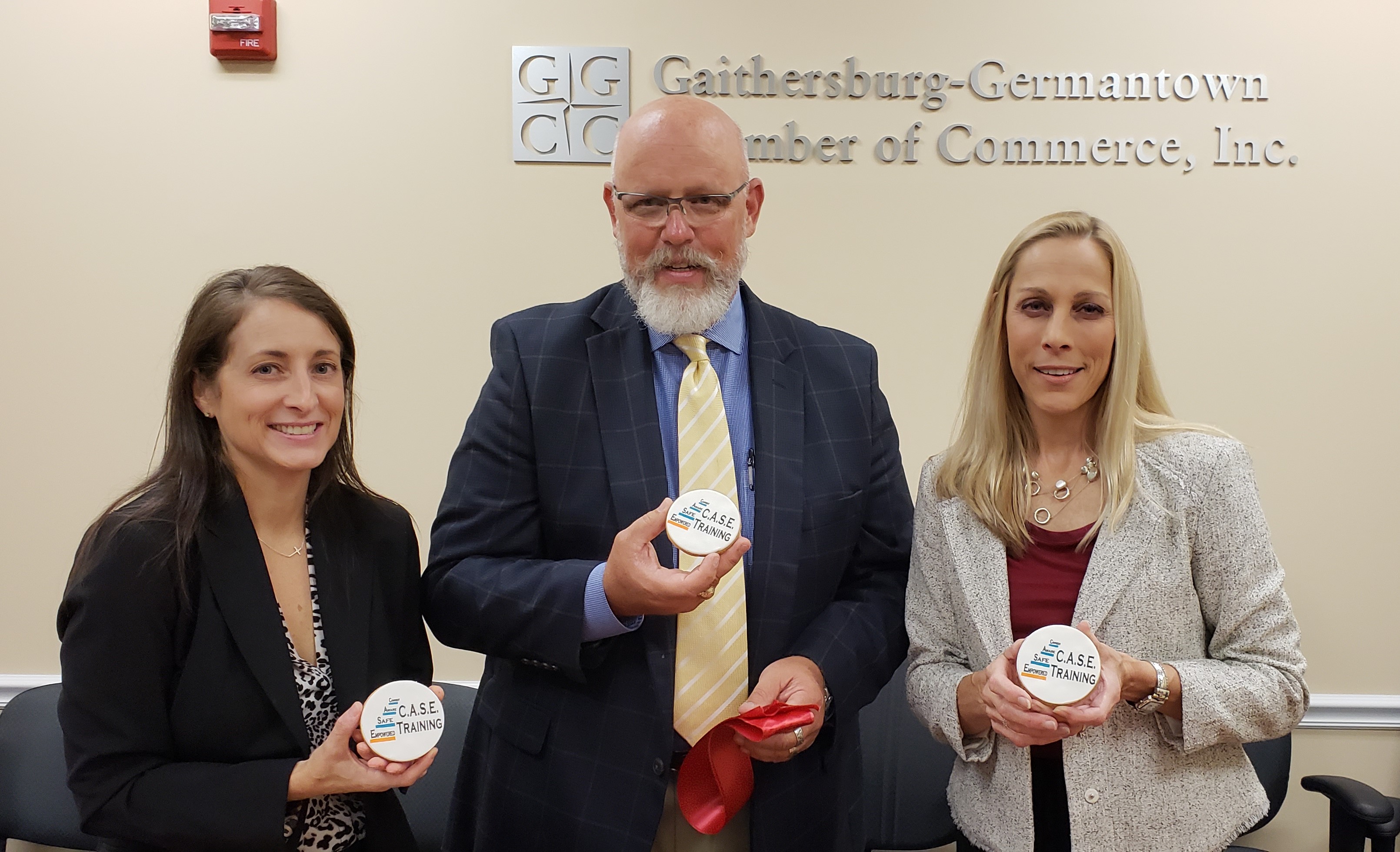 You Can Now Enroll in Training to Minimize Safety Risks and Feel Prepared
Three business-owner members of the Gaithersburg-Germantown Chamber of Commerce (GGCC), who met each other at various networking and membership events, have formed a new business partnership called "C.A.S.E. Training". The mission is to effectively empower others through sharing knowledge.
C.A.S.E. stands for Confident, Aware, Safe and Empowered. The new partnership is made up of Ron David, Owner of I.C.E. Firearms & Defensive Training; Sonja Der, owner of Bridge Performance Coaching; and, Kari Primozic, owner of Courageous Living Coaching.
The GGCC supported C.A.S.E. Training and celebrated the new partnership by conducting a Ribbon Cutting Ceremony on Thursday, Sept. 27. The group meets at the GGCC Office located at 910 Clopper Road, Suite 205N, Gaithersburg.
Their purpose is to provide people, with the right training, so they will be empowered, minimizing the risk of becoming a victim, regardless of where they are or what they are doing. The trio has created interactive workshops focusing on both parents and children. These workshops will provide the skills and information necessary to successfully navigate any situation they may encounter.
"We live in an increasingly dangerous world, but with the right training, people will be empowered so safety risks are minimized while they feel prepared," said the C.A.S.E. Training owners. "People, with the right training, will be empowered so they minimize becoming a victim, regardless where they are or what they are doing."
Anxiety is a huge concern for parents and students given the many safety issues our country has weathered this past year. These classes are created with the direct intent to combat fear and anxiety by replacing these negative and reactive emotions with proactive, positive, empowered emotions.
Similarly, they are working with several different age groups (and parents) around a very sensitive subject – being able to effectively respond to an active shooter incident.  Realizing that this is a complex issue, their workshops are age appropriate, incorporate national standards, and equip parents with the information they need to provide continued support to their children.
Primozic, David & Der believe it is the time that "real people offer real solutions" and the only way to effectively empower others is through sharing knowledge. They encourage others to act and empower families by participating in their interactive workshops.
The GGCC is active in providing business-to-business networking opportunities throughout the year: a collective voice in local, regional, and state legislative affairs, professional development opportunities and other services that enhance the business environment. 
The GGCC is located at 910 Clopper Road, Suite 205N, Gaithersburg. To learn more about the GGCC visit us at www.ggchamber.org.