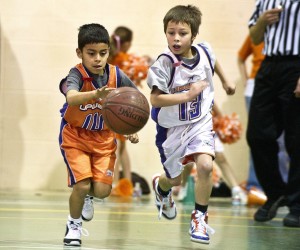 Youth Basketball-Básquetbol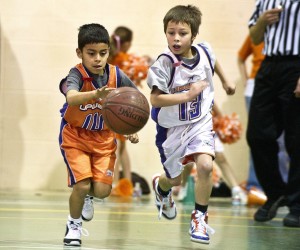 Montgomery County Recreation offers basketball for all ages, starting with youth in grades K-2, 3-8, and 9-12.
Increase balance, coordination and fine motor skills while learning the fundamentals of basketball! Noncompetitive beginner league emphasizes basic skills, good sportsmanship, and fun! Teams are assigned to the closest available gym. Program includes four practices at the location and time you are placed, and four low key scrimmages.
Instructional teams may be scheduled hourly as follows:
Saturdays: 9 a.m. – 6 p.m. Sundays: Noon – 6 p.m.
Registration is open now and closes November 7 or 30, 2014 according to the grade. Register online at montgomerycountymd.gov/rec or call 240.777.6870.
Montgomery County Recreación ofrece básquetbol para todas las edades, empezando en grados K-2, 3-8, y 9-12.
Ayuda en balance, coordinación y habilidades de motor mientras aprende los fundamentos del básquetbol! La liga no competitiva enfatiza en habilidades básicas, buen espíritu deportivo y diversión! El programa incluye cuatro prácticas en el lugar y la hora que se le designa, y cuatro en diferentes lugares.
Los equipos que reciben instrucción pueden tener el siguiente horario:
Sábado: 9 a.m. – 6 p.m. Domingo: Noon -6 p.m.
La inscripción está abierta ahora y se cierra el 7 o 30 de Noviembre, 2014 o de acuerdo al grado. Inscríbase en la página de montgomerycountymd.gov/rec o llame al 240.777.6870.