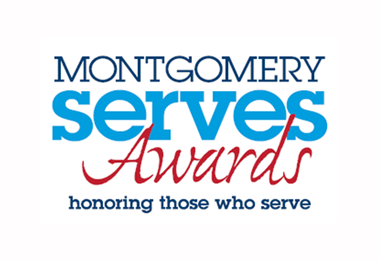 Montgomery Serves Awards (Video)
Montgomery County Executive Ike Leggett, on March 27, announced the recipients of the 2014 Montgomery Serves Awards, the Neal Potter Path of Achievement Awards and the Roscoe R. Nix Distinguished Community Leadership Awards.
The awards recognize extraordinary volunteerism and will be presented to nine honorees for their service to Montgomery County at the upcoming Annual Montgomery Serves Awards event to be held April 28 at 6:30 p.m., at Imagination Stage in Bethesda. The ceremony and reception are free and open to the public, but reservations are required, as seating is limited.
A few scenes from 2013 Montgomery Serves Awards:

The Roscoe R. Nix Distinguished Community Leadership Award was established by Leggett in 2012 as the County's equivalent to the Presidential Medal of Freedom, the nation's highest civilian award. This year, Leggett selected Reverend Leon Grant, Dr. Michael Lin and Ms. Nancy Scull as recipients. The award honors the memory and contributions of community icon Roscoe Nix, who gave a half century of public service to Montgomery County.
"These three individuals have each made extraordinary contributions to Montgomery County over the course of their lives."
"Because of people like Reverend Grant, Dr. Lin and Ms. Scull, Montgomery County is the very special place it is today. I am honored to recognize these three individuals with this prestigious award, as well as the other deserving individuals who have been chosen to receive awards this year," said Leggett.
Rev. Leon Grant is Senior Pastor of the Mount Calvary Baptist Church in Rockville. For more than three decades, he has reached beyond the walls of his church to serve the broader community. Under his leadership, the church serves community members in need and opens its sanctuary to the wider community, setting a standard of moral, ethical and spiritual leadership for the community.
Dr. Michael Lin is a world-class biomedical scientist who has used his talents to empower underrepresented communities and help Montgomery County build one of America's most welcoming communities.
Nancy Scull, community activist and coordinator of the Housing Opportunities Commission's Family Self-Sufficiency Program and founding board member of Shepherd's Table Soup Kitchen in Silver Spring, has been a tireless advocate of programs that support residents most in need.
The Neal Potter Path of Achievement Award, named for the former County Councilmember, County Executive and civic activist, honors seniors age 60 and older who have given a lifetime of volunteer service. Two individuals were chosen for this award. The first honoree, Joe Howard, has dedicated himself to environmental and education issues, having helped develop the Montgomery County Public School's Outdoor Education Program. Howard also worked with County Executive Potter to develop the Montgomery County Conservation Corps. The other awardee is Mona Negm who has helped countless immigrants navigate the complexities of their new community. Negm also has assisted and advocated for seniors, using the resources she knows well in the Muslim community, along with County and state offices, to improve the quality of life for senior residents.
The 2014 Montgomery Serves Awards recognize special volunteer accomplishments during the 2013 calendar year in four categories.
Jason Amboo was selected in the youth category for his volunteer work at Montgomery Housing Partnership.
The JBG Companies was chosen in the business service category, recognizing 400 employees who volunteered more than 1,600 hours of service to the company's "Days of Giving" program.
Lorig Charkoudin was cited for community service by an individual for improving food security and nutrition of low-income families and training unemployed residents in building food-related businesses.
Chevy Chase at Home was selected for community service by a group for using the "village" model that helps seniors age in place.
The Montgomery Serves Awards ceremony is hosted by the County's Volunteer Center in partnership with the Fund for Montgomery (FFM). The FFM, a fund of the Community Foundation of Montgomery County, is the event sponsor, with special support from the Carl M. Freeman Foundation.
For more information or to register for the event on April 28, go to Montgomery Serves. Questions may be directed to serviceawards@montgomerycountymd.gov or call 240.777.2600.