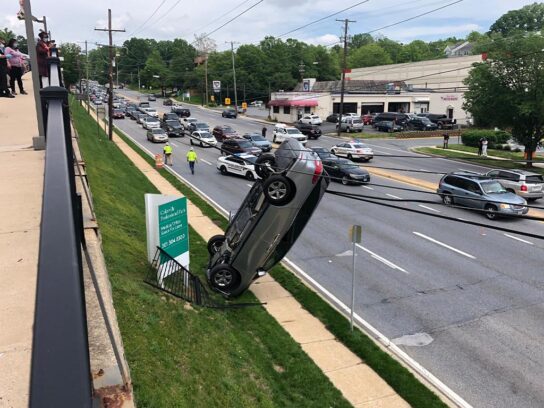 A car crashed through a fence in the Burnt Mills area of Silver Spring, but there were no injuries.
Pete Piringer, spokesperson for Montgomery County Fire and Rescue Services, tweeted that the incident occurred around 1 p.m. Friday. It happened southbound Route 29 on Columbia Pike near Lockwood Drive, across from the Trader Joe's and Shoppes of Burnt Mills.
Rt29 Columbia Pike A/F Trader Joe's & Shoppes of Burnt Mills, a car crashed thru a fence & over a wall, nose first & got hung up by power & communication lines, no injuries (driver refused), no fire, power controlled by Pepco , police directing, some lanes blocked pic.twitter.com/UrC1jUfYVd

— Pete Piringer (@mcfrsPIO) May 29, 2020
Piringer told MyMCMedia the driver was in a parking lot on a hill across from Shoppes of Burnt Mills, and as the driver was trying to leave the lot, the driver drove through a fence got tangled in the the power lines. The driver was the only person in the vehicle and was able to get out of the vehicle safely.
Piringer tweeted that the crash did not cause a fire and the driver refused care from first responders. The crash also did not cause a power outage in the area, but Pepco came by to assess the scene and "deenergize" the area, Piringer said.
The incident has caused lanes to be closed in the area. Police directed traffic.