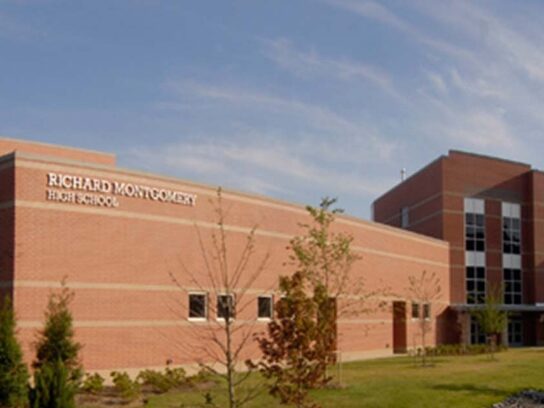 The National Merit Scholarship Corporation announced the semifnalists in the 2020 competition Tuesday. 138 Montgomery County Public Schools (MCPS) students are National Merit semifinalists. The semifinalists will now go on to compete nationally for scholarships that will be awarded in the spring.
The schools with the most finalists are Richard Montgomery (39), Montgomery Blair (36), Winston Churchill (17), and Walt Whitman (13).
The MCPS semifinalists come from 13 high schools, including Bethesda-Chevy Chase, Montgomery Blair, Winston Churchill, Clarksburg, Walter Johnson, Richard Montgomery, Northwest, Poolesville, Rockville, Sherwood, Wheaton, Walt Whitman, and Thomas S. Wootton.
The semifinalists are:
Bethesda-Chevy Chase
Reed H. Barmada
Molly A. Busis
Caroline S. Hallmark
Rachel L. Niebler
Jonah S. Sparling
Montgomery Blair
Daphne Amir
Aarthi J. Arun
Marie Brodsky
Simon L. Chervenak
Caroline L. Danielski
Liam O. DeVoe
Rachel S. Dey
Lintaro P. Donovan
Hemakshi M. Gordy
Jason A. Hsu
Andrew Hu
Evan Z. Hu
Josephine M. James-Le
Hannah J. Kim
Joey D. Kim
Abigail L. Koehler
June P. Lee
Katherine Lei
Adam Levav
Daniel R. Levy
Bryan T. Li
Kelley Li
Amanda S. Liu
Tarun N. Mattikalli
Yael C. Pinsky
Jennifer Ren
Jesse H. Silverberg
Emmy T. Song
Michelle Tang
Carter M. Wilson
Victoria W. Xin
Ambrose Y. Yang
Karen J. Yang
Justin Y. Zhang
Shawn H. Zhao
Ivvone Zhou
Winston Churchill
Samuel Du
Sophia Y. Fang
Navya Gautam
Sasha G. Gerber
Rachel J. Han
Eric S. He
Joseph Y. Huang
Andrew Y. Jin
Elizabeth E. Kronthal
Katharina A. Krstic
Lucas L. Lin
Austin Mao
Arik Shan
Leah R. Stein
Manu Sundaresan
Miranda W. Yu
Cheryl Zhang
Clarksburg
Natasha Oberoi
Zoe A. Tishaev
Walter Johnson
Amitoj Nagaich
Sreekrishna Ramireddygari
Nikolay Usanov
Sophia D. Wu
Richard Montgomery
Clara P. Bonzi Teixeira
Samantha R. Brown
Jessica L. Chai
Emily Chen
Derek Chu
Alyssa Cong
Ivana Henry
Ayesha Khawaja
Katie L. Kolodner
Eujin K. Lee
Isabelle J. Lee
Jeehye R. Lee
Lydia H. Levy
Jennifer J. Li
Kimberly M. Liu
Neal S. Machado
Angela Y. Mu
Kevin B. Pan
Michael Pan
Meghna Pandey
Eli F. Protas
Helen Qian
Maylis E. Quesnel
Kush V. Savsani
Anagha Shastry
Jonathan V. Simak
Zachary J. Teselko
Joy J. Wang
Sophia S. Wang
Valerie Wang
Jack Z. Yang
Laura J. Yao
Julie J. Yeo
Cathy A. Yung
Jessie Yung
Clare Y. Zhang
Kathryn Zhang
Katherine Zhao
Christine L. Zhou
Northwest
John Bang
Jaden T. Block
Amanda J. Li
Kamila K. Melikova
Rachel Pang
Poolesville
June M. Barash
Tejas Guha
Maria C. Hancu
Pranay B. Kamineny
Sadhana S. Lolla
Gurshaan S. Mann
Alison Y. Wang
Rockville
Sherwood
Wheaton
Walt Whitman
Jules R. Bertholet
Nicholas O. Cook
Hannah R. Donner
Rasika P. Dronamraju
Kaleo A. Goldstein-Coloretti
Hunter E. Lee
Samantha M. Leventis
Max W. London
Emily O. Mayo
Devin E. McLenagan
Nathaniel R. Olson
Emma N. Salafsky
Boyang Xiao
Thomas S. Wootton
Amy H. Chai
Stephanie Geng
Joanne Z. Liu
Zain N. Majumder
Michelle Shen
Joy Shi
Mollika J. Singh
Semifinalists from MCPS were selected from among high school juniors who were top scorers on the 2018 PSAT/National Merit Scholarship Qualifying Test. Approximately 16,000 semifinalists across the nation will be considered for advancement to the finalist stage of the competition.
Finalists will be considered for $2,500 National Merit scholarships, plus additional corporate-sponsored and college/university-sponsored scholarships.
Visit National Merit Scholarship Program to learn more about the program.