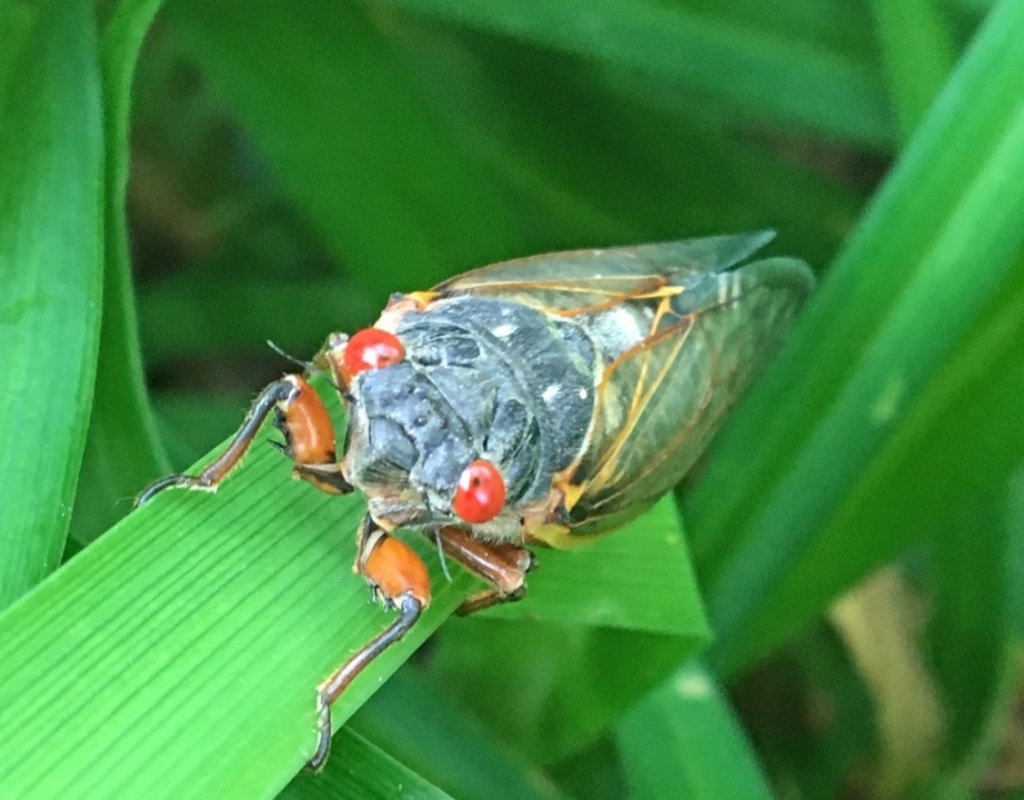 Cicadas: They're Loud, Gross and Harmless…and Coming to a Yard Near You
Warmer weather means longer days, cookouts and this year: cicadas. Those noisy, swarming bugs are expected to surface from their underground homes of 17 years as soon as it gets a little warmer.
The cicadas should make an appearance as soon as ground temperatures reach around 64 degrees. Montgomery County residents probably can already notice in the ground where these insects will emerge within the next few weeks, probably between mid-May to early June. Some in Montgomery County have already witnessed a cicada or two in their yards over the last few days.
Here's the Deal with Cicadas
Some important things to know about cicadas care of the Montgomery County Public Libraries (MCPL):
They are not dangerous.
They do not sting, bite or carry diseases.
They do not eat garden vegetables but can damage some plants.
They prune mature trees.
They aerate the soil.
Once they die, their bodies serve as an important source of nitrogen for growing trees.
The very loud noises they make are the mating call of male cicadas.
They are edible for humans but can be harmful if dogs eat them.
Here's how to cook cicada scampi.
Learn About Cicadas at Upcoming Virtual Event
MCPL is sponsoring a virtual cicada talk on April 22 at 6:30 p.m. Clarence Hickey, a retired biologist and county resident will speak about how these insects are expected to blanket the area and can mostly be found on and around trees.
The Brood X cicadas are expected to swarm to the surface and then shed their skins. In this stage, they are the most vulnerable and most edible. Hickey likens cicadas in this stage to a "soft-shell crab."
What Cicadas Do During Short Time Above Ground
While they may live 13 to 17 years, their life above ground is short. They quickly become winged adults and are about 1.5 to two inches in life. Above ground, they will only live around two to four weeks, but during that short time they will lay enough eggs to haunt us again.
During a time when residents are going outside more, thanks to warmer weather and the COVID-19 vaccine, the cicadas may be enough of a nuisance to send people back indoors. However, "one positive of the cicadas coming during COVID is that the masks protect them from getting in your mouth or near your face," said Gaye Williams, entomologist at the Maryland Department of Agriculture, Plant Protection and Weed Management Section.
Brood X cicadas emerge soon after seventeen years underground.

This mass emergence will produce loud cicada songs during the day, an all-you-can-eat buffet for local wildlife, and densities up to 1.5 million cicadas per acre in some areas!

Learn more: https://t.co/B6XzwFnQTB. pic.twitter.com/PUNBBdywvd

— Montgomery Parks (@MontgomeryParks) April 14, 2021
Cicadas have no diseases and do not sting or bite. Still many will find them annoying and even downright scary.
Cicadas Impact on the Environment
Cicadas have the potential to benefit the ecosystem. Their carcasses are a good fertilizer for trees and other plants, often causing a "boom" crop, Williams said.
When they lay their eggs, cicadas have the potential to harm small trees. Therefore, most nurseries and orchards have delayed planting their trees. For residents that have small trees, try protecting them with a net from the ground up.
Maryland will see the emergence of the seventeen-year cicada this May and June.

Cicada population density after emergence can be as high as one million per acre!

Female cicadas lay eggs in twigs and branches. This may damage–but not kill–newly-planted or young trees. pic.twitter.com/AuWK7K4XDv

— Montgomery Parks (@MontgomeryParks) February 18, 2021
Pesticides and other bug sprays do not kill the cicadas and can cause harm to the environment, Williams said.
These annoying insects are not toxic and it is fine for dogs to ingest a few. Just be cognizant of how many the animal is consuming, Williams said, as the animal may experience intestinal problems.
Information on cicadas can be found through the University of Maryland Home and Garden Center. A cicada tracker can be found at cicadas.info and further information can be found at cicada mania.com.