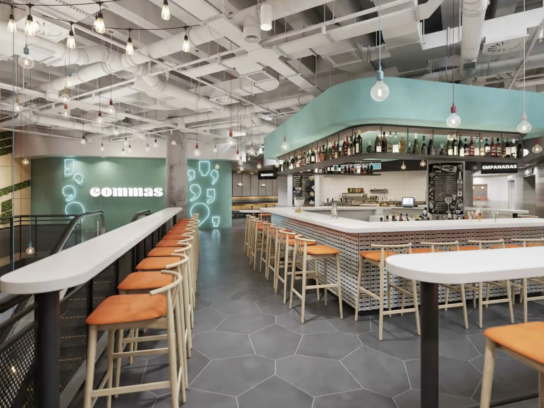 Two more restaurants have signed leases for the planned Commas food hall in downtown Silver Spring, bringing the total number of featured restaurants in the space to four.
Cheesesteak restaurant Tokoa came to fruition after friends and long-time restaurant workers Evelyn Cruz and Delmy Hernandez combined their knowledge to recreate versions of their favorite foods. Tokoa's menu focuses on cheesesteaks and burgers, with highlights including spice cheesesteaks and cheese-stuffed burgers.
Family-owned J&J Mex-Taqueria has served customers in its D.C. location since 2015. Owners Jose and Jose Tovar are a father-son duo with a passion for cooking with authentic Mexican recipes, flavors and sauces passed down through each generation of their family.
Commas will focus on international foods from local makers and chefs in a "global collection of curious eaters," the food hall said in a release last week. It will occupy 13,000 square feet of the third level of Ellsworth Place shopping center.
The food hall announced DMV Empanadas and Trini Vybez as the first two vendors in the space in March.
Bolivian brothers Marco and Nacho Almaraz have made DMV Empanadas a staple of area farmers' markets for nearly ten years and currently have one storefront in Gaithersburg. The restaurant offers more than two dozen empanada filling options, including shrimp Old Bay and cheeseburger.
Natalia Kalloo launched Trini Vybez as a food truck in 2020. Since then, her cuisine has appeared at various markets and festivals around the DMV. The restaurant features Trinidadian street food, such as curries and roti, along with vegan and gluten-free options.
Construction is currently underway in the future Commas space. By the time the hall opens, 12 food and beverage merchants will be participating. In the future, the hall hopes to incorporate restaurant offerings from Ethiopian, Korean, Malaysian and Salvadorian cuisine.
"Commas goes beyond the average food hall to bring the neighborhood a unique culinary experience reflective of its diverse international community," food hall developers Cana Development and GBT Realty Corporation said last week.
Commas was announced for the space in late 2021 and is scheduled to open in 2023.