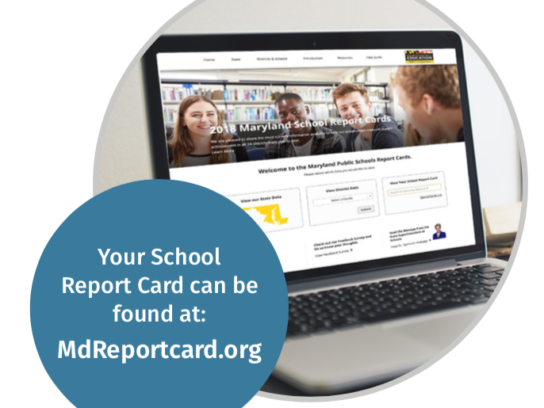 The 2019 School Report Card has recently been released. With input from students and educators, it gives a comprehensive picture of  each school and school system's performance throughout the state. It also shows achievement among student groups, and information on all  public schools and their improvement since last year.
Maryland has more than 1,400 public schools in 24 public school systems serving all of the state's 23 counties plus Baltimore city. Enrollment in the state's public schools reached a new record in 2018-19.
The data is now available on the Maryland State Department of Education's School Report Card website, MdReportcard.org. There is information on each individual public school throughout the state.
For the first time, the report card also includes the results of a statewide school survey, which was taken by students in grades 5 through 11, and educators in every school. It provides a composite score based on input about safety, community, environment and relationships. Factors such as growth in achievement, high school graduation rates, student access to a well-rounded curriculum, progress in achieving English language proficiency and readiness for postsecondary success are all included in the data.
Dr. Karen Salmon, state superintendent of schools, stressed that the new features of the 2019 Maryland School Report Card are significant in charting school improvement and equity, which are two of the highest priorities of MSDE.
"When we unveiled the new Maryland Report Card last year, we envisioned that this tool would evolve to remain relevant and important in school improvement efforts statewide," Dr. Salmon said. "We hope this will help everyone gain a better understanding of how each school is doing, and provide inspiration about how we can work together to make our schools the best they can be for all students."
The 2019 Maryland School Report Card is available at MDReportcard.org
FYI: 2019 Maryland School Report Card Provides Fresh Insights on School Improvement and Student Success!

Read More: https://t.co/xU5cx5Xj2I pic.twitter.com/Uabmvx3im2

— Maryland State Department of Education (@MdPublicSchools) December 3, 2019