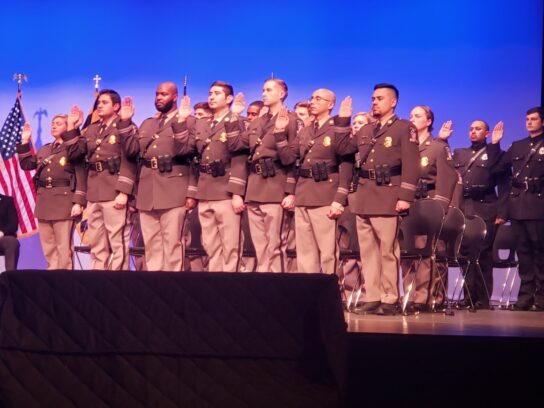 To the cheers of excited family and friends, 29 men and women, ranging in age from 21 to 36 years, were sworn in as police officers and deputy sheriffs Thursday afternoon at the F. Scott Fitzgerald Theatre in Rockville.
Montgomery County Police Chief Marcus Jones welcomed them to the family, adding, "At the end of the day, we are here to protect and serve the community in the best way possible."
Twenty-one of the members of the 75th graduating class of the county Public Safety Training Academy are Montgomery County Police officers, and four will serve as county deputy sheriffs. One will join the Gaithersburg Police; one will join the Rockville Police and two will serve in Takoma Park.
The 22 men and seven women spent the past 28 weeks in training and now will go to their respective departments to continue their training. They were tased and breathed in crowd-control gases. They trained in driving, firearms, traffic, crime solving and physicality.
Seven of the newly sworn in officers are still in the military. All but seven are from Maryland, and one is from Bangladesh, and another is from Bolivia. Two graduated from the police cadet program.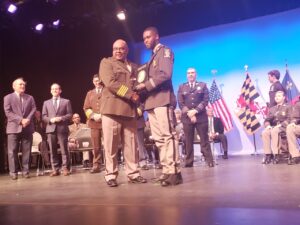 "This is a wonderful day of celebration," declared Captain Ian Clark. However, he noted, "This is the only career that an event that happens 1,000 miles away has an effect on our community," he said, referring to police shootings in other cities.
County Executive Marc Elrich addressed the graduates, warning, "It's a tough job. Make no mistake about this." However, he promised the county would be there for support while also lessening their responsibilities by using more social workers and other professionals to handle some of their day-to-day calls.
"Our county can't progress unless our police succeed," he said.
Council President Evan Glass declared, "We appreciate each and every one of you for stepping up at this time."
Jones urged the officers to never stop learning. He called them future "problem solvers. You will change people's lives. You will be leaders in your department and in your community."
"You will need to act with courage to do what may be unpopular," Jones said, adding that they must always take the right, ethical and moral path.
The number of graduates rose from previous years. Fifteen officers graduated in Session 74, and 20 officers graduated in Session 73.
29 new police officers and deputy sheriffs celebrated their successful graduation of entrance level training Thursday @mymcmedia @mcpnews pic.twitter.com/RS85J3KWkI

— suzanne pollak (@SuzannePollak) March 9, 2023
Happening now: commencement exercises for the 75th session academy training class. #MCPD #MCPNews pic.twitter.com/hds8u1r5ZV

— Montgomery County Department of Police (@mcpnews) March 9, 2023