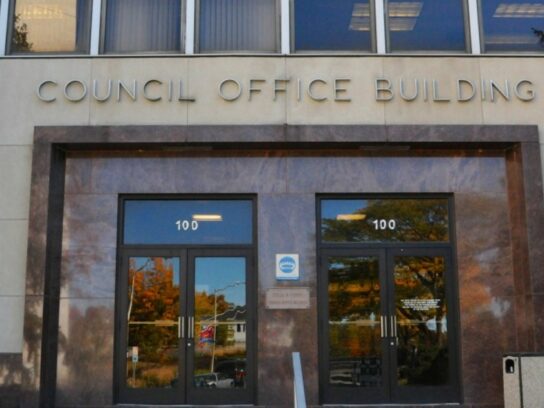 County Council Incumbents Evan Glass, Will Jawando and Gabe Albornoz are leading in the Democratic race for the four council at-large seats, according to unofficial results from Tuesday's primary from the Maryland Board of Elections. Councilmember Tom Hucker currently ranks sixth out of eight candidates.
Results as of 11:15 am Wednesday do not include some 40,000 to 50,000 write in and provisional ballots. Final results are not expected until mid-August.
In the four council-at-large positions, with 246 of 258 precincts reporting their early and primary day votes, Evan Glass was the top vote getter with 42,409.
In second place was incumbent Will Jawando with 40,159, followed by Gabe Albornoz with 35,937 votes and Gaithersburg Councilmember Laurie-Anne Sayles with 31,016 votes.
Incumbent Tom Hucker is in sixth place with 24,345 or 10.5% of the vote.
In the November general election, the four top vote getters will face Republicans Christopher Fiotes, Dwight Patel and Lenard Lieber. As the Republicans only fielded three candidates for four slots, they will all advance to the general election.
| Name | Party | Early Voting | Election Day | Mail-In Ballot / Provisional | Total | Percentage |
| --- | --- | --- | --- | --- | --- | --- |
| Gabe Albornoz | Democratic | 11,115 | 24,822 | NR | 35,937 | 15.50% |
| Brandy H. M. Brooks | Democratic | 5,063 | 13,758 | NR | 18,821 | 8.12% |
| Dana E. Gassaway | Democratic | 3,304 | 10,445 | NR | 13,749 | 5.93% |
| Evan Glass | Democratic | 13,371 | 29,038 | NR | 42,409 | 18.29% |
| Scott Evan Goldberg | Democratic | 7,643 | 17,832 | NR | 25,475 | 10.98% |
| Tom Hucker | Democratic | 7,995 | 16,350 | NR | 24,345 | 10.50% |
| Will Jawando | Democratic | 12,266 | 27,893 | NR | 40,159 | 17.32% |
| Laurie-Anne Sayles | Democratic | 9,274 | 21,742 | NR | 31,016 | 13.37% |