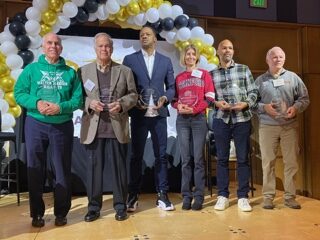 The Montgomery County Sports Hall of Fame inducted six new members during a Sunday afternoon ceremony at the Silver Spring Civic Center. This is the fourth year of the Hall of Fame.
The six honored inductees:
longtime baseball writer, ESPN baseball analyst and Walter Johnson High School alum Tim Kurkjian;
Takoma Park native, Blair High School alum, University of Maryland star and 3-time NBA All-Star Steve Francis;
11-time All-Met track athlete at Walter Johnson High School Sally Glynn Hauser;

legendary 42-year Landon lacrosse coach Rob Bordley;

former major leaguer and Blair 3-sport star Sonny Jackson represented by his friend and former high school teammate Jerry Ricucci;

1946 Negro League World Series champ and Rockville native Clarence "Pint" Isreal (honored posthumously) represented by his grandson Hasani Isreal.
MyMCM was there for the festivities.