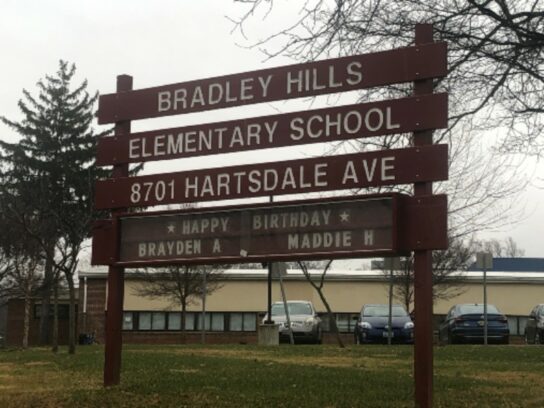 A 9-year-old girl died Thursday after she was hit by a Montgomery County Public School bus.
A Montgomery County police statement said the girl, whom police have not named, attended Bradley Hills Elementary School and had just gotten off the bus.
The collision happened about 3:48 p.m. at Millwood Road and Tanglewood Drive. The bus, Serigne Makhtar Ndiaye, 53, of Severn, had turned right onto northbound Millwood Road from westbound Tanglewood Drive after unloading several students, including the 9-year-old. For reasons still under investigation, the girl was struck by the bus, police said.
She was taken to Children's National Hospital where she died of her injuries. Ndiaye and the other students were not injured, police said.
The Collision Reconstruction Unit continues to investigate this collision.  Anyone with information regarding this collision is asked to contact the Collision Reconstruction Unit at 240-773-6620.
Bradley Hill Principal Karen Caroscio sent this letter home Thursday:
Dear Parents and Guardians:

It is with deep sadness that I inform you that the grade 4 student who was struck by the bus this afternoon has died. The Bradley Hills community is heartbroken by this tragic news.

It is very difficult to face the loss of a young person.  Counselors, school psychologists, and pupil personnel workers will be available to provide support to students and staff starting tomorrow, Dec. 13, and throughout next week.  We have also attached to this letter some suggestions for talking to your child about the loss of a peer.

I know you join me in extending our heartfelt sympathy to the child's family. I will share updates as I am able – respecting the family's request for privacy. Again, please do not hesitate to contact the school at 240 204-5210 if you have any concerns or questions.