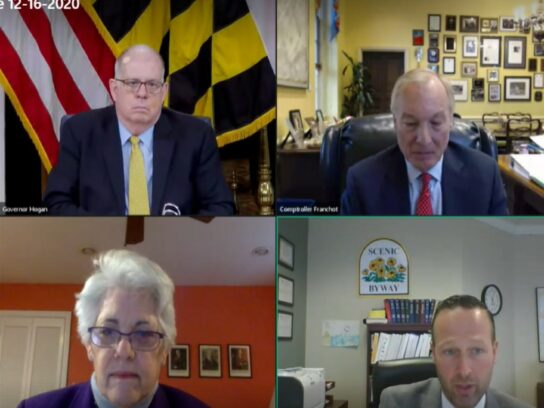 The three-member Maryland Board of Public Works unanimously approved a settlement that ends all financial claims and litigation concerning the proposed Purple Line. Under the agreement, the state will pay $250 million, of which $100 million is due by the end of this month.
"We are going to see the Purple Line, a little late, but still working to unite the suburbs," said board member and Maryland State Treasurer Nancy Kopp at the board's Dec. 16 meeting,
The Maryland Department of Transportation, Meridiam, Star America and Fluor, which had been partners on the project, reached an agreement that allows the Purple Line Transit Partners P3 Agreement to proceed, but only with Meridiam and Star America as P3 developers and equity partners.
The Purple Line is a 16-mile light-rail line with 21 stations that will extend from Bethesda to New Carrollton in Prince George's County.
Gov. Larry Hogan, a BPW board member, said when finished, the Purple Line will enable transit riders to connect easily to the Metro, MARC train and Amtrak. The Purple Line will take at least 17,000 cars off the road every day, he said. "This project is at the heart of our state's balanced inclusive approach to infrastructure."
Also voting for the settlement was Maryland Comptroller Peter Franchot.
While the settlement enables the project to move on, it now must hire a new design-build contractor. "We received a tremendous amount of interest," said State Secretary of Transportation Gregory Slater. "We feel really confident and comfortable."
Until a new contractor comes on board, the state will manage ongoing work. Since the original agreement ended, the state has handled 200 agreements and purchase orders and 150 contracts, Slater said.
Slater expects that the majority of employees who worked on the Purple Line will continue to do so.
Slater said the settlement agreement reduces the state's risk and expenses by nearly $800 million, using figures sought during the initial stages of the settlement negotiations.
Hogan called the board's vote to approve the settlement "a great day for the state."
Montgomery County Councilmember Tom Hucker tweeted out his thanks to the three board members, calling the Purple Line "MD's #1 economic development project." He also wrote, "Under the circumstances this is the best outcome. Thx Sec. Greg Slater for getting this done."
The @PurpleLineMD is a long time coming, and we have certainly overcome some significant setbacks. Opponents delayed it for two years, and we spent the past several months engaging in tough negotiations which have successfully saved Maryland taxpayers more than $550 million.

— Governor Larry Hogan (@GovLarryHogan) December 16, 2020
Recent Posts