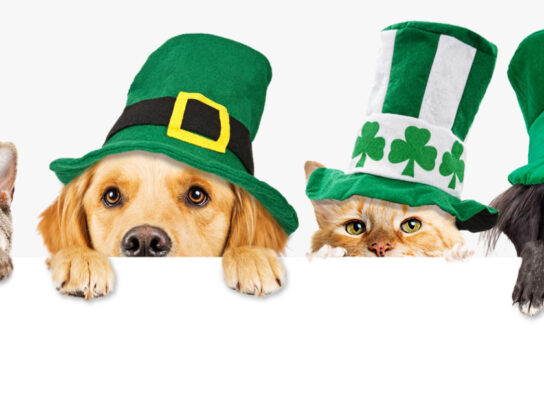 St. Patrick's Day will certainly find Montgomery County residents celebrating at favorite local pubs such as McGinty's or Flanagan's Harp & Fiddle. The community can also look forward to events planned to celebrate the holiday.
Wheaton Celebrates St. Patrick's Day
Downtown Wheaton features activities on both Friday and Saturday.
First, on Friday, March 17, The Limerick Pub includes an all-day celebration of all things Irish.
The Limerick Pub
11301 Elkin Street, Wheaton
301.946.3232
Then, on Saturday, March 18 from noon to 4 p.m., the community is invited to celebrate at the Town Plaza.
Marian Fryer Town Plaza
2424 Reedie Drive, Wheaton
There will be live music, food, arts and crafts, face-painting, balloon art and games. The Limerick Pub will provide free food samples and Green Plate Catering will distribute shamrock sugar cookies for decorating.
St. Patrick's Day Street Festival
Rockville Town Square
Friday and Saturday, March 17 & 18
Finnegan's Wake hosts the two-day celebration with live performances, food and drinks, face painting, and a live broadcast by DC101.
St. Patrick's Day Leprechaun Hunt
Friday, March 17 from 10:30-11:30 a.m.
Maydale Nature Classroom
1638 Maydale Drive, Colesville
301.962.1496
Children age 3-5
Search for leprechauns and hunt for their pots of gold.
A leprechaun is on the loose at Maydale! Come with us as we follow his trail, and perhaps find some of the "gold" he's left behind along the way!
Register here
St. Patrick's Day Crafts
Friday, March 17, 3-6 p.m.
Creative Outlets Arts Center
7101 Democracy Blvd #2100, Bethesda
Artist GabyNobody will lead St. Patric's Day-themed crafts. Drop in anytime between 3 and 6 p.m., each "maker" needs a ticket, tickets are donation based with a $1 minimum.
Make a donation, get tickets here.
St. Patrick's Day Lucky Leprechaun Run
Saturday, March 18, 10 a.m.-noon
Charm City Run Gaithersburg store
255 Kentlands Blvd, Gaithersburg
Meet at 10 a.m. at the Charm City Run Gaithersburg store for the 3-mile walk or run through the Kentlands. On the course, runners will hunt for Leprechauns, answer riddles, and be rewarded with a strand of golden beads. Trade in the beads for raffle tickets at the end of the run/walk.
Free tickets are available here.
Montgomery County is home to a number of local Irish Pubs, including:
Finnegan's Wake Irish Pub
100 Gibbs Street, Rockville
301.339.8379
Located in Rockville Town Square, Finnegan's Wake is "home of the perfect pint." DC101 will be broadcasting from the pub live Friday between 3-7 p.m. Saturday, March 18 from noon to 2 p.m. there will be face painting, balloon creations, and live performances.
Quincy's South Bar & Grille
11401 Woodglen Drive, Rockville
240.669.3270
Quincy's South Bar & Grille is a relaxed, locally-owned neighborhood spot offering American pub grub, a rotating selection of 12 beers on tap, and live music. With 18 infinity-edge TVs, game nights, and karaoke, this is the perfect place to cheer on your favorite team and have fun over a pint (or two). Quincy's features St. Patrick's Day Specials from Thursday, March 15 through Sunday, March 19.
The Limerick Pub
11301 Elkin Street, Wheaton
301.946.3232
Friends, food, music, and drink are things at the heart of Ireland's cultural tradition. The Limerick Pub brings that part of Ireland to Montgomery County. The pub offers a great variety of entertainment choices, including live music, pub trivia, darts, and even literary readings, meaning there's something for everyone at The Limerick!
McGinty's Public House
911 Ellsworth Drive, Silver Spring
301.587.1270
McGinty's Public House has been a local favorite since it opened in 2006. Irish-owned and managed, McGinty's is a large Pub and Restaurant on two different levels. They offer nightly entertainment, happy hour specials, and all the local and national sports. Friday, March 17 the Culkin School of Dance performs from 1-4 p.m., followed by live music by Ardmore from 5-8 p.m. and 40 Thieves at 9 p.m. Dinner reservations are accepted.
The Irish Inn
6119 Tulane Avenue, Glen Echo
301.229.6600
The Irish Inn's building dates back to the 1930s where a tavern operated until 1944. In April 2003, The Irish Inn at Glen Echo opened its doors. For St. Patrick's Day, The Inn features live music starting at 11 a.m. Dancers from The Culkin School perform in the afternoon.
The Clarksburg Tavern
23315 Frederick Road, Clarksburg
301.540.1499
Clarksburg Tavern features all the flavors and fun of a classic community gathering place. This family-owned eatery offers a wide selection of local brews on tap, a mouth-watering Rueben sandwich, and other pub fare. It's also a place where friends can play a game of shuffleboard or pool.